Sports have always played an integral role in China's culture and history, from ancient martial arts to modern-day soccer. With a population of over 1.4 billion people, it comes as no surprise that China has produced some of the world's greatest athletes and teams.
In this article, we will explore the top 10 most popular sports in China, giving you an inside look into the country's athletic landscape and why these sports are loved by millions. Whether you're a die-hard fan or simply curious about Chinese sports culture, let's dive right in!
Sports in China has been long associated with the martial art which is the oldest sport in the country. Today China consists of a variety of competitive sports which have the old traditional Chinese culture motive which aims at physical fitness and mental fitness of a person. In order to promote sports in the country, China has its own multi-sport event every year just like the Olympics sport named as the National Sports.
Before the 1980, China only had one famous sport which was table tennis as it had won a lot of medals in international competitions. Everything changed when in 1981 the Chinese women's volleyball team went on to win the FIVB volleyball World Cup and brought in the revolution of volleyball in the country. Before 1980, all the sports activities in the country were sponsored by the government.
In the year 1994, Chinese Association football was professionalised after which sports like Basketball, Ping Pong, Volleyball and weiqi were professionalised as well. Professionalisation leads to commercialisation by which a lot of professional leagues are formed for each sport and clubs are also formed. Now the cost of running the clubs was covered by the club itself by selling tickets they used to fund themselves. Players also got the chance to play in the professional league, not only in China but people like Yao Ming went on to play Basketball in the NBA during the 2002 draft.
Soccer
Soccer, or football as it's known in many parts of the world, is undoubtedly one of the most popular sports in China. In recent years, the country has invested heavily in its soccer programs with a goal of becoming a powerhouse on the international stage.
Many young Chinese players dream of playing for their national team or joining top clubs abroad. This passion for soccer can be seen at all levels throughout China – from amateur games played in parks to packed stadiums filled with passionate fans.

The Chinese Super League (CSL) has also gained significant attention over the past few years, attracting some big-name foreign players and coaches to join local teams. The league continues to grow each year and generates more interest from both domestic and international audiences.
Moreover, soccer serves as a cultural bridge between China and other countries around the world. It brings people together through shared love for the game and creates opportunities for cultural exchange. Soccer plays an important role not only in China's sports landscape but also in its society as a whole.
Basketball
Basketball has become one of the most popular sports in China, with millions of fans following local and international leagues. The sport was introduced to China in the 1890s by American missionaries but only gained popularity in the 1990s when it was included as an official event at the Asian Games.
One reason for basketball's growing popularity in China is thanks to Yao Ming, a former NBA player who helped bring attention to the sport. He became a national hero after being drafted by the Houston Rockets and playing for eight seasons before retiring due to injuries.

Today, basketball is played everywhere in China, from small villages to big cities. Chinese players are also making their mark on the global stage with players like Yi Jianlian becoming well-known internationally.
Fans can catch games played by teams like Beijing Ducks or Shanghai Sharks in local stadiums or watch NBA games online or on television broadcasts. With its fast pace and exciting plays, it's no wonder why basketball has become so beloved among Chinese sports enthusiasts.
Table Tennis
Table tennis, also known as ping pong, is one of the most popular sports in China. It's a sport that requires quick reflexes and precision to hit the small ball over the net.
The popularity of table tennis can be traced back to its history in China. In fact, it was Chairman Mao Zedong who declared it as China's national sport in 1952. Since then, Chinese players have dominated international tournaments and won numerous Olympic medals.

Many Chinese people enjoy playing table tennis recreationally with friends or family members. It's easy to set up a table at home or go to a local park where there are often tables available for public use.
In addition to being a fun activity, playing table tennis has health benefits too. It improves hand-eye coordination and reflexes while providing an aerobic workout.
Table tennis is deeply ingrained in Chinese culture and continues to be enjoyed by people of all ages across the country.
Badminton
Badminton is one of the most popular sports in China with a rich history dating back to ancient times. It has been a part of Chinese culture for centuries and is loved by people of all ages. The sport requires skill, agility, and precision.
One reason why badminton is so popular in China is that it can be played both indoors and outdoors, making it accessible to everyone. It's also an affordable sport as equipment costs are relatively low compared to other sports.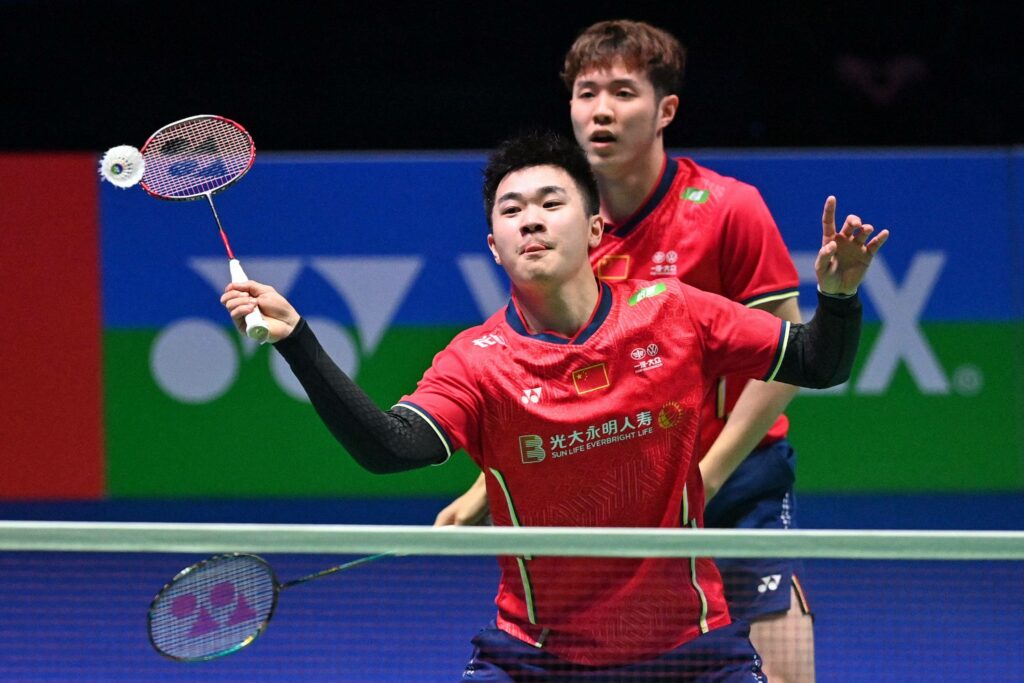 Another factor contributing to its popularity is the success of Chinese players on the international stage. Players such as Lin Dan and Chen Long have won multiple Olympic medals for their country in badminton, inspiring young people to take up the sport.
In addition to being a competitive sport, badminton can also be played recreationally among friends or family members. It's a great way to stay active while having fun at the same time.
Badminton holds a special place in Chinese culture and continues to attract new fans every day. With its combination of athleticism and accessibility, it's no wonder why it remains one of the most beloved sports in China today.
Volleyball
Volleyball is one of the most popular sports in China, enjoyed by both men and women. It is played on indoor and outdoor courts, with six players per team. The objective of the game is to score points by hitting a ball over a net and making it land within the opponent's court.
The sport has been growing in popularity since its introduction to China in the 1950s. With top-notch teams like Beijing Volleyball Club, Shanghai Golden Age, Jiangsu Zenith Steel Women's Volleyball Team and Tianjin Bohai Bank Women's Volleyball Team competing at national level tournaments such as Chinese Volleyball League (CVL) and Asian Women's Club Championship.

Besides being an exciting sport for fans to watch, volleyball also offers numerous health benefits such as improved hand-eye coordination, cardiovascular endurance, and overall fitness. It also teaches important values such as teamwork, communication skills and perseverance which are highly valued in Chinese culture.
Volleyball has become an integral part of China's sporting landscape with many young children taking up the sport at school or local clubs. Its continued growth will undoubtedly lead to more success stories for Chinese athletes on both national and international stages.
Swimming
Swimming is a popular competitive sport in China, with many talented athletes competing at national and international levels. The country has produced several Olympic champions in swimming over the years.
In addition to being a competitive sport, swimming is also a great form of exercise and recreation for people of all ages. Many Chinese citizens enjoy taking a dip in their local pool or going for a swim in one of the country's beautiful lakes or rivers.

One reason why swimming is so popular in China is because it offers numerous health benefits. Swimming can help improve cardiovascular health, build strength and endurance, and reduce stress levels. It's also a low-impact activity that puts less strain on joints compared to other sports like running or basketball.
Another factor contributing to the popularity of swimming in China is its accessibility. Many public pools are available throughout the country, making it easy for anyone to take up this fun and healthy activity.
Swimming has become an important part of Chinese culture and continues to be enjoyed by people from all walks of life.
Martial Arts
Martial arts have a long and rich history in China, dating back thousands of years. In fact, many of the most popular martial arts styles practiced around the world today originated in China.
One of the most well-known forms of Chinese martial arts is Shaolin Kung Fu. This style emphasizes physical strength, flexibility, and agility through a variety of movements including punches, kicks, and acrobatics.

Another popular form is Tai Chi Chuan which focuses on slow and deliberate movements that promote relaxation and inner peace. It's often considered as an effective way to improve balance, coordination, flexibility while also reducing stress levels.
Wushu is another modern form of martial art developed in China which combines traditional techniques with contemporary performance elements. Wushu practitioners showcase their skills through choreographed routines using weapons or bare hands.
Martial arts are deeply ingrained in Chinese culture – not only as a means for self-defense but also as an important component of mental discipline and spiritual growth.
Cycling
Cycling has become increasingly popular in China over the past few years, with more and more people taking up this sport to keep fit and explore their surroundings. With its vast landscapes and picturesque scenery, cycling is a great way to discover China's hidden gems.
One of the most popular cycling routes in China is the Yunnan-Tibet Highway, which stretches over 2,000 km from Lijiang in Yunnan Province to Lhasa in Tibet. This stunning route takes riders through some of the most breathtaking natural landscapes on earth, including snow-capped mountains, crystal-clear lakes and lush forests.

Another popular route for cyclists is the Beijing-Shanghai Grand Canal Cycleway, which follows the ancient canal system that links these two major cities. Along this route, cyclists can enjoy scenic views of traditional Chinese architecture as well as modern urban developments.
For those looking for a challenge, there are also many professional cycling races held throughout China each year. The Tour of Qinghai Lake is one such event that attracts both amateur and professional cyclists from around the world.
Whether you're an experienced cyclist or just starting out, there's no shortage of beautiful routes to explore in China by bike. So grab your helmet and hit the open road!
Running
Running is one of the most popular sports in China, and it's easy to see why. It requires minimal equipment, can be done almost anywhere, and offers a variety of health benefits. Many Chinese people enjoy running for leisure or as a form of exercise.
In recent years, marathons have become increasingly popular in China. The country now hosts several major marathons each year, including the Beijing Marathon and the Shanghai International Marathon. These events attract thousands of participants from all over the world.

Chinese runners have also achieved notable success on the international stage. One example is Liang Jing who won gold at both the 2018 Asian Games and 2019 World Athletics Championships in women's marathon.
Whether you are interested in competitive running or just looking for a fun way to stay active, running is an excellent choice that provides physical and mental benefits alike. With its popularity growing rapidly across China, there has never been a better time to lace up your sneakers and hit the pavement!
Wushu
Chinese people are known for their love of sports. From traditional martial arts to modern-day games like soccer and basketball, China has a wide range of popular sports that cater to everyone's needs.
Wushu is another traditional sport that deserves a spot on this list. It is a form of martial arts that combines elements of strength, flexibility, skill, and grace into one impressive display. Wushu has been practiced in China for thousands of years and is recognized as an important part of Chinese culture.
Whether you're looking to improve your physical fitness or just have fun with friends, there's no shortage of exciting sports to try in China. So the next time you visit this beautiful country, make sure to take some time out for these most popular sports in China – Soccer, Basketball, Table Tennis, Badminton,Volleyball ,Swimming,Martial Arts,Cycling ,Running,Wushu!
Also check out the Most Popular Sports in Japan.