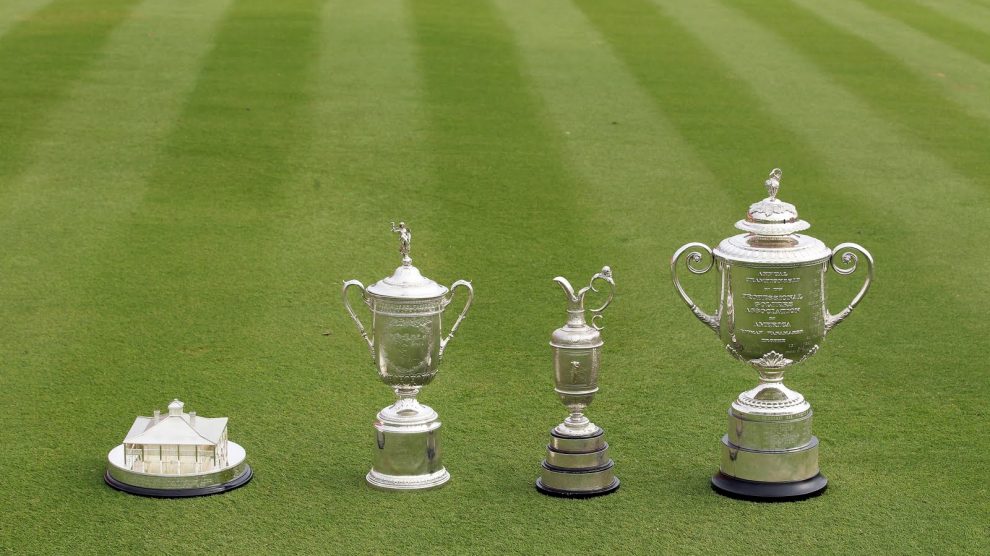 Golf is a sport that requires skill, precision, and dedication. It's a game of endurance and mental toughness that has captivated audiences for centuries. And when it comes to major tournaments, there are some players who have risen above the rest with their incredible performances.
In this blog post, we'll be taking a closer look at the top 10 most golf major winners in history – from legends like Jack Nicklaus and Tiger Woods to icons like Arnold Palmer and Sam Snead. So grab your clubs and let's dive into the world of golf greatness!

Jack Nicklaus

Jack Nicklaus is a legendary golfer who has won the most majors in the sport's history with 18 titles in total. He was born and raised in Ohio, USA, and began playing golf at an early age. His dedication to the sport paid off as he became one of the greatest players of all time.
Nicknamed "The Golden Bear," Jack Nicklaus dominated the golf world during his prime years from 1962 to 1986. Throughout his career, he won six Masters Tournaments, five PGA Championships, four US Opens and three Open Championships.
But what set Nicklaus apart from other players was not just his winning record but also his consistency throughout his career. He placed second or third place in many major tournaments over the years which contributed to him being known as a player who always showed up for championship events ready to compete at the highest level.
Nicklaus's success on tour wasn't just due to raw talent; it was also because of how seriously he took preparation for each event. He studied courses meticulously before competitions and worked tirelessly on every aspect of his game until perfection.
Jack Nicklaus remains an iconic figurehead within golfing circles for good reason – sheer determination and hard work make him one of the greatest athletes ever seen on any sporting field!

Tiger Woods

Tiger Woods is one of the most recognizable names in golf history. He has won 15 major championships throughout his career, putting him second on the all-time list behind Jack Nicklaus. Woods burst onto the scene as a young player and quickly made a name for himself with his incredible skills on the course.
After his amazing Junior and college career event on to become a professional golfer by the age of 20. By the end of April 1997, he had already won three PGA Tour events along with his first Majors and the 1997 Masters which he had won by a record breaking performance of 12 strokes. By June 1997 he went on to become the number one ranked golfer in the world golfer ranking which was in less than a year of him being a pro golfer. During the early 21st century he was the top rank golfer for 284 consecutive weeks but had lost his position and went on to regain his position for 281 consecutive weeks again.
However he had to go to 4 back surgeries between 2014 to 2017 because of which he could compete in just one tournament between August 2015 to 2017 and his rankings fell down below 1000 top golfers. Soon he started to regain his confidence and slowly made a come back by winning his first tournament in 5 years when he won the Tour Championship in 2018 and also won his first major in the last 11 years during the 2019 Masters.
In the next decade he devoted his time and it was considered as a comeback decade for Tiger Woods who made his comeback from personal problems, injuries and his mental health problem as he was going to a divorce with his wife which he said was very hard on him. In November 2011 his ranking in the world for ranking went down to Number 58 but by March 2013 he had made a strong comeback and soon climbed to regain his usual number one position.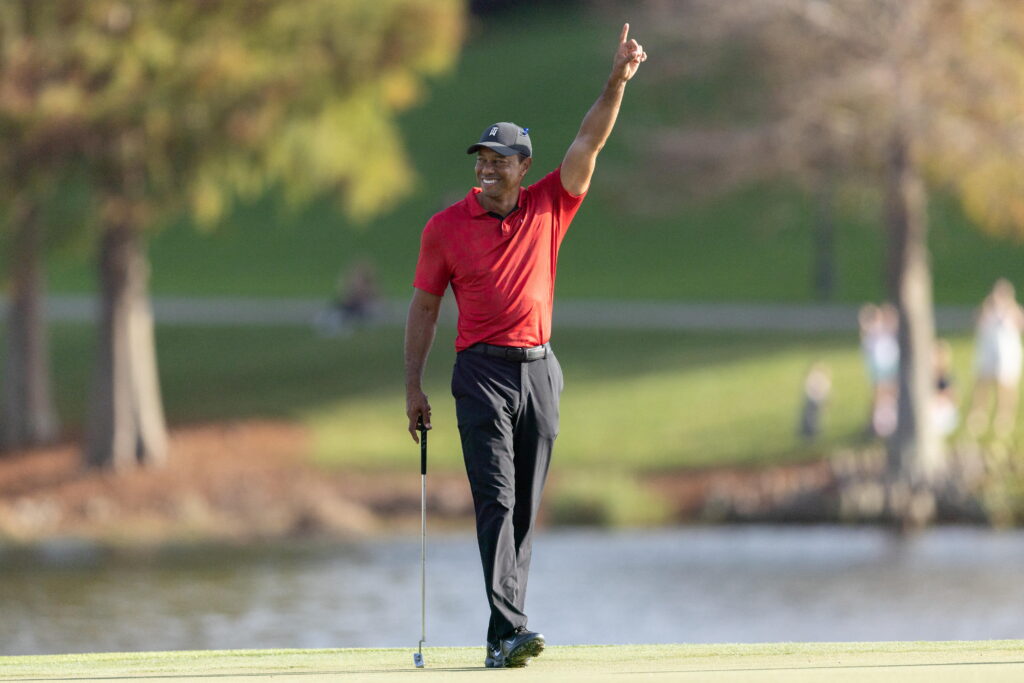 Woods' impact on golf goes beyond just his impressive record of wins. He helped bring attention to the sport and inspired countless people around the world to pick up a club and hit the links. His charisma, confidence, and competitive drive have made him an icon not just in golf but in sports overall.
Of course, Woods' career has not been without its challenges. Injuries have plagued him in recent years, causing many to doubt if he would ever return to form. However, he proved those doubters wrong with a stunning comeback win at The Masters in 2019.
Despite everything he's accomplished over his lengthy career, it seems that Tiger Woods isn't done yet. Golf fans around the world will be eagerly waiting to see what else this legendary player can achieve both on and off the course moving forward.

Arnold Palmer

Arnold Palmer, affectionately known as "The King," is one of the most beloved figures in golf history. He won seven major championships throughout his career and was highly regarded for his charismatic personality both on and off the course.
Palmer's impact on golf extended far beyond his success as a player. He helped popularize the sport with his larger-than-life personality and friendly demeanor, attracting new fans to the game.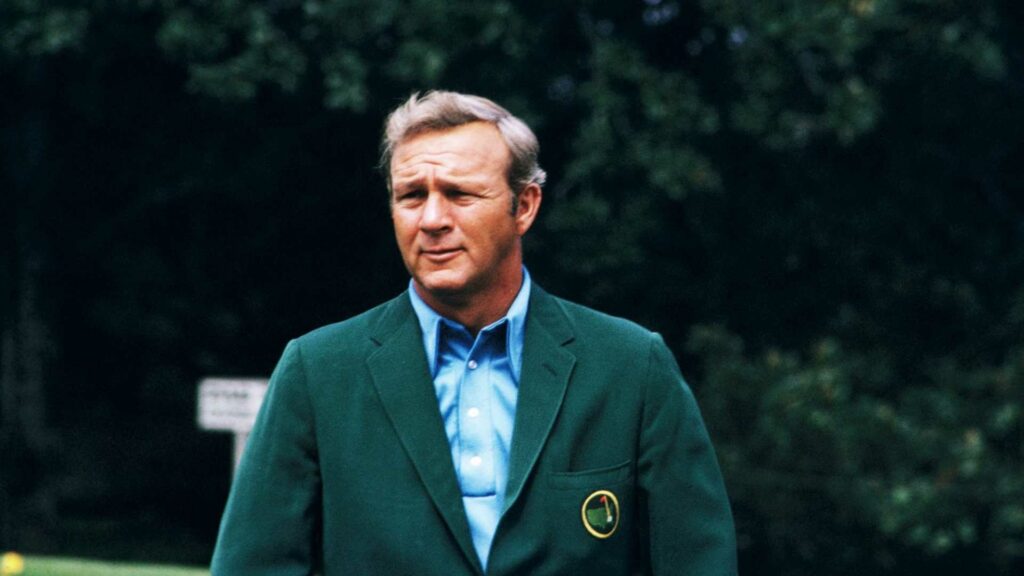 In addition to winning major titles, Palmer also had several other notable achievements. He was a two-time PGA Tour Player of the Year, won 62 Tour events overall, and played on six Ryder Cup teams.
Off the course, Palmer was known for being a philanthropist and businessman. He co-founded Golf Channel and helped develop several successful courses around the world.
Arnold Palmer's legacy in golf cannot be overstated. His contributions to the sport continue to inspire players today and he remains an icon in both golfing circles and beyond.

Walter Hagen

Walter Hagen is one of the most iconic figures in golf history. He was born in 1892 and started playing golf at the age of five. By his early twenties, he had become a professional golfer and won his first major championship, the U.S Open, in 1914.
Hagen was known for his flamboyant style both on and off the course. He was often seen wearing bright colors and smoking cigars during tournaments. Despite this, he remained focused on his game and went on to win eleven majors throughout his career.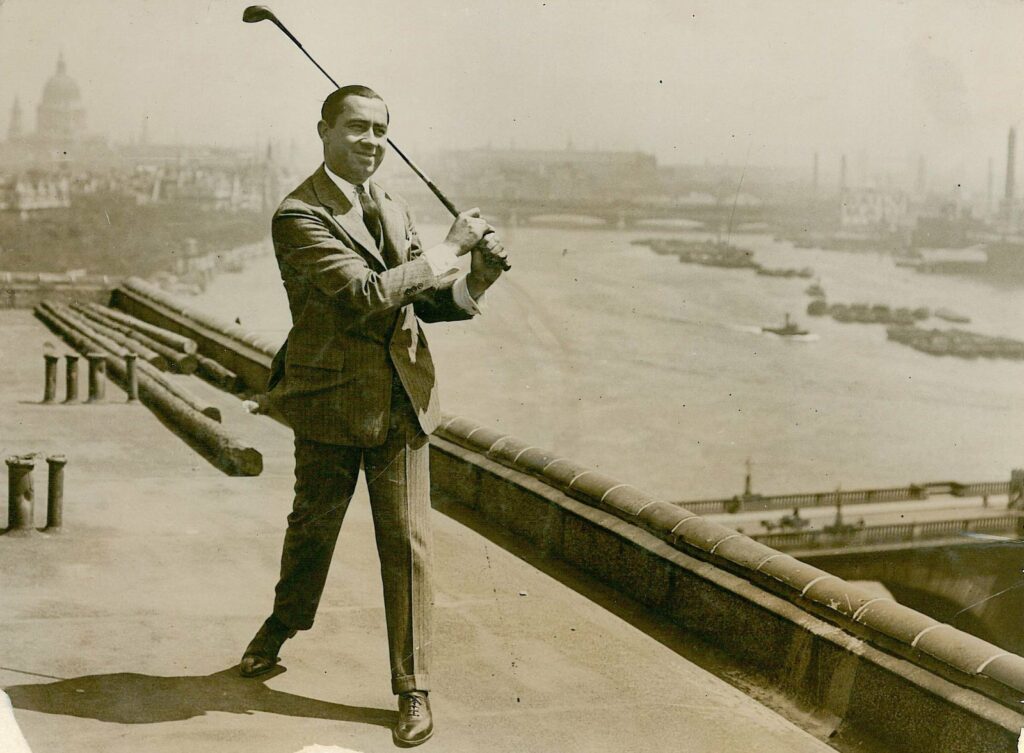 One of Hagen's greatest strengths was his mental toughness. He knew how to stay calm under pressure and never let setbacks affect him. This allowed him to make comebacks when other players would have given up.
Hagen also helped popularize golf as a sport for everyone, not just wealthy elites. He played exhibition matches with celebrities such as Bing Crosby and Charlie Chaplin, which brought new audiences to golf courses around the world.
In short, Walter Hagen's impact on golf cannot be overstated. His legacy lives on through today's players who continue to draw inspiration from his achievements both on and off the course

Ben Hogan

Ben Hogan is a legendary figure in the world of golf. He won nine major championships, including four US Opens and two Masters titles. Known for his precision and accuracy on the course, Hogan was one of the best ball-strikers to ever play the game.
Hogan's career was almost cut short by a near-fatal car accident in 1949. However, he made an incredible comeback and continued to dominate the sport for years to come.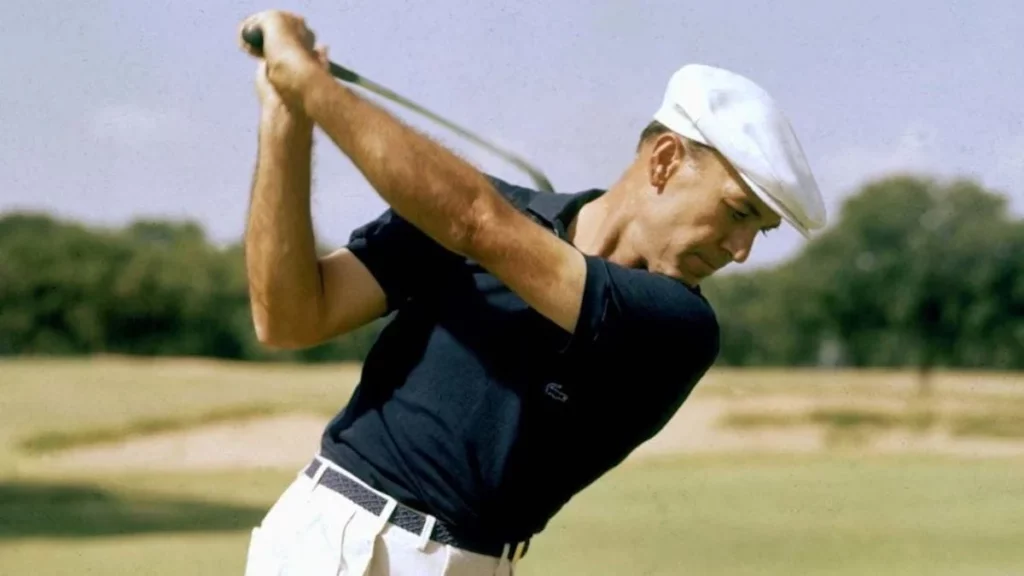 In addition to his success as a player, Hogan also contributed greatly to golf through his innovations in technique and equipment design. His "Five Lessons: The Modern Fundamentals of Golf" is still considered one of the most influential instructional books ever written.
Off the course, Hogan was known for his quiet demeanor and intense dedication to practice and preparation. He remains an inspiration for many golfers today who strive to emulate his work ethic and discipline.

Gary Player

Gary Player is a South African professional golfer who has won nine major championships throughout his career. He's known as the "Black Knight" due to his attire of all-black during tournaments.
Player's success on the golf course can be attributed to his work ethic and dedication to fitness. In fact, he was one of the first golfers to implement weight training into his routine, which was unheard of at the time.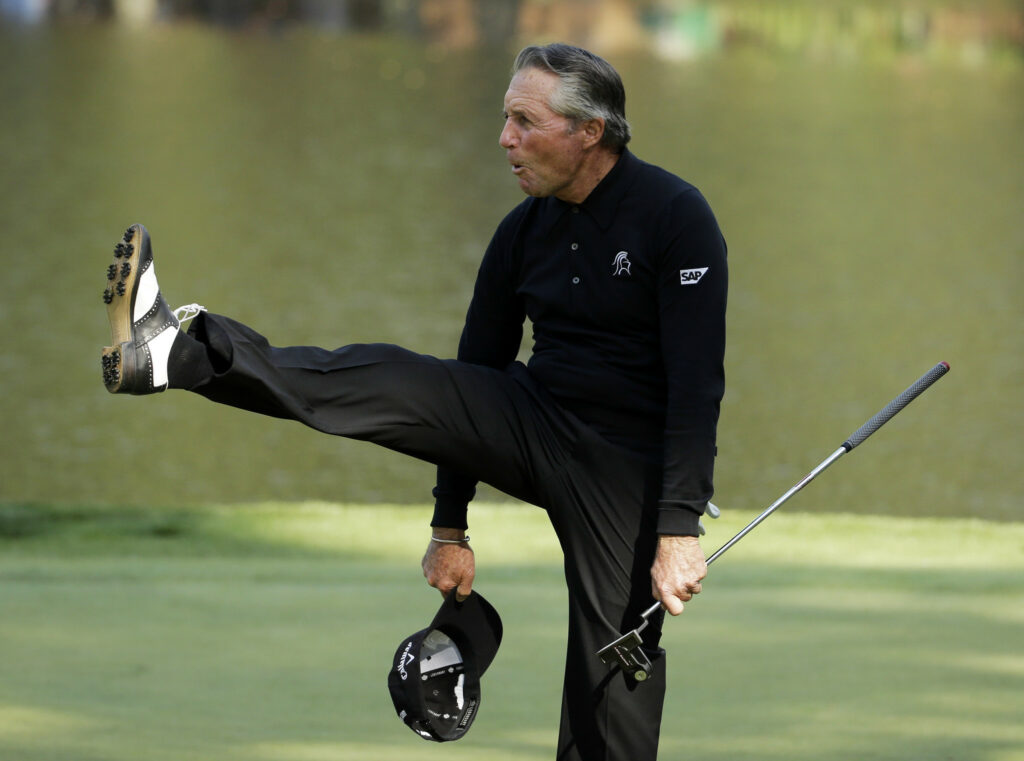 Aside from his impressive record in majors, Player also holds several other achievements in the golfing world. He is one of five players to have won all four major tournaments (the Masters Tournament, U.
S. Open, The Open Championship, and PGA Championship) and only three players have more than him: Jack Nicklaus, Tiger Woods and Walter Hagen.
In addition to being a successful athlete, Player is also an accomplished golf course designer with over 400 courses under his name across five continents.
Gary Player's legacy extends far beyond just winning majors. His commitment to fitness and innovation in training techniques helped pave the way for future generations of athletes while leaving an indelible mark on the sport itself.

Sam Snead

Sam Snead is one of the best golfers in history and has won seven majors throughout his career. He was known for his smooth swing, which he attributed to chewing gum while playing.
Snead began playing golf at a young age and turned professional in 1934. He quickly made an impression on the sport, winning his first major championship at the 1942 PGA Championship.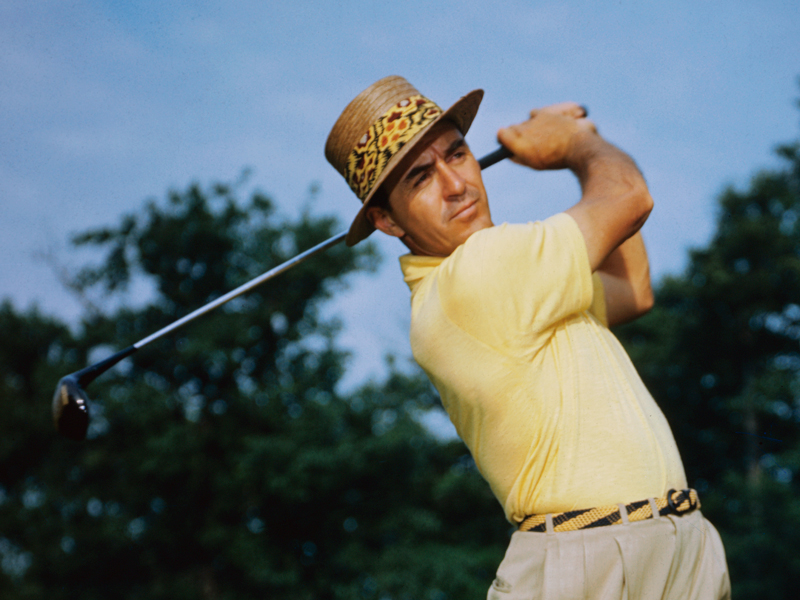 Throughout his career, Snead's rivalry with Ben Hogan was legendary. The two players had vastly different styles but were both incredibly talented. In fact, some would argue that their rivalries helped to popularize golf across America.
But it wasn't just Snead's skill on the course that made him famous – he also had a larger-than-life personality that endeared him to fans around the world. From telling jokes to singing songs between rounds, Snead knew how to entertain a crowd.
Despite facing numerous health problems later in life, Sam Snead continued to play and teach golf until his death in 2002 at age 89. His legacy lives on as one of the greatest golfers ever to play the game.

Gene Sarazen

Gene Sarazen was an American golfer who won seven major championships in his career. He is known for inventing the modern sand wedge, which revolutionized the game of golf.
Sarazen's first major win came at the 1922 U.S. Open, where he defeated Bobby Jones in a playoff. He went on to win three more majors over the next decade, including two PGA Championships and another U.S. Open.
One of Sarazen's most famous moments came at the 1935 Masters Tournament, when he hit "the shot heard 'round the world" – a double eagle on the par-5 15th hole that helped him win by one stroke.
Sarazen was also a pioneer in golf broadcasting, becoming one of the first players to work as an analyst and commentator for televised tournaments.
Despite retiring from competitive play in 1973, Sarazen remained active in golf until his death in 1999 at age 97. His contributions to both playing and promoting the sport have left a lasting impact on golf history and culture.

Byron Nelson

Byron Nelson was born in 1912 in Texas, USA. He began his professional golf career at the age of 21 and won his first PGA Tour event in 1935. Nelson's style was unique as he had a very compact swing that produced accurate shots consistently.
Nelson set an incredible record by winning eleven consecutive tournaments on the PGA Tour in 1945. This remarkable feat is still considered one of the greatest achievements in golf history and is known as "The Streak."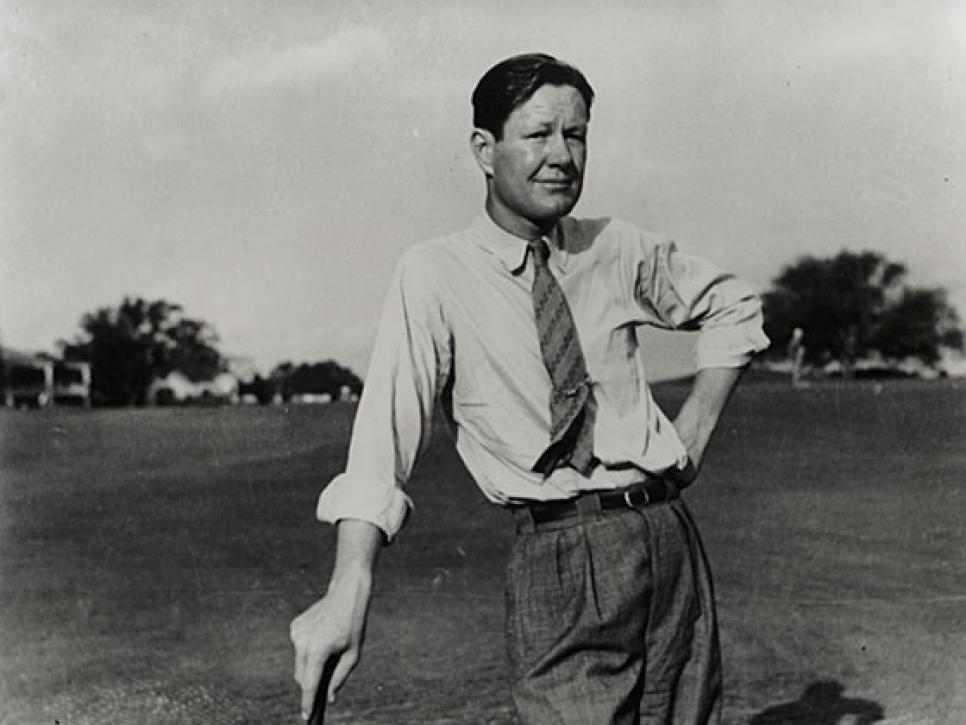 During his career, Byron Nelson won five major championships, including two Masters titles (1937 and 1942), one U.S. Open (1939), and two PGA Championships (1940 and 1945). He also served as a captain for the United States Ryder Cup team twice.
After retiring from competitive play, Nelson became a respected television commentator and course designer. In addition to these accomplishments, he established The Byron Nelson Golf Classic which has been held annually since its inception in 1968.
Byron Nelson passed away at the age of 94 but left behind an impressive legacy that continues to inspire generations of golfers around the world.

Tom Watson

And there you have it, the top 10 most golf majors winners in history. From Jack Nicklaus to Tiger Woods and Arnold Palmer, these legendary players have left an indelible mark on the sport.
But let's not forget about Tom Watson, who rounds out our list at number ten. Although he may not have won as many majors as some of his peers, he is still considered one of the greatest golfers of all time.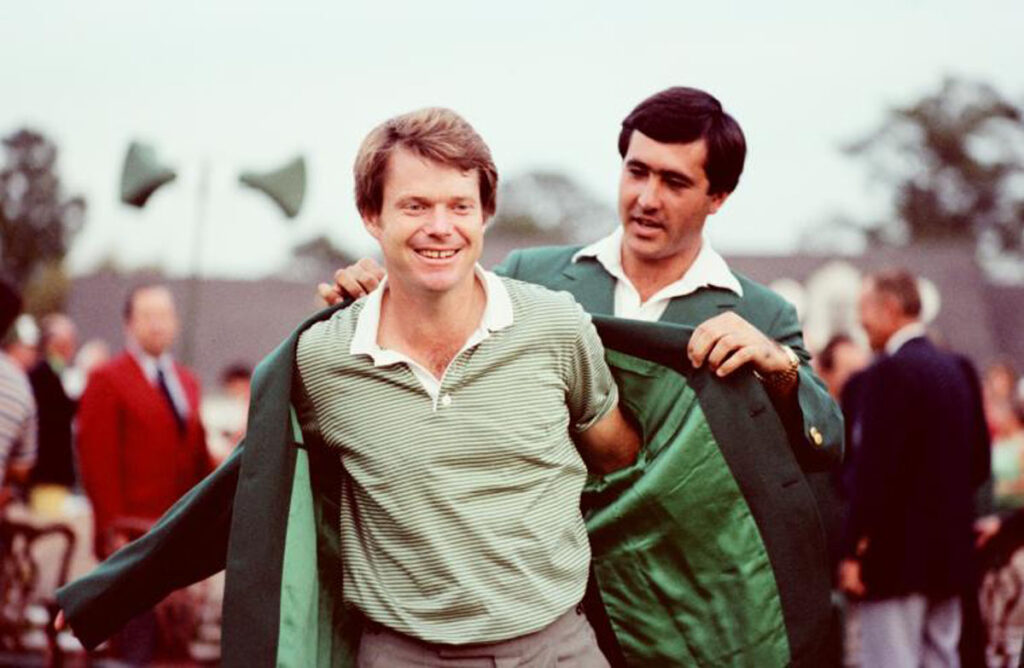 Watson won eight major championships throughout his career, including five Open Championships and two Masters titles. He was known for his precision and accuracy on the course, as well as his ability to perform under pressure.
In addition to his major wins, Watson also had a remarkable Ryder Cup record with five victories as a player and served as captain four times. He continues to inspire future generations of golfers with his talent and sportsmanship both on and off the course.
Also check out the top 10 Golfers of All times.