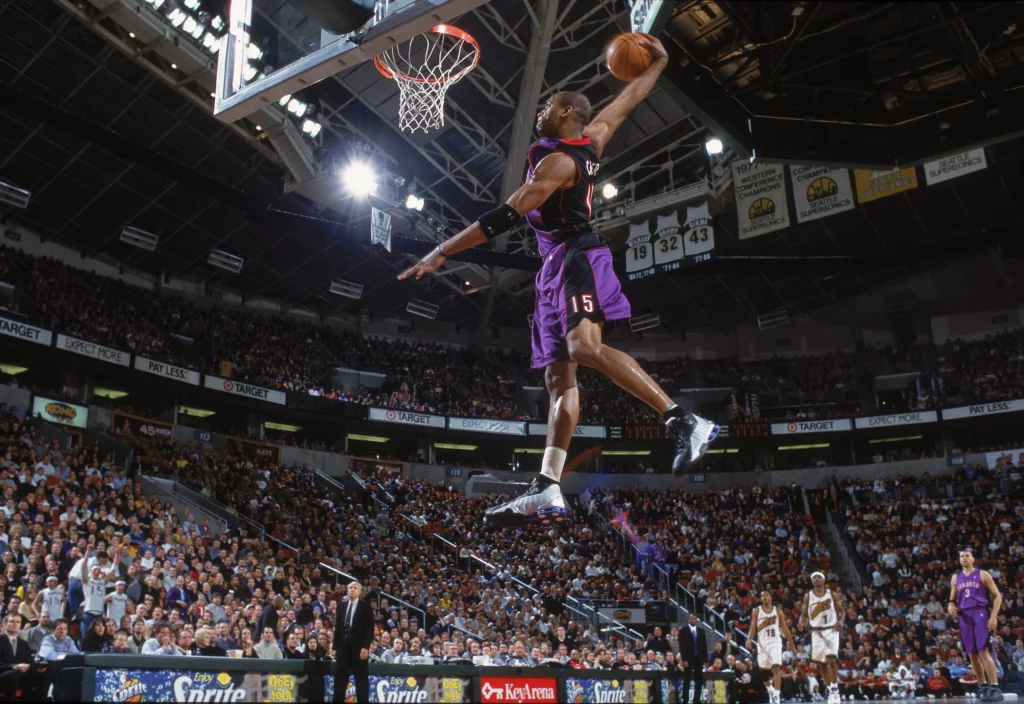 The slam dunk has become one of the most iconic moves in basketball, bringing fans to their feet and leaving opponents in awe. And while many players have thrown down some impressive dunks over the years, only a select few have managed to rack up enough to earn a spot on the list of most dunks in NBA history.
From legends like Michael Jordan and Kobe Bryant to modern-day stars like LeBron James and Dwayne Wade, these players have left an indelible mark on the game with their high-flying skills. Join us as we count down the top 10 players with the most dunks in NBA history!
A dunk shot is a type of basketball shot which is played when a player jumps high up in the air above the horizontal plane of the basket and controls the ball with one hand or with both the hands and scores by shoving the ball directly into the basket. At the field it is considered as 2 points. This shot was initially called the dunk shot but was later called the Slam Dunk by the Los Angeles Lakers Legend Chris Hearn.
The dunk shot is the highest level of scoring in a Basketball and is surely an entertainer for the fans as well. The best dunk shots are taken and and are frequently showcased in the Slam Dunk Contests such as the NBA Slam Dunk Contest held during the NBA All Star Weekend. The first incarnation of the NBA Slam Dunk Contest was held during the half-time of the 1976 ABA All-Star Game.
In the year 2015, a study was conducted to show the best effective shots in Basketball which included the Slam Dunk Shot as well. The study was conducted across 5 levels of Basketball competitions which were the NBA, the 1st Soviet Division Basketball,Euro Basket and two minor Leagues.
After the study was over the result said that slam dunk was one of the most effective way of scoring in the game of basketball especially in the NBA as it had the highest percentage of baskets scored by Slam dunks.
Michael Jordan
Michael Jordan is often hailed as the greatest basketball player of all time, and it's not hard to see why. His incredible skill on the court was matched only by his fierce competitive spirit, which helped him rack up an impressive 2,514 dunks over the course of his career.
Jordan's dunking ability was a key part of his game from the start. In fact, he won two Slam Dunk Contests in 1987 and 1988 with some truly jaw-dropping performances that are still talked about to this day.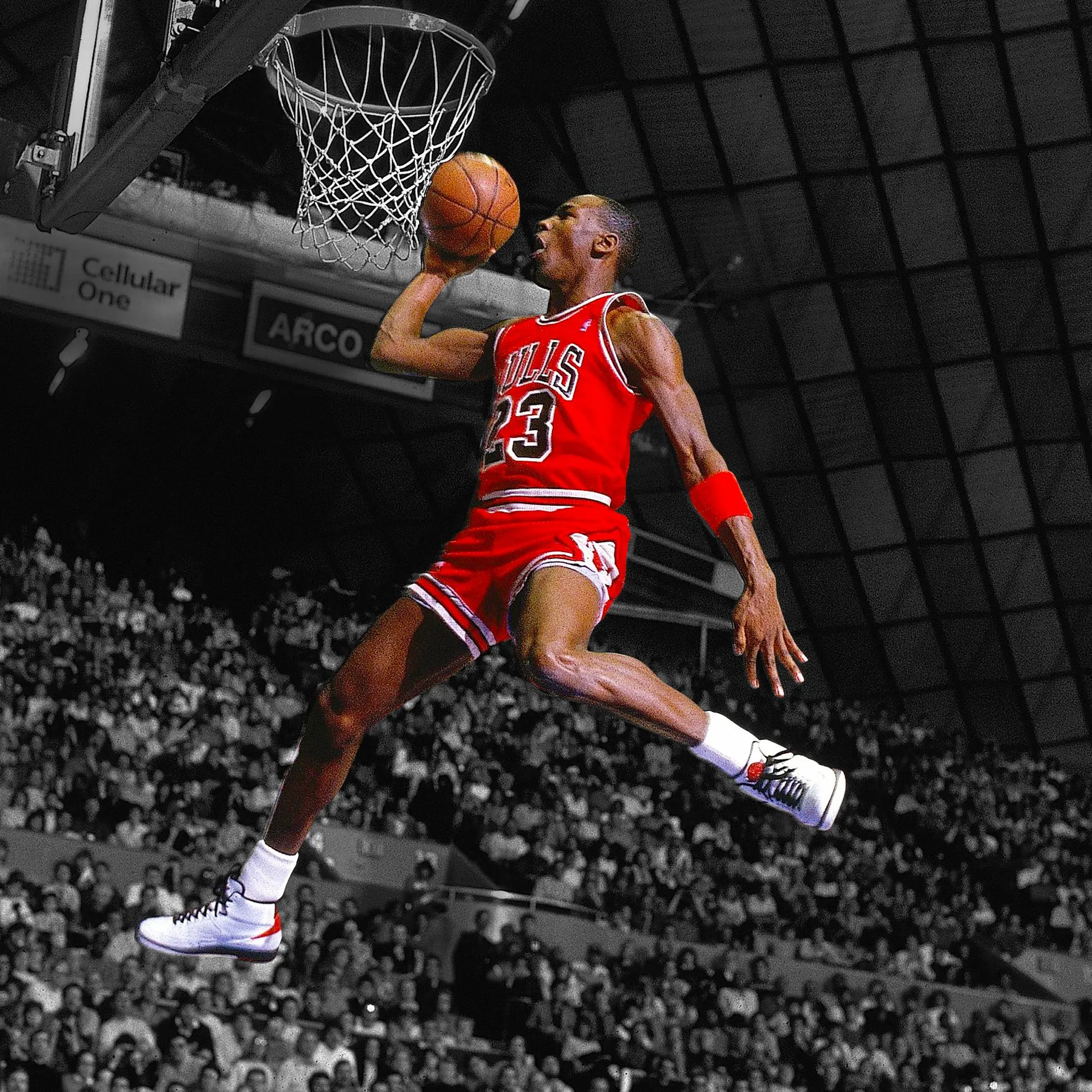 But Jordan wasn't just a flashy dunker – he also knew when to use his skills strategically. He used dunks to demoralize opponents and fire up his teammates, making them an integral part of his overall strategy on the court.
And while many players have tried to emulate Jordan's style over the years, there will never be another quite like him. From iconic moments like "The Shot" in Game 5 of the 1989 NBA Playoffs to six championship rings and five league MVP awards, Michael Jordan will always be remembered as one of basketball's true greats.
Kobe Bryant
Kobe Bryant is one of the most iconic basketball players in NBA history. His style of play was characterized by his incredible athleticism, skill, and competitiveness. As a result, he became known for his ability to dunk the ball with authority.
Throughout his career, Kobe had some truly spectacular dunks that have become part of NBA lore. Whether it was slamming down on opponents or throwing down alley-oops from teammates, Kobe's dunks were always a sight to behold.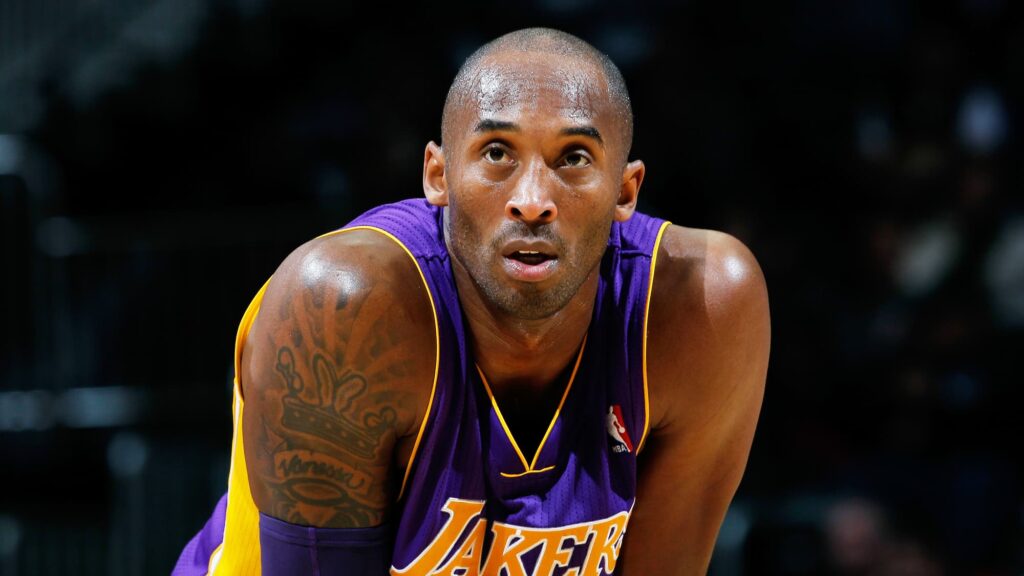 One particular dunk that stands out is when he posterized Dwight Howard during a game against the Orlando Magic in 2004. In this play, Kobe drove past two defenders and elevated over Howard for an emphatic one-handed slam.
Another memorable moment came during the 1997 Slam Dunk Contest where Kobe showcased his aerial abilities by performing a between-the-legs dunk from behind the free-throw line. This display of power and finesse solidified him as one of the best dunkers in NBA history.
Kobe's high-flying performances inspired many young players to take up basketball and emulate his moves on the court. He will always be remembered as an all-time great player who left an indelible mark on basketball culture forevermore.
LeBron James
LeBron James, the "King" of the NBA, is undoubtedly one of the most iconic players to have ever stepped foot on a basketball court. With his incredible athleticism and powerful dunks, he has etched his name in history as one of the all-time greats.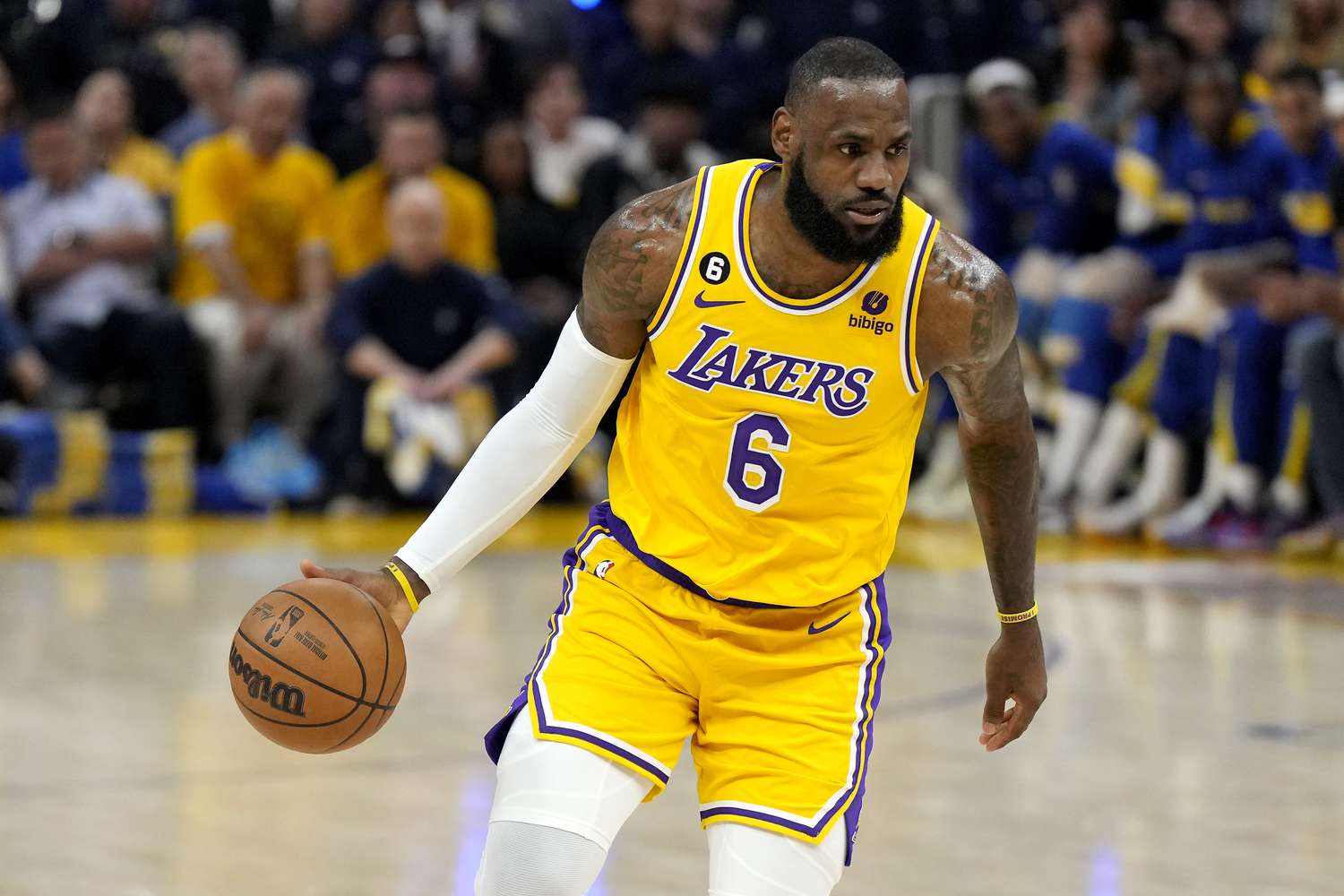 From high-flying windmill slams to posterizing opponents with thunderous jams, LeBron's ability to dunk with both finesse and power makes him a force to be reckoned with. Throughout his illustrious career, spanning over 18 seasons and counting, he has consistently demonstrated that age is merely a number when it comes to throwing down jaw-dropping dunks.
LeBron's signature chase-down blocks often culminate in explosive fast-break finishes. His unparalleled court vision allows him not only to dish out assists but also position himself perfectly for gravity-defying alley-oop plays.
Through sheer willpower and an unwavering commitment to excellence on both ends of the floor – including acrobatic aerial displays – LeBron James continues to wow fans across the globe while asserting himself as one of the top slam dunk artists in NBA history.
Dwayne Wade
Dwayne Wade, also known as "Flash," is widely regarded as one of the greatest shooting guards in NBA history. He played for the Miami Heat for most of his career and was an integral part of their championship-winning teams.
Wade's athleticism and explosiveness allowed him to dunk with ease throughout his career. In fact, he currently ranks fifth on the list of players with the most dunks in NBA history. His signature move, the Eurostep, often resulted in a highlight-reel dunk or layup.
But it wasn't just his physical abilities that made Wade such a dominant player. He had incredible basketball IQ and could read defenses like few others could. This allowed him to make smart decisions and find ways to score even when faced with tough defenders.
Off the court, Wade has been equally impressive. He has used his platform to advocate for important social issues such as gun violence prevention and LGBTQ+ rights. He's also been recognized for his philanthropy work through initiatives like The Wade's World Foundation which provides support to underprivileged youth.
Dwayne Wade will always be remembered not only for his high-flying dunks but also for being a well-rounded athlete who used his voice to make a positive impact both on and off the court.
Vince Carter
Vince Carter is one of the most prolific dunkers in NBA history. He has a career total of 1,435 dunks and was known for his high-flying aerial displays during his prime.
Carter's most memorable dunk came during the 2000 Olympics when he jumped over French center Frederic Weis to slam it home with authority. This iconic moment earned him the nickname "Half Man, Half Amazing."
Throughout his career, Carter played for eight different teams but made a lasting impact on each one. He won Rookie of the Year in 1999 and was an All-Star eight times throughout his career.
Despite being known primarily for his dunks, Carter had a well-rounded game that included solid shooting and playmaking abilities. He finished his career with averages of 16.7 points, 4.3 rebounds, and 3.1 assists per game.
Now retired from basketball, Vince Carter remains an inspiration to aspiring young players who want to emulate his ability to soar through the air and throw down thunderous slams with ease.
Clyde Drexler
Clyde Drexler, also known as "The Glide," was a phenomenal dunker during his NBA career. He played for the Portland Trail Blazers and Houston Rockets, earning 10 All-Star selections and an NBA championship in 1995.
Drexler's signature move was his one-handed tomahawk dunk, which he performed with such grace and power that it left fans in awe. He had incredible hang time, allowing him to soar above defenders before slamming the ball through the hoop.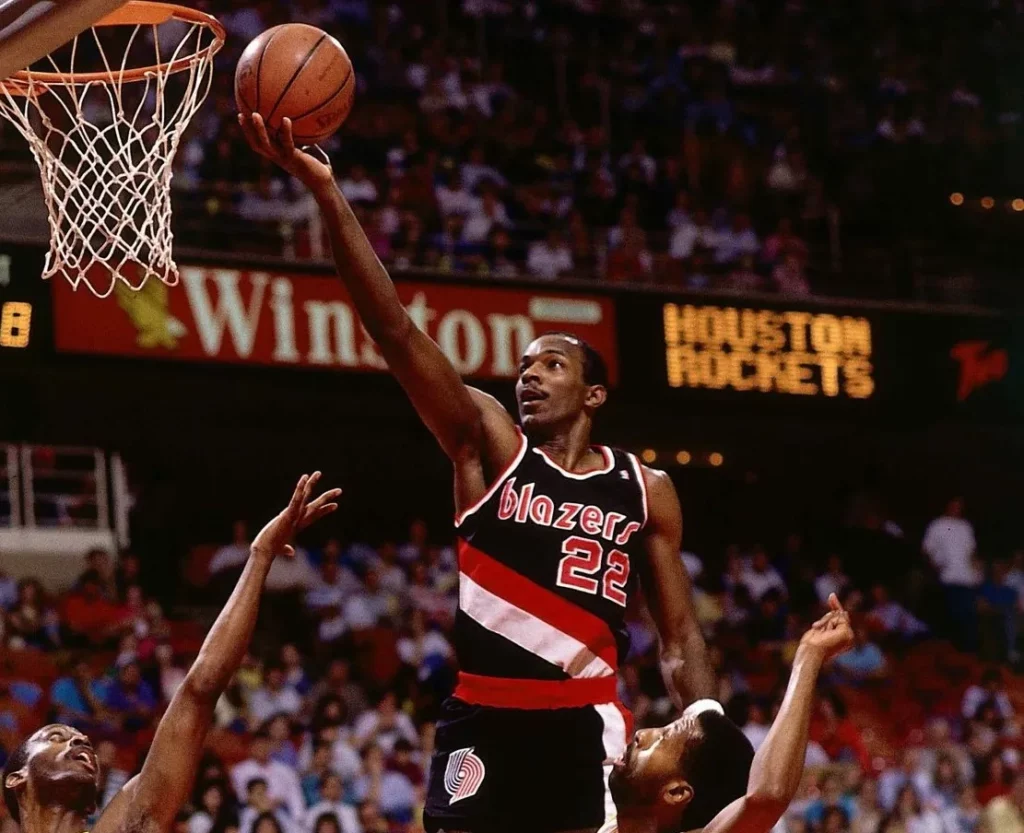 One of Drexler's most memorable dunks came during the 1984 Olympics when he threw down a thunderous jam over future Hall of Famer Patrick Ewing. The moment is still celebrated as one of the greatest dunks in basketball history.
What made Drexler such a great dunker was not just his athleticism but also his creativity on the court. He wasn't afraid to try new moves or take risks during games, making him both unpredictable and exciting to watch.
Clyde Drexler deserves recognition among the top dunkers in NBA history due to his combination of skill, style, and sheer entertainment value on the court.
Dominique Wilkins
Dominique Wilkins, also known as "The Human Highlight Film", was one of the most exciting players to watch during his time in the NBA. He played for 15 seasons and is considered one of the greatest dunkers in NBA history.
Wilkins started his career playing for the Atlanta Hawks, where he spent most of his prime years. During his time with the Hawks, he won two Slam Dunk Contests and led the team to four division titles.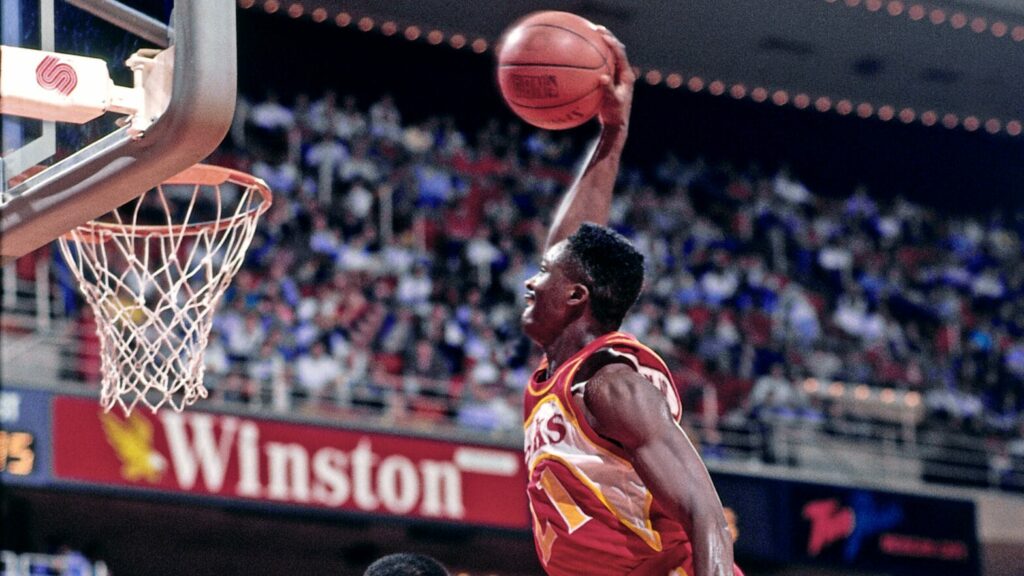 In addition to his incredible dunking abilities, Wilkins had a deadly mid-range jump shot that made him nearly unstoppable on offense. He averaged over 26 points per game for six consecutive seasons and earned nine All-Star selections throughout his career.
Despite never winning an NBA championship, Wilkins' impact on the game cannot be understated. His high-flying dunks and electrifying performances were a staple of basketball culture in the 80s and early 90s.
Even after retiring from playing professionally, Wilkins has continued to give back to the sport by coaching young players and serving as a commentator for various networks. His legacy will continue to inspire future generations of basketball stars who hope to emulate his skill, style, and passion on-court.
Jerry West
Jerry West is one of the most iconic players in NBA history. He is best known for his exceptional shooting ability, but he was also a prolific dunker during his career. In fact, West was one of the first guards to regularly throw down dunks in games, paving the way for future generations of high-flying guards.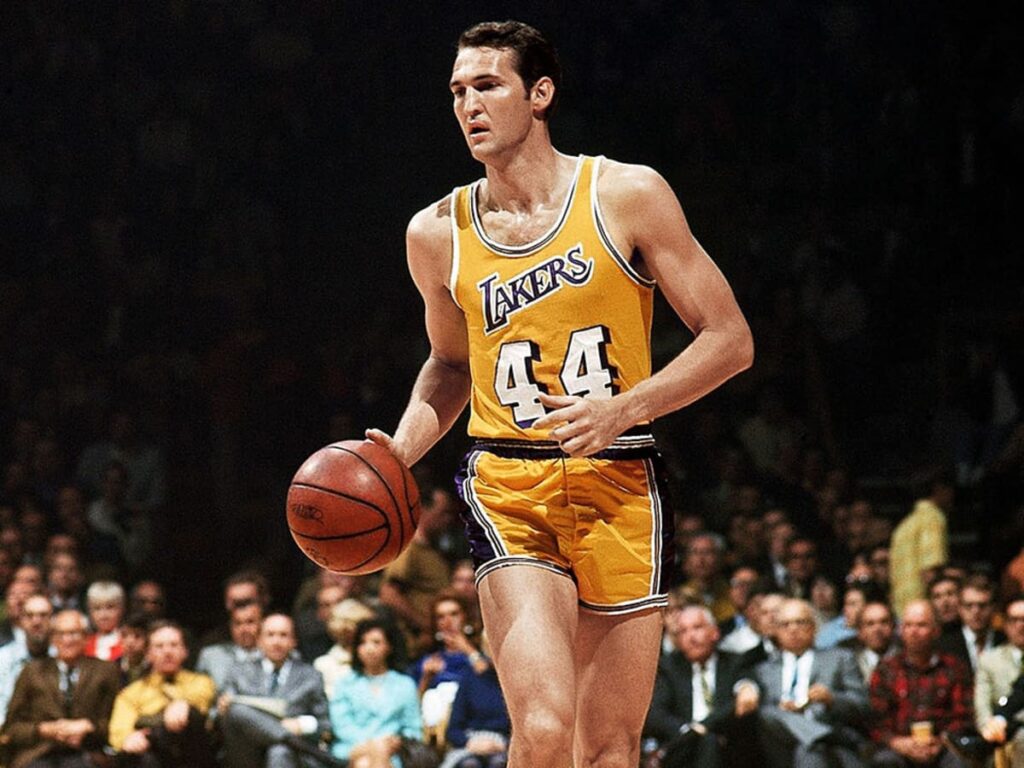 West's signature move was his lightning-fast crossover dribble that would often leave defenders flat-footed and give him an open lane to the basket. Once he got near the rim, West had no problem finishing with thunderous slams that sent crowds into a frenzy.
Despite being known primarily as a shooter and scorer, West actually ranks among the top 50 players in NBA history in total dunks. He may not have been as flashy or athletic as some of today's dunking superstars, but Jerry West's ability to finish at the rim with authority helped make him a true legend of basketball.
Julius Erving
Julius Erving, also known as "Dr. J," revolutionized the game of basketball with his high-flying dunks and acrobatic moves. He is often credited with popularizing the slam dunk and making it a staple of modern basketball.
Erving began his career in the ABA, where he won two championships and three MVP awards before joining the NBA. In his first season with the Philadelphia 76ers, he led them to an NBA championship in 1983.
One of Erving's most memorable dunks came during Game 4 of the 1977 NBA Finals when he took off from just inside the free-throw line and threw down a one-handed jam over Lakers center Kareem Abdul-Jabbar.
But Erving was more than just a dunker. He was also a skilled scorer, rebounder, and passer who could dominate games in multiple ways. Over his career, he averaged 24.2 points, 8.5 rebounds, and 4.2 assists per game.
Off the court, Erving was known for his class and sportsmanship as well as his philanthropy work through several foundations that helped underprivileged youth gain access to education opportunities.
Julius Erving's impact on basketball extends far beyond just his highlight-reel dunks – he helped elevate the sport to new heights both on and off the court.
Shaquille O'Neal
And there you have it, the top 10 players with the most dunks in NBA history. These players have all left their mark on the league with their incredible athleticism and skill on the court. From Michael Jordan to Shaquille O'Neal, these basketball legends will forever be remembered for their ability to throw down some of the most unforgettable dunks in NBA history.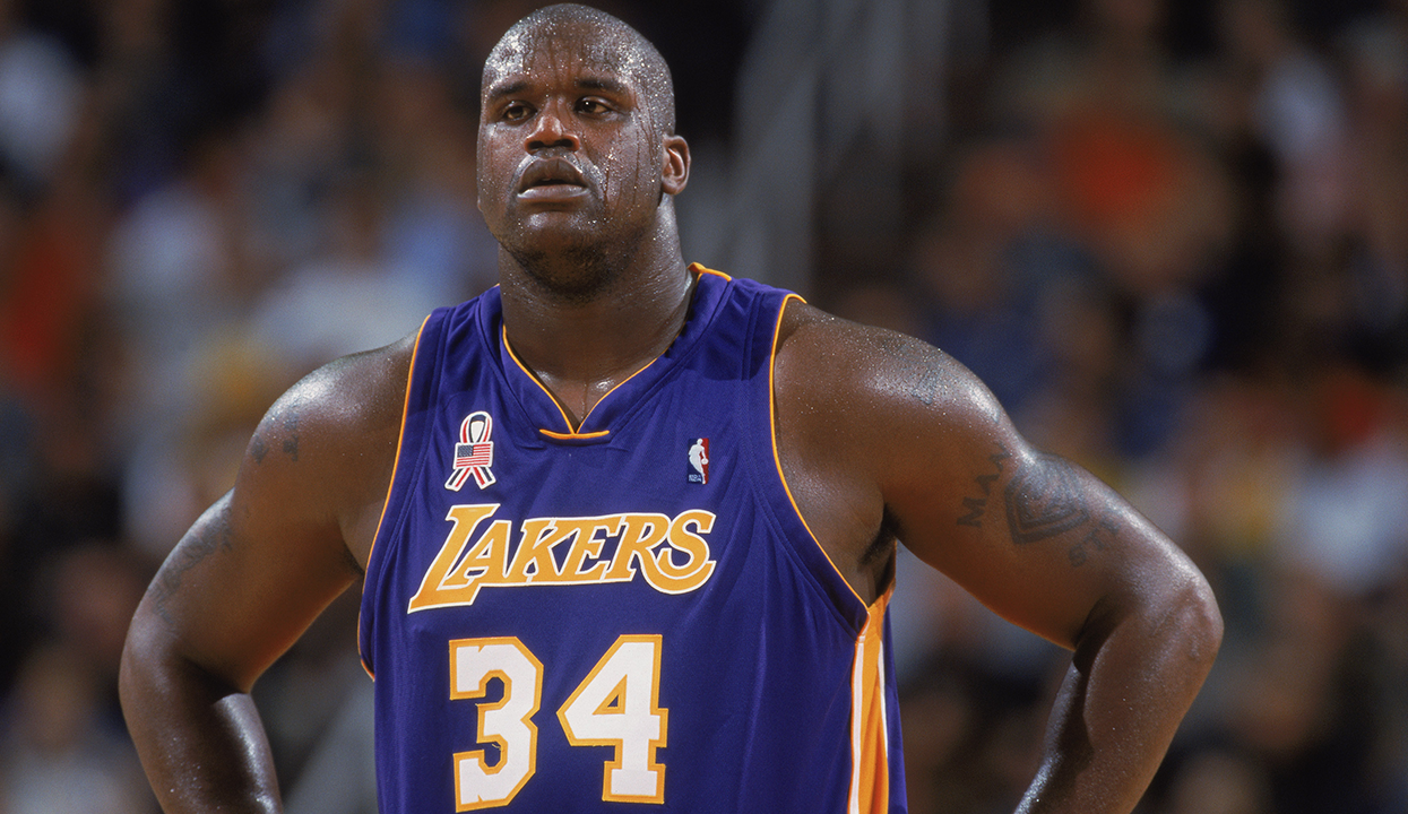 It's no surprise that these players are also among some of the greatest players ever to play in the NBA. Their impressive dunking abilities were just one aspect of their overall talent and contributions to the game.
As we continue to watch new generations of talented athletes take center stage on courts across America, we can only wonder who will make this list in years to come. Will records continue to be broken? Will new stars emerge as dominant forces on the court?
Only time will tell, but for now, let's appreciate and celebrate these iconic athletes who contributed so much excitement and thrill to every dunk they made throughout their careers.
Also check out The Shortest Players to Dunk.