The world of tennis has produced some incredible female athletes who have left their mark in the sport's history. These women have displayed unmatched talent, determination, and perseverance, paving the way for future generations to follow.
One of the most prestigious achievements for any tennis player is winning a Grand Slam title. It requires exceptional skill, hard work, and dedication to become a champion at this level.
In this blog post, we will take a closer look at the top 10 Most Grand Slam Titles by Female in tennis history. Get ready to be inspired by these remarkable women!
Margaret Court
Margaret Court is a name that has become synonymous with excellence in tennis. She remains the record holder for the most number of Grand Slam titles won by any player, male or female. Her incredible career spanned over two decades and she dominated the sport during her prime.
Court's skill on the court was matched only by her sheer determination and drive to succeed. She had an unparalleled mental toughness, which allowed her to stay calm under pressure and make comebacks even when all hope seemed lost.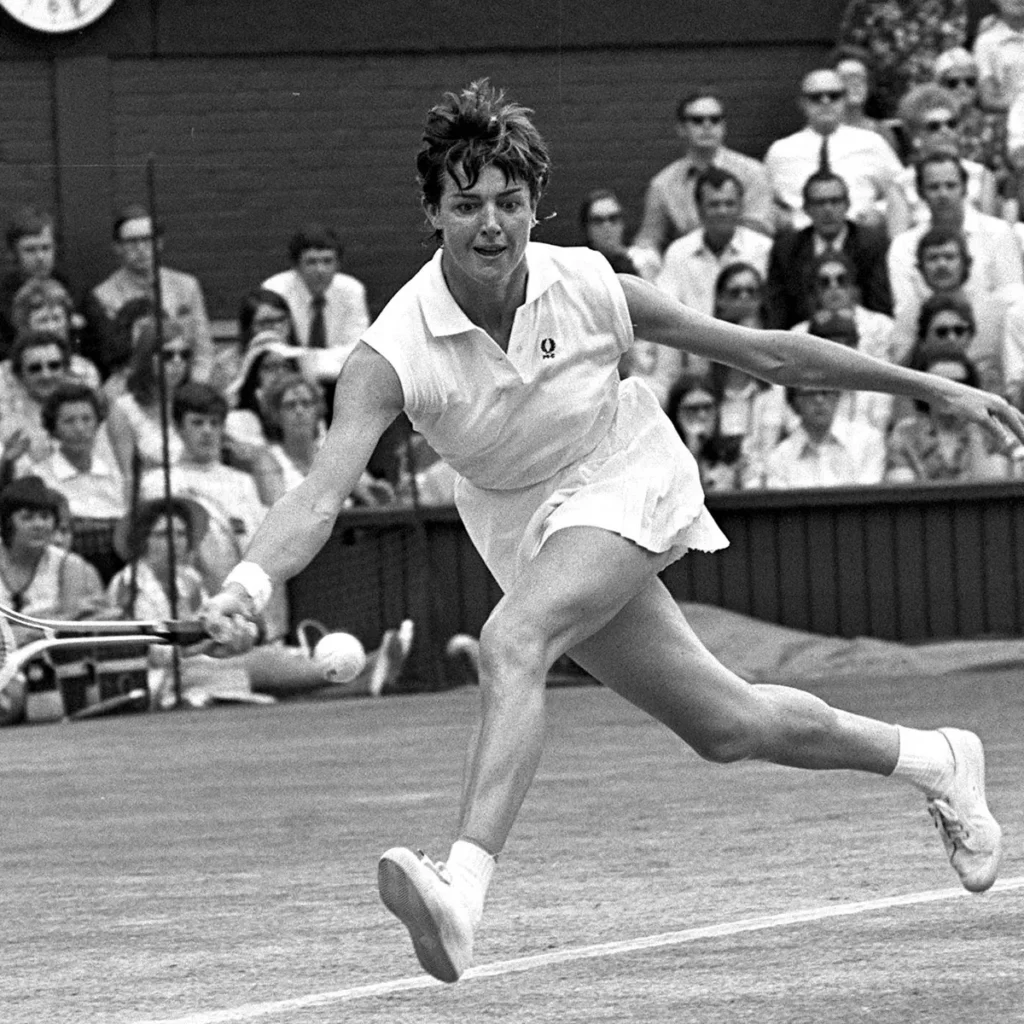 What made Court truly unique was her versatility as a player. She could play both singles and doubles with equal ease, winning numerous titles in both categories throughout her career. This made her a formidable opponent on the court who could adapt to any situation effortlessly.
However, Court's success wasn't just limited to tennis. She also played basketball at a national level before focusing entirely on tennis. Even after retiring from professional tennis, she continued coaching future generations of players and remained involved in promoting sports at all levels.
Despite some controversial comments that have arisen regarding social issues outside of Tennis that have led some figures within Tennis (such as Billie Jean King) calling for renaming Margaret Court Arena due to such comments being deemed discriminatory; there is no doubt about the remarkable legacy that Margaret Court has left behind in Tennis history
Serena Williams
Serena Williams is undoubtedly one of the greatest female tennis players of all time. Her dominance on the court has been unparalleled and her achievements have cemented her place in sporting history.
Born in Michigan, United States, Serena started playing tennis at a young age with her sister Venus under their father's guidance. She soon began to make waves on the professional circuit and went on to win an incredible 23 Grand Slam singles titles, making her one of the most successful players ever.

What sets Serena apart from other players is not just her talent but also her mental toughness and determination. Despite facing numerous obstacles throughout her career including injuries and personal setbacks, she has always bounced back stronger than ever before.
Off the court, Serena is an inspiration to millions around the world for breaking down barriers and pushing boundaries. She uses her platform to advocate for racial justice, gender equality and women's rights issues.
Serena's legacy as a trailblazer both on and off the court will continue to inspire generations of athletes to come.
Steffi Graff
Steffi Graf is a name that resonates with tennis fans all over the world. Born in Germany, Graf quickly rose to fame as one of the most talented female tennis players of her generation. Her impressive career spanned more than a decade and saw her win an astonishing 22 Grand Slam titles.
What made Graf stand out from other players was her incredible speed and agility on the court. She had a unique playing style that combined power, precision, and grace which helped her dominate opponents during her prime years.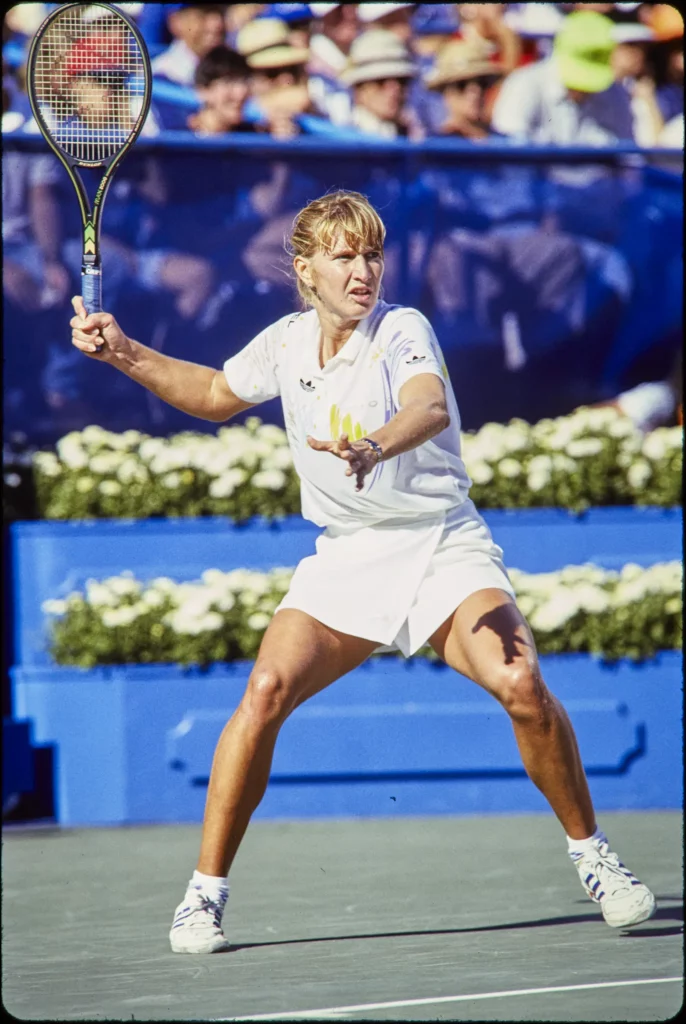 One of Graf's most memorable moments came in 1988 when she won all four Grand Slam singles titles in the same calendar year – a feat known as The Golden Slam. This remarkable achievement has only been accomplished by one other player since then.
Graf's legacy extends beyond just her impressive record on the court. She also paved the way for future generations of female athletes by inspiring young girls around the world to pursue their dreams no matter what obstacles they may face along the way.
Steffi Graf will always be remembered as one of tennis' greatest champions who left an enduring impact on both sports history and popular culture alike.
Billie Jean King
Billie Jean King is a legendary tennis player who has left an indelible mark on the sport. She was born in California, USA in 1943 and started playing tennis at the young age of eleven. Over the course of her career, she won an impressive 39 Grand Slam titles – 12 in singles, 16 in women's doubles, and 11 in mixed doubles.

King also famously beat Bobby Riggs in the "Battle of the Sexes" match in 1973, which helped to further promote gender equality within sports. She was a trailblazer for female athletes everywhere and continues to inspire generations with her advocacy work off the court.
In addition to her accomplishments as a player, King also co-founded World Team Tennis and founded The Women's Sports Foundation. These organizations aim to provide equal opportunities for girls and women interested in participating in sports.
Billie Jean King is more than just a tennis icon; she is a symbol of courage, determination and activism both on and off the court.
Martina Navratilova
Martina Navratilova is an icon of women's tennis and one of the greatest female athletes in history. She has won a total of 18 Grand Slam singles titles, 31 Grand Slam women's doubles titles, and 10 Grand Slam mixed doubles titles throughout her career.
Navratilova was known for her exceptional serve-and-volley style of play, as well as her incredible athleticism and fitness level. She dominated the sport during the late 1970s to mid-1980s, winning Wimbledon a record nine times.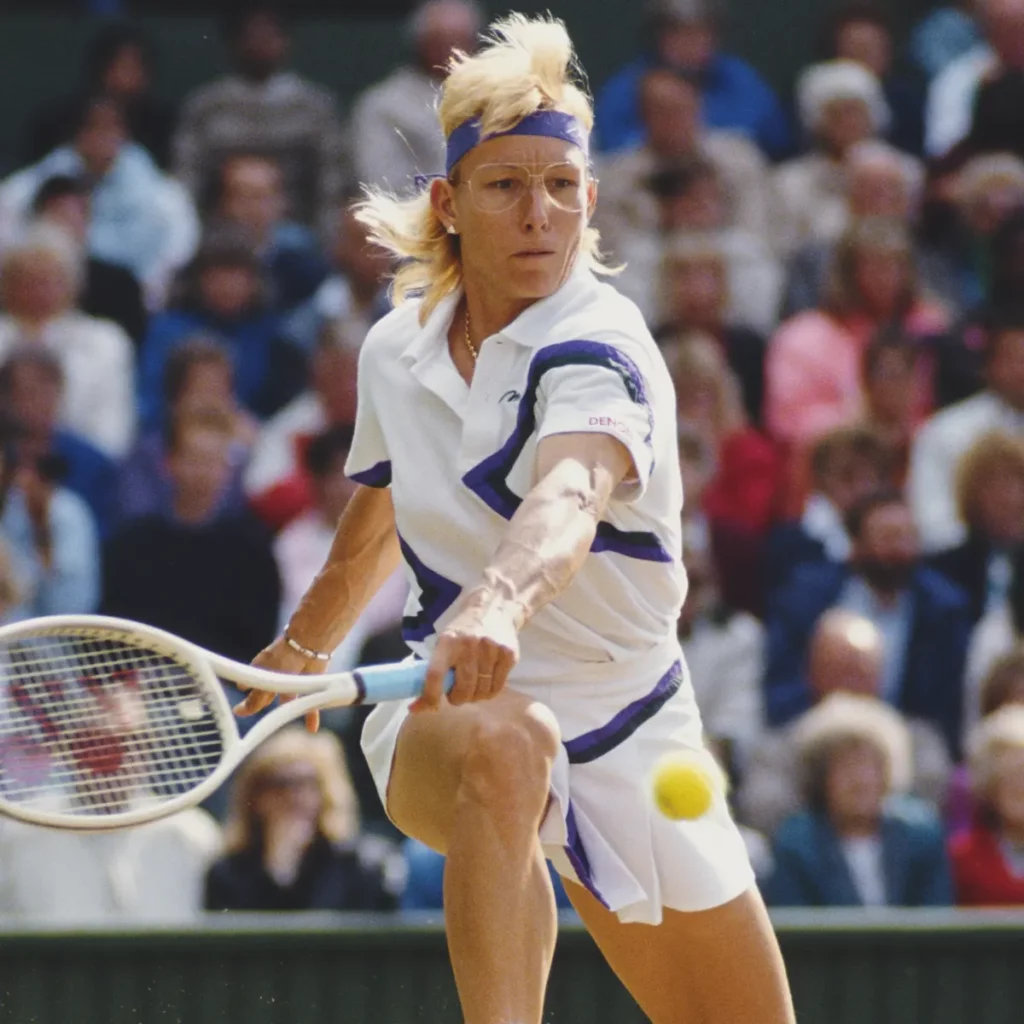 In addition to her remarkable achievements on the court, Navratilova was also known for being an advocate for gay rights and animal welfare. Her courage in coming out as a lesbian during a time when it wasn't widely accepted helped pave the way for other LGBTQ+ athletes.
Despite retiring from professional tennis over two decades ago, Navratilova continues to be involved in the sport through coaching and commentary work. Her legacy will forever be remembered not just as a great tennis player but also as someone who made significant contributions off-court too.
Chris Evert
Chris Evert is a name that has become synonymous with grace, talent and excellence in the world of tennis. Born in 1954, this American tennis player dominated the sport between the late 1970s and early 1980s.
Evert's consistency on the court was unparalleled – she won at least one Grand Slam title every year for an impressive twelve-year period. She also held onto her World No.1 ranking for a total of seven years throughout her career.

But it wasn't just Evert's skill on the court that made her stand out – it was also her sportsmanship. She was known for being gracious both in victory and defeat, always staying true to herself and playing with honor.
Off-court, Evert has remained active in promoting women's tennis long after retiring from professional play. Her Chris Evert Charities organization supports various causes including education and drug abuse prevention.
All these factors have helped solidify Chris Evert as not only one of the greatest female athletes of all time but also as a role model who continues to inspire generations beyond her own era.
Evonne Goolagong Cawley
Evonne Goolagong Cawley is a retired Australian tennis player who won a total of 7 Grand Slam titles in her career. She was known for her unique playing style and graceful movements on the court.
Born in New South Wales, Australia, Evonne grew up playing tennis on grass courts that were maintained by her family. She turned pro at the age of 19 and quickly showed promise by winning the French Open singles title in 1971.

Throughout her career, Evonne faced racial discrimination as an Indigenous Australian woman in a predominantly white sport. Despite this, she remained determined and went on to become one of the most successful female tennis players of all time.
In addition to her Grand Slam wins, Evonne also won two Wimbledon singles titles and was ranked world No.1 for two weeks during her career. After retiring from professional tennis, she has continued to be involved with the sport through coaching and mentoring young players.
Evonne's legacy goes beyond just her success on the court – she has been recognized for breaking down barriers and paving the way for future generations of Indigenous athletes.
Monica Seles
Monica Seles is a former professional tennis player from Yugoslavia who had an impressive career in the sport. She won nine Grand Slam singles titles, eight of which were before the age of 20. Seles was known for her aggressive style of play and powerful groundstrokes.
At just 16 years old, Seles became the youngest French Open champion in history in 1990. She went on to win six more Grand Slam titles over the next two years, including three consecutive Australian Opens.

However, Seles' career took a tragic turn in 1993 when she was stabbed during a match by a fanatical fan of her rival Steffi Graf. The incident left her with physical and emotional scars that took years to overcome.
Despite this setback, Seles returned to tennis and continued to compete at a high level for several more years. She reached the US Open final in 1995 and won another Australian Open title in 1996.
Seles may have been robbed of many potential victories due to the attack but she still managed to establish herself as one of the greatest female players ever seen on court.
Lindsay Davenport
Lindsay Davenport is a former professional tennis player from the United States who has won three Grand Slam singles titles in her career. She was ranked world No. 1 in both singles and doubles, making her one of the most versatile players of her generation.
Davenport's style of play was characterized by powerful groundstrokes and a strong serve that allowed her to dominate opponents on any surface. Her consistent performance over the years earned her numerous accolades including Olympic gold medal, two WTA Championships, and three ITF World Champion titles.
Despite suffering several injuries throughout her career, Davenport remained competitive until she retired in 2008 at age 32. Today, she continues to be an inspiration to young aspiring tennis players around the world.
In addition to being one of the top female athletes of all time, Davenport also serves as a television commentator for major tournaments. Her expert analysis provides invaluable insights into what it takes for players to succeed at the highest level of competition.
Lindsay Davenport's legacy extends far beyond just winning matches or titles – it is about inspiring future generations to pursue their dreams with passion and dedication.
Venus Williams
With a total of seven Grand Slam singles titles, Venus Williams is considered one of the greatest tennis players of all time. The older sister of Serena Williams has also won fourteen Grand Slam doubles titles and two mixed doubles titles, solidifying her status as a dominant force in women's tennis.
Throughout her career, Venus has faced numerous challenges both on and off the court, including injuries and health issues. However, she has always remained determined and resilient in overcoming these obstacles to continue competing at the highest level.

In addition to her athletic achievements, Venus is widely respected for her activism and advocacy work outside of tennis. She has been an outspoken advocate for gender equality and social justice causes throughout her career.
There have been many remarkable female athletes who have achieved incredible success in Grand Slam tournaments over the years. From Margaret Court to Serena Williams to Venus Williams, each player on this list deserves recognition for their impressive accomplishments on the court.
Also check out the Best Female Tennis Players.