Making a list of the top 10 of anything can be challenging and arbitrary. Over the past 50 years of the Open Era, there have been so many outstanding female players, and this isn't even taking into account the outstanding players from the early 20th century.
Over the years, advancements in diet, racket technology, and exercise regimens have only contributed to exacerbate an already challenging task.
Here is the list of top 10 greatest female tennis players of all time.
10. Martina Hingis

Former professional tennis player Martina Hingis is a Swiss citizen. Hingis is the first Swiss athlete, male or female, to take home a major championship and hold the top spot in the world rankings.
She held the No. 1 spot in the singles and doubles categories for 29 weeks while spending a total of 209 weeks in each position.
How many trophies does Martina have?
She amassed a total of 25 major trophies by winning five major singles wins, 13 major women's doubles titles (including the Grand Slam title in 1998), and seven major mixed doubles titles.
She also captured a record 17 Tier I singles titles, two WTA Finals singles titles, three doubles wins, and an Olympic silver medal in doubles.
In the 1990s, Hingis broke a number of "youngest-ever" records, including those of the youngest Grand Slam title winner and world No. 1.

She won 40 singles titles and 36 doubles titles when she was 22 years old, according to Forbes, and was the highest-paid female athlete in the world for five straight years, from 1997 to 2001, before ligament injuries in both of her ankles forced her to temporarily stop playing professional tennis in the early months of 2003.
After numerous operations and protracted recovery periods, Hingis rejoined the WTA Tour in 2006, rising to No. 6 in the world while winning two Tier I competitions and winning the Comeback of the Year Laureus World Sports Award.
After being hindered for several months by a hip problem, she retired in November 2007.
Did Martina come back on the tennis court?
Hingis made another comeback from retirement in July 2013 to compete in the doubles competitions of the North American hardcourt season.
She won 27 WTA Tour titles, the silver medal in women's doubles at the 2016 Rio Olympics, six major mixed doubles tournaments, four major women's doubles tournaments, and four major women's doubles tournaments on her doubles-only comeback.
She missed her olympic gold medal by a narrow margin.
After the 2017 WTA Finals, world No. 1 Hingis announced her third and last retirement.
Trhoughout her career, Grand slam titles won by her were not many but in women's tennis history, she had left an unmatchable mark for young female tennis players around the world.
Undoubtedly, Martina Hingins was one of the greatest female tennis players of all time and probably the greatest women's tennis player of her era.
9. Justine Henin

A former professional tennis player from Belgium is named Justine Henin. She held the top spot for 117 weeks in total and finished the year at the top spot in 2003, 2006, and 2007.
Henin, who hails from a nation with little tennis success, worked with Kim Clijsters to make Belgium a dominant force in women's tennis and guided the nation to its first Fed Cup victory in 2001.
One of the few female players who employ a single-handed backhand, she was renowned for her all-court style of play.
What are their Achievements of Henin?

Henin won seven Grand Slam victories, taking home victories in the US Open in 2003 and 2007, the Australian Open in 2004, the French Open in 2003, 2005, 2006, and 2007.
She finished second at Wimbledon in both 2001 and 2006. Additionally, she won the women's singles gold medal at the 2004 Olympic Games and the WTA Tour Championships in 2006 and 2007. She amassed a total of 43 WTA singles victories.
Her seven grand slam titles or the grand slam singles titles were treat for the eyes of the fans.
Tennis analysts attribute her success primarily to her mental toughness, completeness and variety of her game, footspeed and footwork, and one-handed backhand, which John McEnroe called "the best single-handed backhand in both the women's and men's game."
On January 26, 2011, she announced her retirement from competitive tennis due to a persistent elbow problem.
She was included in Time magazine's list of the "30 Legends of Women's Tennis: Past, Present, and Future" in June 2011.
She is regarded as one of the best tennis players of all time, among women. She was the first tennis player from Belgium to be admitted into the International Tennis Hall of Fame in 2016.
What was the specialty of Henin which helped her with seven grand slam titles?

Henin had one of the best one-handed backhands to ever play the game of tennis, even in an era where two-handed backhands have gained popularity due to their higher power and control, albeit at the sacrifice of reach and shot diversity.
Her one-handed topspin backhand was notably praised since it had unequalled power and accuracy, two qualities that many juniors would find difficult to develop early on and have led many of players, particularly girls, to opt playing two-handed backhands.
Henin's one-handed backhand also gave her the flexibility to play with more reach and a wider variety of shots depending on the situation. Henin's backhand has been dubbed "the best in mens and women's tennis" by John McEnroe.

Winning seven grand slam titles or the grand slam singles titles in female tennis by dominating the grand slam final everytime with ease was something only she could do.
She could have won a lot more grand slam titles if injuries did not force her to miss out some grand slams. Her grand slam wins are appreciated till date.
8. Venus williams
American tennis player Venus Ebony Starr Williams competes professionally. Williams, a former No. 1 in both singles and doubles, has won seven Grand Slam singles titles, including two at the US Open and five at Wimbledon.
She is largely recognised as one of the greatest female tennis player to ever play the game.
Venus Williams' parents, Oracene Price and Richard Williams, also taught her younger sister, Serena Williams.
She became a professional in 1994, and at the 1997 US Open, she made it to her first major final.
Williams won the Wimbledon and US Open championships in 2000 and 2001, and she also won the Olympic singles gold medal at the 2000 Sydney Games.
On February 25, 2002, she became the second woman ever and the first African American woman to hold the No. 1 singles position, after only Althea Gibson.
Between 2002 and 2003, she made it to four straight major finals but fell to Serena each time. After that, she experienced injuries and only achieved one major victory between 2003 and 2006.
When Venus Williams won Wimbledon in 2007, she started to regain her form (a feat she repeated the following year).

She regained the No. 2 singles ranking in the world in 2010, but injuries struck once more. She steadily regained form beginning in 2014, which culminated in two major final appearances at the 2017 Australian Open and Wimbledon.
Her domination at the grand slam singles finals was unmatchable. In the grand slam doubles, the williams sisters kept their utter dominant force on. The williams sisters had Serena williams and Venus williams.
Venus williams and Serena williams were the biggest rivals be it at the grand slam titles or the french open era but the only grand slam titles where the two became dangerous was at the Grand slam doubles titles
Venus williams was one of the greatest female tennis players of all time.
7. Monica Seles

Former female tennis player Monica Seles played for both the US and Yugoslavia. She was a former world number one and won nine Grand Slam singles titles, eight of which she earned while still a teenager and playing for Yugoslavia, and the ninth when playing for the United States.
At the age of 16, Seles won the French Open era in 1990, making history.
Before turning 20, she went on to win eight Grand Slam singles titles and finished the year as the No. 1 player in 1991 and 1992.
Was there and attack on Monica?
But on April 30, 1993, while competing against Magdalena Maleeva, Seles was the victim of an assault on the court when a fervent supporter of rival Steffi Graf stabbed her in the back with a 9-inch (23 cm) long knife as she was relaxing in between games. It is said that she was one fan's sick obsession.
After the stabbing, Seles took more than two years off from tennis. She had some success after making a comeback in 1995, winning the 1996 Australian Open, but she was never able to consistently play at her best.
Although she participated in her final professional match in the 2003 French Open, she didn't officially announce her retirement until February 2008.
Seles, who is widely regarded as one of the all-time greatest tennis players, was selected by Time as one of the "30 Legends of Women's Tennis: Past, Present, and Future."
According to a number of athletes and historians, if Seles hadn't been stabbed, she might have gone on to become one of the most accomplished female athletes in history.
She was enshrined in the International Tennis Hall of Fame in 2009.
What was her playing style at the Grand Slam singles titles?

Seles was a baseline player with a reputation for playing with a lot of aggression. She hit both her backhand and unorthodox double-handed forehand flat, with unrelenting speed, power, and depth.
She was able to move around the court at will and strike winners because to her two-handed groundstrokes. She would stand inside the baseline to return serves because she was an aggressive return player.
With a top serve speed of 109 mph (174 km/h), she was able to control points right away.
She was also a great retriever and could hit wins from any position on the court thanks to her fitness, speed, and court coverage.
Seles was the first female player to use loud grunting in conjunction with her shots; nonetheless, she was constantly condemned for doing so.
She is regarded as an influence for current WTA players like Serena and Venus Williams, Maria Sharapova, and Victoria Azarenka because to her aggressive power game, great serve, and grunting.
6. Billie jean king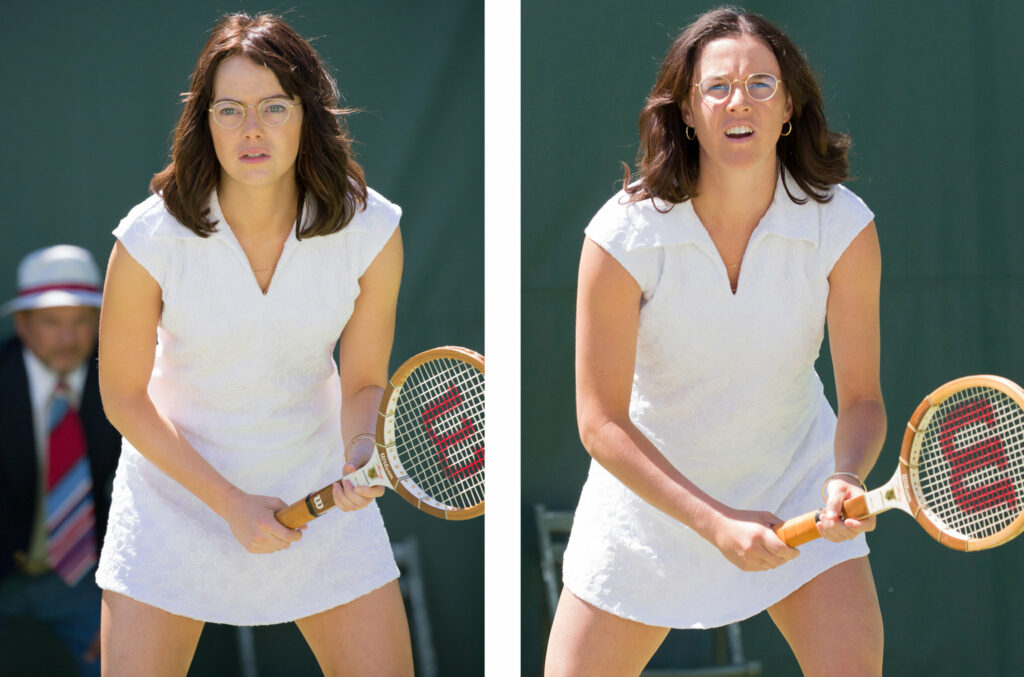 Former No. 1 tennis player in the world Billie Jean King is American. 39 major championships were won by King, including 12 singles, 16 women's doubles, and 11 mixed doubles.
In seven Federation Cups and nine Wightman Cups, King competed for the USA's winning squad. She served as the Federation Cup captain for the United States for three years.
Billie Jean King has long been a pioneer for social justice and equality, and he is an advocate for gender equality. She defeated Bobby Riggs, 55, in the "Battle of the Sexes" tennis match in 1973 at the age of 29.
The Women's Tennis Association and the Women's Sports Foundation were both founded by King.
King was admitted into the International Tennis Hall of Fame in 1987 and is regarded by many as one of the greatest tennis players of all time.
She received the Fed Cup Award of Excellence in 2010. She and John Wooden shared the Sports Illustrated Sportsman of the Year award in 1972, and in 1975, she was named one of Time's Persons of the Year.

Additionally, she has been honoured with the Sunday Times Sportswoman of the Year lifetime achievement award and the Presidential Medal of Freedom.
In 2006, the USTA National Tennis Center in New York City was renamed the USTA Billie Jean King National Tennis Center in honour of the 1990 National Women's Hall of Fame induction.
The BBC Sports Personality of the Year Lifetime Achievement Award was given to her in 2018. The Billie Jean King Cup was renamed the Federation Cup in her honour in 2020.
She received the French Legion of Honor honour in 2022.
How did the legends treat Billie jean king?
Billie Jean King was referred to as "the finest competitor I've ever known" by Margaret Court, who has more Grand Slam victories than anyone.
18-time Grand Slam titles champion Chris Evert has stated,
"She has vision that most people can only imagine, and she is the wisest person I have ever encountered. My mentor, Billie Jean King, has offered me guidance regarding both my dating life and tennis. about how to raise kids as well as how to interact with my parents. Additionally, she lacks any."
On Wimbledon's Centre Court in 1979, a number of great players were asked who they would like to assist them come back from a fictitious 1-5 (15-40) deficit in the third set of a match.
Billie Jean King was chosen by Françoise Dürr, Rosemary Casals, and Martina Navratilova. Says Navratilova "I'd have to go with Billie Jean in her prime.
Chris [Evert] is consistently the hardest to defeat, but if there was one major event, one significant game, or one key point, Billie Jean would have to win." No matter how far down you got her, Casals added, "You could never be confident of beating her."
Billie jean king was the legend in women's tennis history and was one of the greatest female tennis players of all time with one of the historic grand slam singles titles to her name.
5. Chris Evert

Former No. 1 tennis player in the world Christine Marie Evert, who played under the name Chris Evert Lloyd from 1979 to 1987, is an American.
Chris Evert won 18 major singles championships, including six US Open crowns and a joint-record seven French Open titles (tied with Serena Williams).
She held the top spot in the world rankings for 260 weeks and seven different times at the end of the singles season (1974–78, 1980, 1981).

Chris Evert dominated women's tennis in the 1970s and 1980s alongside Martina Navratilova, who was her biggest foe.
Evert made the most major singles finals appearances with 34. In the singles division, Evert advanced to the semifinals or better in 52 of the 56 majors she competed in, including 34 straight majors from the 1971 US Open to the 1983 French Open.
In 1975–76 and 1983–91, Chris Evert presided over the Women's Tennis Association for eleven years. Both the Philippe Chatrier award and the Hall of Fame induction were given to her.
Chris Evert has a brand of tennis and active wear and has worked as a coach and an analyst for ESPN in his senior years.
Did she have an amazing career-winning percentage?

She just twice lost in the third round of a major and never did so in the first or second. She currently holds the record for the most years in a row (13) in which she has won a major championship.
The second-highest men's or women's lifetime victory percentage in singles matches during the Open Era is Evert's 89.97% (1309-146) mark.
Her lifetime victory percentage of 94.55% (382-22) in singles matches on clay courts still stands as a WTA Tour record. She also won three important Grand slam doubles titles.
What was the playing style of Chris evert at grand slam title?
Evert, a baseline player, is recognised for having revolutionised tennis. She was renowned for her reliable counterpunching style, and the International Tennis Hall of Fame once referred to her as a "human backboard" in hindsight.
Evert was one of the first players to play solely from the baseline, often only going to the net to collect short balls; but, as her career came to a conclusion, Evert began going to the net more frequently to end points.
With constant depth and power, Evert's forehand penetrated far into the court. As graphite technology advanced toward the conclusion of her career, she started to add more topspin to her forehand.
She was undoubtedly one of the greatest female tennis players of all time with amazing grand slam wins.
4. Steffi Graf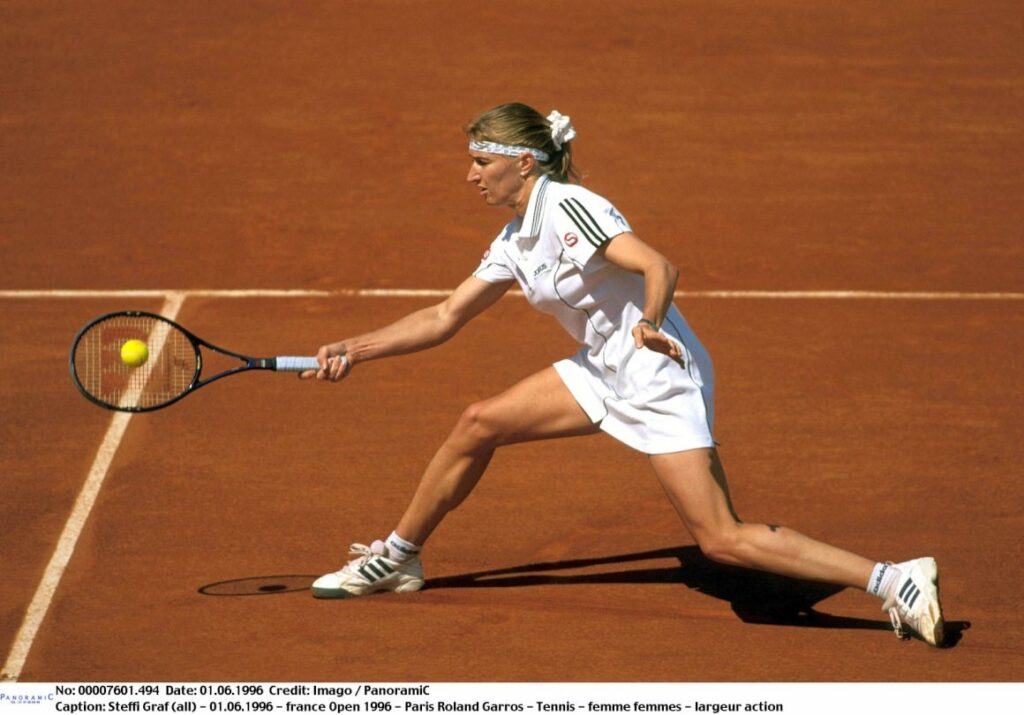 Stefanie Maria Graf is a former tennis pro who was born in Germany. She is regarded as one of the greatest professional tennis players of all time.
She held the world No. 1 ranking for a record 377 weeks and amassed 22 major singles titles, which ranks third all-time (behind Margaret Court's 24 and Serena Williams' 23) and is the second-most since the Open Era began in 1968.
Graf achieved the Golden Slam in tennis for the first time in 1988 when he won the Olympic gold medal, all four major singles titles, and all four major tournaments.
She is also the only tennis player, male or female, to have claimed victory in every major competition at least four times.

The longest period for which any player, male or female, has held a singles number-one ranking since the WTA and the Association of Tennis Professionals, respectively, began issuing rankings, was held by Graf, who was ranked No. 1 in the world by the Women's Tennis Association (WTA) for a total of 377 weeks.
She accumulated 107 singles titles, placing her third on the WTA's all-time list behind Chris Evert and Martina Navratilova (167 titles) (157 titles).
She and Margaret Court are the only athletes, male or female, to win three major championships five times in a single calendar year (1988, 1989, 1993, 1995 and 1996).
What were the Notable features about Graf?
Graf's adaptability on all surfaces, footwork, and strong forehand drive were notable aspects of her game.
The contemporary style of play that has come to rule today's game is linked to Graf's athletic prowess and aggressive game played from the baseline.
She finished second behind Evert in singles victories with six at the French Open, seven at Wimbledon, four at the Australian Open, and five at the US Open.
She is the first male or female tennis player to have won a Grand Slam titles on all three surfaces (grass, clay, and hard courts). She is the only woman tennis player to have done that.

She won all three in the same year along with the olympic gold medal in a calendar year. Golden slam title was given to her for this achievment.
From the 1987 French Open to the 1990 French Open, Graf competed in 13 consecutive singles major finals, winning nine of them.
From the 1988 Australian Open to the 1989 Australian Open, she won five straight singles majors and seven of eight total (1988 Australian Open to 1989 US Open, except 1989 French Open). She made it to 31 singles major finals in all.
Undoubtedly she was the greatest female tennis player of her era and one of the greatest female tennis players of all time to have dominated every grand slam final.
3. Margaret court

Margaret Court, usually referred to as Margaret Smith Court, is a former No. 1 tennis player from Australia who is now a Christian minister.
Her 64 major titles, which also include 19 Grand Slam women's doubles trophies and 21 Grand Slam mixed doubles titles, are the most in tennis history. She is regarded as one of the greatest female tennis players of all time.
In Albury, New South Wales, Court was born. Margaret court won the first of seven straight Australian Open singles titles in 1960 when she was just 17 years old.
Her triumph at Wimbledon in 1963, at the age of 21, allowed her to complete a Career Grand Slam. After a brief break in 1966 and 1967, Court resumed playing until the Open Era began in 1968.
In 1970, Margaret court won all four major singles tournaments, capping off a run of six straight major singles triumphs that saw her complete the Grand Slam.
Margaret court gave birth to her first child in 1972, although she later made a comeback to tennis. In 1973, she won three Grand Slam singles championships. After the birth of her second and third kids, she retired and took similar breaks.
What was the win percentage of Margaret court?

The Sporteology website lists Court's singles lifetime winning % of 91.74 as the best ever on all surfaces (hard, clay, grass, and carpet).
Her Open period career winning percentage in singles is 91.02% (608-60), while her Open era winning percentage in Grand Slam titles final is 91.67% (11-1). She had a 90.00% win-loss record in all Grand Slam singles competitions (207–23).
Her results at the Australian Open were 95.24% (60-3), the French Open was 89.80% (44-5), Wimbledon was 85.00% (51-9) and the US Open was 89.66% (52-6).
She also has a three-way tie with Kim Clijsters for the most Grand Slam singles victories by a mother during the Open era.
With 11 victories in the Australian Open in 1973, Court established the record for the most singles titles at a single Grand Slam competition.
Rafael Nadal beat this record in 2019 when he captured his 12th French Open title, however it still stands as a women's record.
What are the other achievements of Margaret court?
Court is one of only three athletes in history (all female) to have captured the "Grand Slam Boxed Set," which includes every Grand Slams championship (the singles, doubles and mixed doubles).
Margaret Court is the only tennis player in history to win two times in all three categories of a Multiple Grand Slam set. She accomplished the rare feat of winning all 12 as an amateur, followed by a professional comeback to win all 12 once more.

Margaret Court joins Roy Emerson, Martina Navratilova, Frank Sedgman, Doris Hart, and Serena Williams as the only six tennis players to have won a Multiple Grand Slam set in two different disciplines. Additionally, she helped Australia win the Fed Cup four times.
The International Tennis Hall of Fame states "For sheer strength of performance and accomplishment there has never been a tennis player to match (her)." In 2010, the Herald Sun called her the greatest female tennis player of all time, a view supported by Evonne Goolagong Cawley.
2. Martina Navratilova

Former tennis star Martina Navratilova is of Czech and American descent. Navratilova, who is regarded as one of the best tennis players of all time, amassed the most major trophies during the Open Era with 59, including 18 major singles titles, 31 major women's doubles titles, and 10 major mixed doubles titles.
In the 1970s and 1980s, Navratilova dominated women's tennis alongside Chris Evert, who was her biggest foe.
Why is Martina regarded as one of the greatest female tennis player?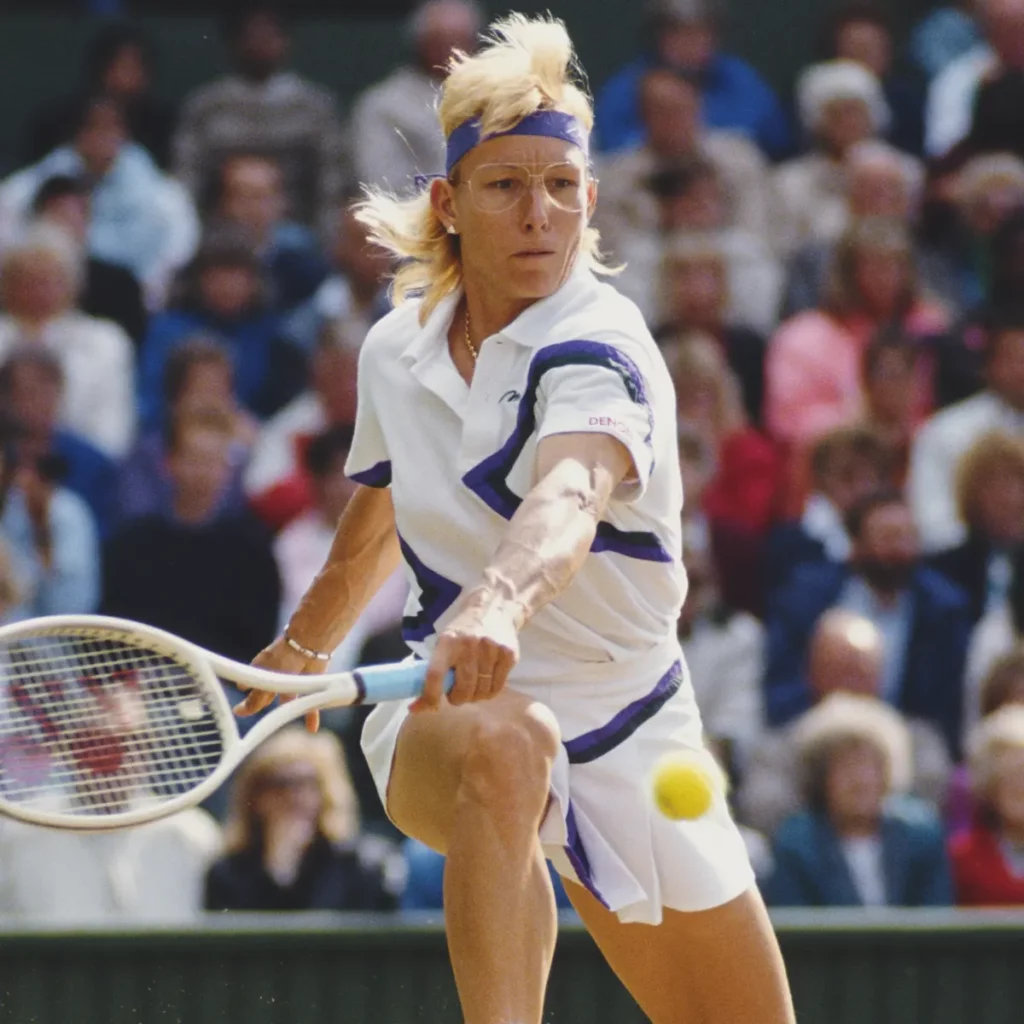 Navratilova is the only player in history to have maintained the top spot in both categories for more than 200 weeks.
She was ranked No. 1 in singles for a total of 332 weeks (second only to Steffi Graf) and in doubles for a record 237 weeks. She won the Wimbledon singles championship a record nine times while making the final 12 times, including nine years in a row from 1982 to 1990.
Along with Margaret Court and Doris Hart, Navratilova is one of just three tennis players to have completed the career "Boxed Set," or a Grand Slam in singles, same-sex doubles, and mixed doubles.
She won her final major championship in the mixed doubles event at the 2006 US Open, just before turning 50 and 32 years after winning her first major championship in 1974.
How did Martina perform at the Grand slam singles titles?

1990 was Navratilova's final Grand Slam singles victory. The 33-year-old Navratilova defeated Zina Garrison 6-4, 6-1 in the Wimbledon singles final to win an all-time-high eighth Wimbledon title.
She finished the year ranked No. 3 in the world, just losing out to sixteen-year-old Monica Seles for the No. 2 place. Despite not competing in the Australian or French Opens, she won four other tournaments that year.
At Caesars Palace in Paradise, Nevada, in September 1992, the third Battle of the Sexes tennis match pitted 35-year-old Martina Navratilova against 40-year-old Jimmy Connors.
Navratilova was permitted to hit towards the middle of the doubles court, whereas Connors was limited to one serve every point. Connors triumphed 7-5, 6-2.
Navratilova won her last major singles championship at Wimbledon in 1990, but she advanced to two more finals during the remainder of her career: in 1991, she lost to Monica Seles in the US Open final; and in 1994, when she was 37 years old, she faced Conchita Martnez in the Wimbledon final, losing in three sets.
She gave up full-time singles tennis in November of that year after falling to Gabriela Sabatini in the opening round of the WTA Tour Championships. In 2000, she was admitted to the International Tennis Hall of Fame.
1. Serena Williams

American Serena Jameka Williams plays tennis professionally. She held the top singles ranking in the world for 319 weeks, including a joint-record 186 straight weeks, and five times she was crowned year-end No. 1 by the Women's Tennis Association (WTA).
Serena Williams finished with 23 Grand Slam singles victories, second most in history and the most of any player during the Open Era.
Serena Williams became a professional in 1995, and the US Open in 1999 saw her claim her first major singles victory.
She was unbeatable from the 2002 French Open to the 2003 Australian Open, winning all four major singles titles (each time defeating Venus Williams in the final) and completing the career Grand Slam, also known as the "Serena Slam."

She won two more singles majors during the following several years, although she also experienced injury and a drop in performance.
But starting in 2007, she steadily got back into shape despite ongoing ailments, reclaiming the top spot in the world singles rankings.
Serena Williams regained her composure starting at the 2012 Wimbledon Championships, winning the Olympic gold and becoming the first tennis player to complete a career Golden Slam in both singles and doubles.
She completed a second "Serena Slam" by winning eight of the thirteen singles majors, including all four in a row from 2014 to 2015.
She surpassed Steffi Graf's Open Era record by winning her 23rd major singles championship in the 2017 Australian Open.
Following her pregnancy, she took a sabbatical from playing professional tennis, but since starting back up, she has advanced to four major finals.
Serena Williams revealed in August 2022 that she would be leaving the tennis world and played what was supposed to be her last match at the US Open that year.
What are the other Achievements of Serena williams in female tennis players?
Together with her sister Venus, Serena Williams won 14 major women's doubles championships, going undefeated in Grand Slam doubles finals.
This includes a Grand Slam that took place outside of a calendar year between the 2009 Wimbledon Championships and the 2010 French Open, which gave the sisters the No. 1 doubles ranking in the world.

She and her sister hold the record for the most Olympic gold medals ever with four, three of which came in women's doubles. She also won two significant mixed doubles championships, both in 1998.
Williams earned about $29 million in 2016, making her the highest-paid female athlete in the world.
With $27 million in prize money and endorsements, she replicated this record in 2017 when she was the only female on Forbes' list of the 100 highest-paid athletes.
In addition to being selected Sportsperson of the Year by Sports Illustrated magazine in December 2015, she has received the Laureus Sportswoman of the Year award four times (in 2003, 2010, 2016, and 2018).
She came in at number 28 on Forbes' list of the highest-paid athletes in the world in 2021. She is the all-time highest-paid female athlete.
For more information, Read Top 20 Women Bodybuilders of all time.