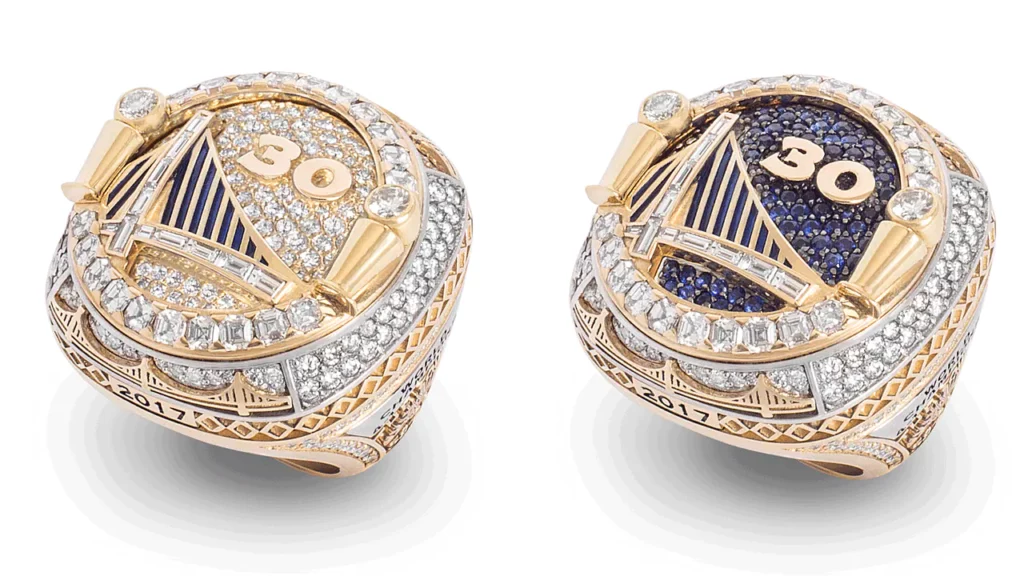 As NBA fans, we all have those players who we look up to and admire for their skills on the court. But what sets some of these players apart from the rest is their ability to consistently win championships. These are the true legends of basketball, with multiple rings proving that they were not just one-season wonders.
In this article, we'll take a closer look at the top 10 NBA players with most championships in history. From Bill Russell's incredible 11 titles to Jo Jo White's impressive two-time championship win as both a player and coach, let's celebrate these incredible athletes who have left an indelible mark on basketball history.
Bill Russell
Bill Russell is a true legend in the NBA. He played for the Boston Celtics during his entire career and won an incredible 11 championships, making him the player with the most titles in history.
Russell was known for his excellent defensive skills, and he truly revolutionized the way basketball was played. He dominated on both ends of the court, often blocking shots and grabbing rebounds to give his team extra possessions.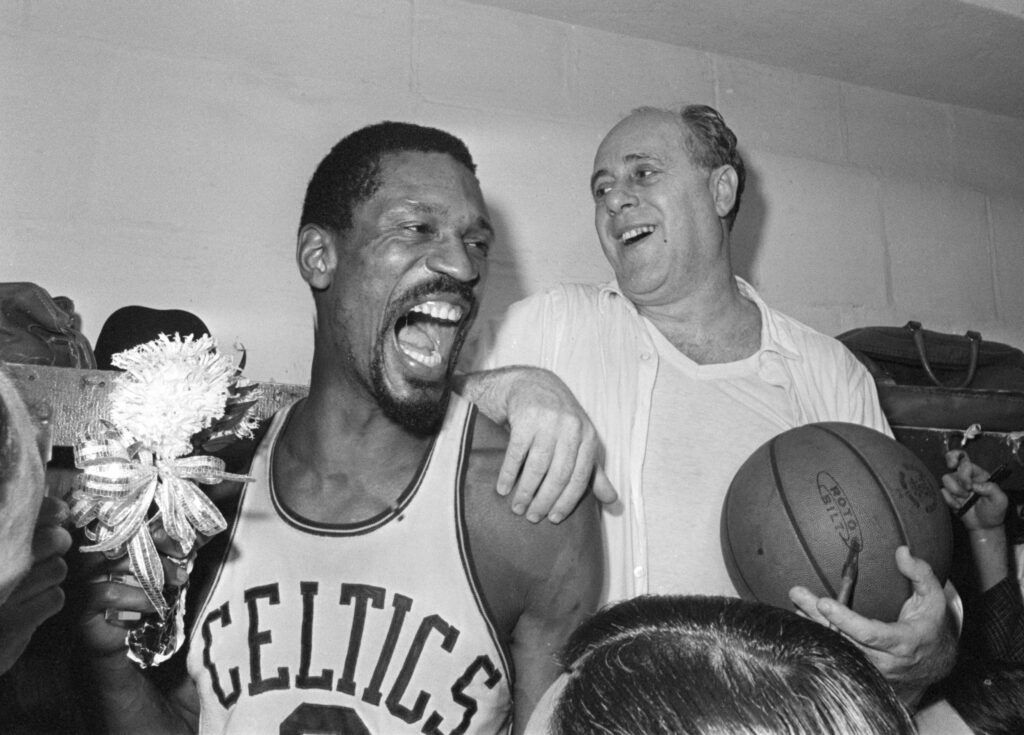 While he wasn't as prolific a scorer as some other players, Russell's impact on games went far beyond just putting points on the board. His leadership abilities were also unparalleled – he was named captain of the Celtics in just his second year in the league.
Off-court, Russell has continued to be an influential figure in basketball even after retiring from playing professionally. He has worked as a coach and mentor to countless young athletes over the years, passing down his knowledge and expertise to help shape future generations of players.
Bill Russell's legacy is one that will continue to inspire fans of all ages for years to come.
Sam Jones
Sam Jones is one of the most underrated players in NBA history. Despite being overshadowed by his more famous teammate, Bill Russell, Jones was a crucial part of the Boston Celtics dynasty in the 1960s.
Jones was known for his clutch performances in big games. He won 10 championships with the Celtics and averaged over 17 points per game during his career. He also made five All-Star teams and was named to the All-NBA Second Team three times.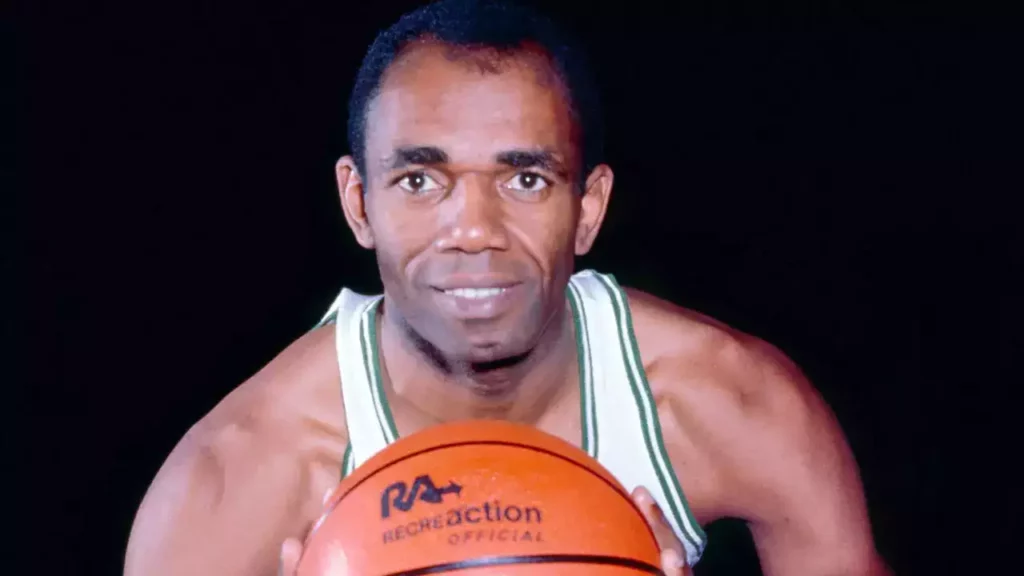 What set Jones apart from other players was his ability to hit shots when it mattered most. In Game 7 of the 1962 Finals against the Los Angeles Lakers, he scored a game-high 27 points to lead Boston to victory. Two years later, he hit a buzzer-beating jump shot in Game 4 of the Finals against San Francisco that gave Boston their eighth championship.
Despite his success on the court, Jones never received as much recognition as some of his contemporaries. But those who played with him knew how important he was to their team's success. As former teammate John Havlicek once said: "If you needed two points at any time, Sam would get them for you."
K.C. Jones
K.C. Jones was a prominent figure in the NBA during his time, winning eight championships as a player and an additional four as a coach. He had an impressive career and is considered to be one of the greatest defenders in league history.
Jones played for the Boston Celtics from 1958 to 1967, alongside fellow legends Bill Russell and Sam Jones. During this period, he won all eight championships as a player, showcasing his exceptional skills on both ends of the court.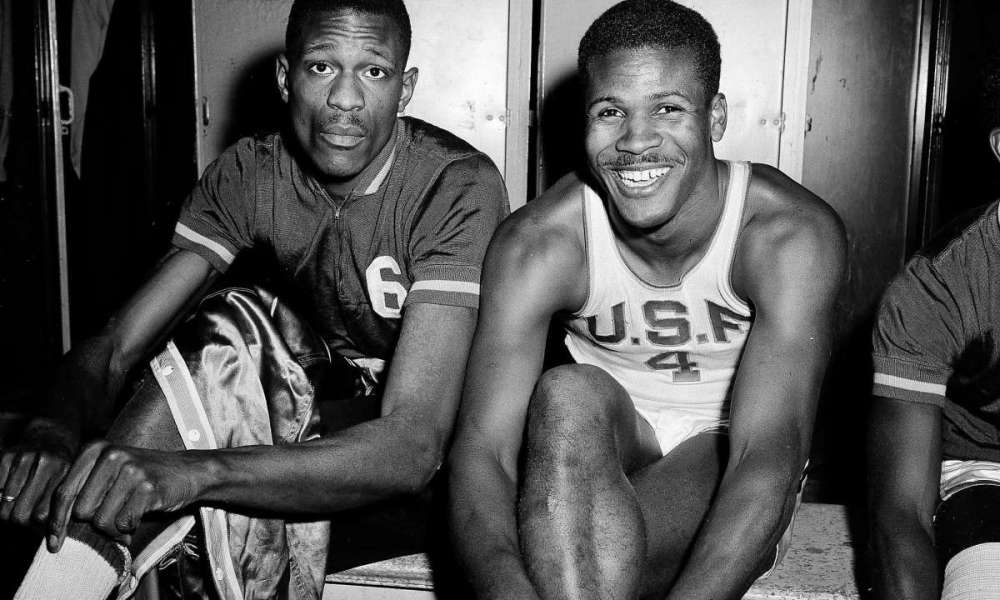 After retiring from playing professionally, Jones became an assistant coach before being promoted to head coach for the Celtics. He led them to two more championships in 1984 and 1986, solidifying his status as one of the most successful coaches in NBA history.
Despite not receiving much recognition for individual awards or statistics throughout his career, K.C. Jones undoubtedly made significant contributions to basketball through his role as both player and coach. His legacy lives on through his impact on numerous championship teams over several decades.
Tom Heinsohn
Tom Heinsohn, a former power forward for the Boston Celtics, is one of the most accomplished players in NBA history. He played his entire career with the Celtics from 1956 to 1965 and helped lead them to eight championships during that time.
Heinsohn was known for his aggressive playing style and relentless attitude on the court. He was an excellent scorer and rebounder who always gave his best effort every game he played. His fierce competitiveness made him a fan favorite among Boston fans.
Despite being undersized for his position at only 6'7″, Heinsohn had a remarkable ability to score inside and outside of the paint. He possessed great shooting skills as well as quick footwork which allowed him to maneuver around defenders with ease.
In addition to being an outstanding player, Heinsohn also went on to become a successful coach after retiring from basketball. He led the Celtics to two more championships in 1974 and 1976 as head coach, solidifying his legacy within the organization.
Tom Heinsohn's contributions both as a player and coach have cemented him as one of the greatest figures in NBA history. His passion for basketball continues to inspire generations of players today.
Frank Ramsey
Frank Ramsey is a name that might not be familiar to the casual NBA fan, but he was an integral part of one of the greatest dynasties in sports history. Born in 1931 in Kentucky, Ramsey played his college ball at the University of Kentucky under legendary coach Adolph Rupp.
After being drafted by the Boston Celtics in 1953, Ramsey quickly made an impact with his sharpshooting and tenacious defense. He played alongside some of the all-time greats like Bill Russell and Bob Cousy, helping lead the Celtics to seven championships during his nine-year career.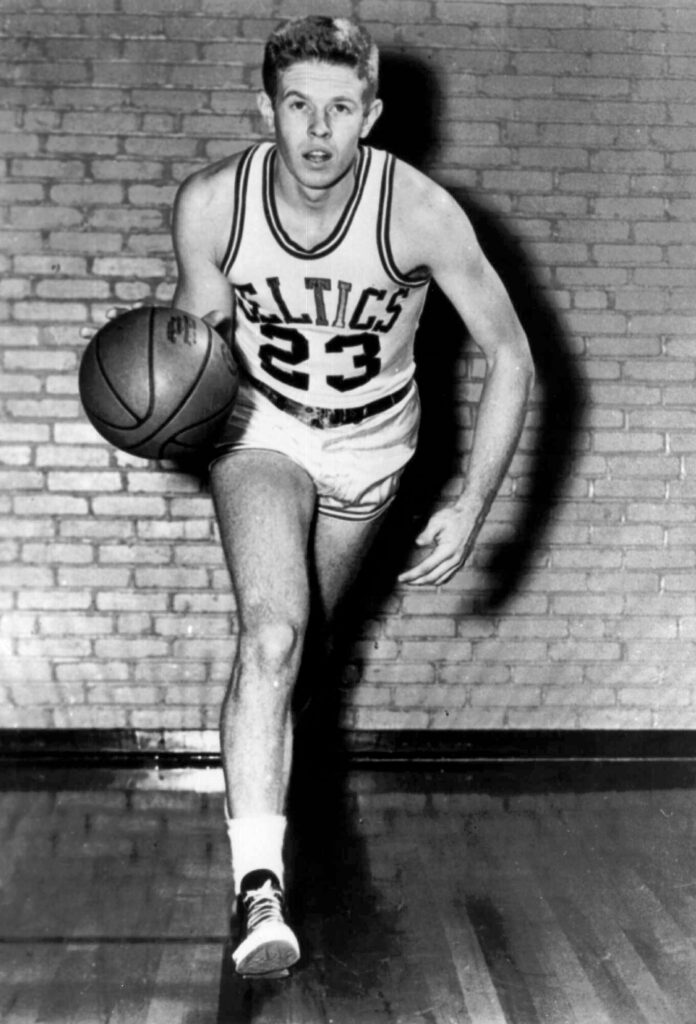 Nicknamed "The Kangaroo Kid" for his jumping ability, Ramsey was known for his hustle and hard-nosed style of play. He would often dive into the stands or take charges without hesitation.
Ramsey retired from basketball after winning his final championship with Boston in 1964. He went on to become a successful businessman and even served as lieutenant governor of Kentucky from 1992-1996.
Although he may not have been a household name like many of his teammates, Frank Ramsey's contributions to those iconic Celtics teams should never be overlooked.
Bob Cousy
Bob Cousy is a name that resonates deeply with the Boston Celtics fans. He was an instrumental player in securing six NBA championships for his team during his tenure from 1950 to 1963. Cousy's style of play on the court was nothing short of mesmerizing, and he quickly became a fan favorite.
Nicknamed "The Houdini of the Hardwood," Bob Cousy was known for his impressive ball-handling skills and passing abilities. Even today, basketball enthusiasts marvel at how effortless Cousy made it look when dribbling past opponents or executing accurate passes.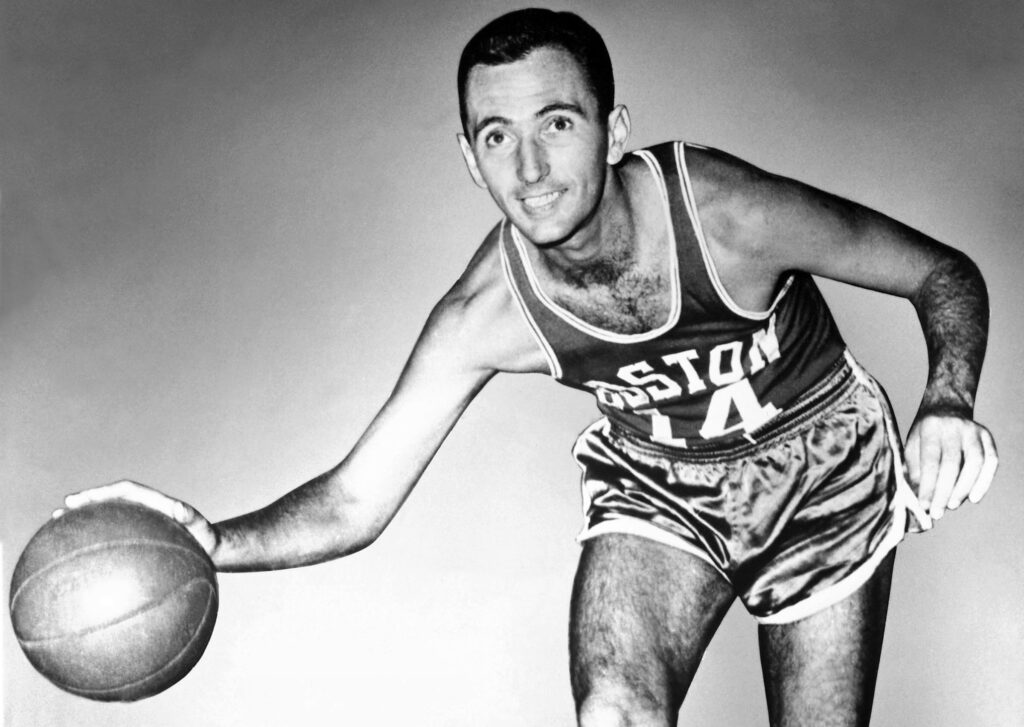 Cousy's contributions to the game went beyond just winning championships; he also played a significant role in breaking down racial barriers in professional basketball. As one of the first white players to openly support black teammates amidst segregationist attitudes prevalent at that time, he paved the way for future generations to come.
Bob Cousy remains an icon not only among Celtics fans but also within the larger context of NBA history. His achievements as both a player and human being have left an indelible mark on basketball culture that will be remembered long after he has passed away.
John Havlicek
John Havlicek, also known as "Hondo," was one of the most versatile players in NBA history. He spent his entire 16-year career with the Boston Celtics and won eight championships during that time.
What made Havlicek stand out from other players was his incredible stamina and athleticism. He could run up and down the court for hours on end without ever seeming to tire. This allowed him to play multiple positions, including shooting guard, small forward, and even point guard at times.
Not only was he a great scorer (he averaged over 20 points per game in six different seasons), but he was also an excellent defender. Havlicek had quick hands and feet which made it difficult for opponents to get past him or hold onto the ball when they did.
Off the court, Havlicek was known for his humility and dedication to his team. He never sought individual glory or accolades; instead, he focused on doing whatever it took to help his team win.
John Havlicek's legacy is one of hard work, determination, and selflessness. His contributions both on and off the court have cemented him as one of the greatest basketball players of all time.
Jim Loscutoff
Jim Loscutoff was a vital player for the Boston Celtics during their championship runs in the 1950s and 60s. He wasn't known for his scoring ability, but rather for his tough defense and physical play on the court.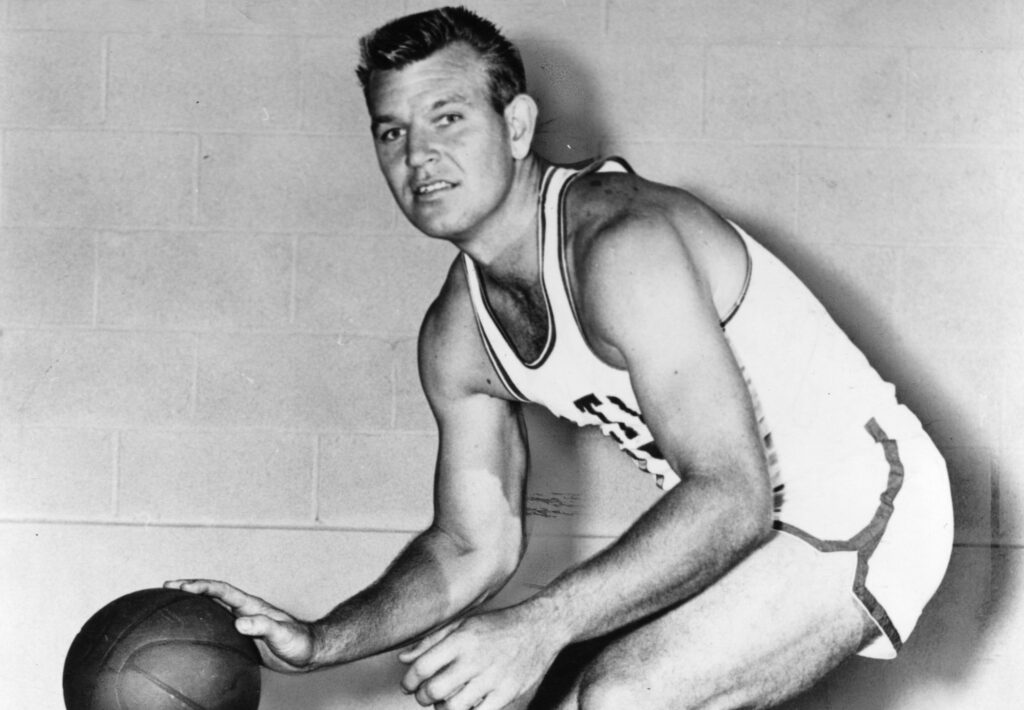 Loscutoff's hard-nosed style of play earned him the nickname "Jungle Jim" and made him a fan favorite in Boston. Despite not being a star player, he played an important role in helping the Celtics win seven championships during his nine-year career with the team.
Off the court, Loscutoff was known as a kind-hearted individual who enjoyed spending time with fans and giving back to his community. He even went on to become an accomplished artist after retiring from basketball.
While he may not be as well-known as some of his teammates like Bill Russell or Bob Cousy, Jim Loscutoff's contributions to those legendary Celtics teams should never be overlooked.
Satch Sanders
Satch Sanders is one of the top NBA players with the most championships and deserves recognition for his accomplishments. He was a small forward who played 13 seasons in the league, all with the Boston Celtics. During this time, he helped lead the team to eight championship victories.
Sanders' role on the Celtics was crucial, as he was known for his defense and rebounding skills. He often guarded some of the best players in the league, including Wilt Chamberlain and Kareem Abdul-Jabbar. His ability to shut down opponents made him a valuable asset to any team.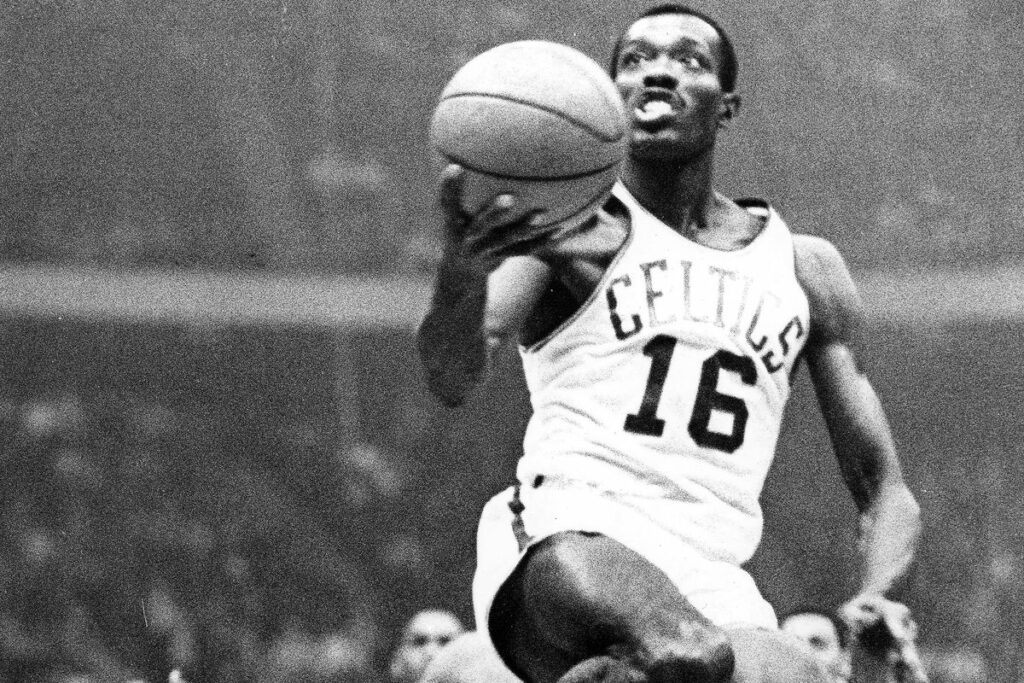 Aside from his defensive abilities, Sanders was also a reliable scorer when needed. He had a career average of 9.6 points per game but would step up when it mattered most, such as during Game 7 of the 1965 Finals where he scored 18 points.
Satch Sanders left an impressive legacy in the NBA with his numerous championship wins and contributions to one of basketball's greatest dynasties: The Boston Celtics.
Jo Jo White
Jo Jo White, the last player on our list with seven NBA championships, was a true legend of his time. He played for 12 seasons in the league and made it to seven All-Star games. He also won two Olympic gold medals as part of Team USA in 1968 and 1972.
White's impressive career included stints with the Boston Celtics, Golden State Warriors, and Kansas City Kings. He was known for his clutch performances in high-pressure situations and always rose up to the challenge when his team needed him most.
In addition to being one of the greatest players of all time, White was also an exceptional human being who dedicated much of his life after basketball to charitable causes. His legacy will continue to inspire generations of fans and players alike.
These ten NBA players have left an indelible mark on basketball history with their multiple championship wins. Their skill, dedication, teamwork, and leadership are qualities that every aspiring athlete can learn from and strive towards achieving success like them in their respective fields.
Also check out the Top 10 Most Popular NBA Players.