Basketball is one of the most popular sports in the world, and for good reason. It's fast-paced, exciting, and full of talented athletes who are constantly pushing themselves to new heights. One such area where players have excelled over the years is in rebounding – grabbing missed shots or turnovers from their opponents.
In this blog post, we'll be taking a look at the top 10 NBA players with the most rebounds in NBA history! From legends like Wilt Chamberlain and Bill Russell to modern-day stars like Dwight Howard and Ben Wallace, these players have shown time and again just how important it is to dominate on both ends of the court. So buckle up basketball fans – it's time to relive some of the greatest moments in NBA history!
Wilt Chamberlain
In the NBA Wilt Chamberlain is one of the Lynchip, in his illustrious career, he has represented many teams in the league and also played for big giants like Philadelphia, San Francisco Warriors, Los Angeles Lakers and many other Big teams are there. the SUperstar got a record to his name for Grabbing 23,924 Rebounds.

The Super Athlete Chamberline was known for his dominant force on both sides of the pitch and his rebounding skills were matched by his basket Abilities, He has got many milestones to his name which include the famous "100 Points Game", and this milestone he achieved while he was representing the Philadelphia Warriors in 1962.
off the Court the Superstar was as impressive as he was on the court, he was a very talented actor as well and even set many records in the track and in events like High Jump and shot put game during his college days, his great personality made him the person who he was.
His Leagacy is still remembered by everyone, his incredible stats during his playing career and his outstanding performances on the court that made him one of the best of all time in the game of Basketball.
Bill Russell
Bill Russell is a name that will forever be etched in NBA history. He played for the Boston Celtics and won 11 championships in just 13 seasons, an astonishing feat. But it wasn't just his titles that made him one of the greatest players of all time.
Russell was known for his incredible defensive skills, with his long wingspan and quick reflexes allowing him to grab rebounds like no other player before him. In fact, he holds the record for most rebounds in a single game with an impressive 51 boards.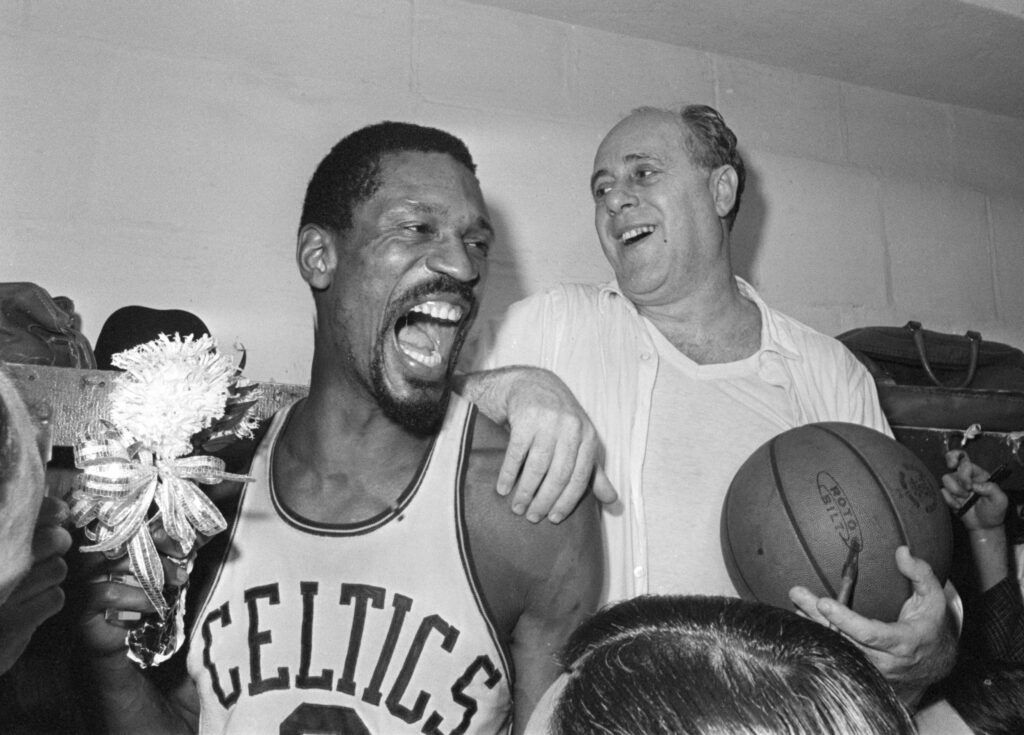 But Russell's impact on the game went beyond statistics. He was a true leader on and off the court, inspiring his teammates to play at their best while also being an outspoken advocate for civil rights during a time when racial tensions were high.
Despite retiring from basketball over half a century ago, Bill Russell's legacy lives on today. His commitment to excellence and social justice serves as an inspiration not only to aspiring athletes but to anyone striving to make a positive difference in the world around them.
Elvin Hayes
Elvin Hayes is considered one of the greatest power forwards in NBA history, and he certainly deserves his place on this list of players with the most rebounds. He played for 16 seasons in the league and was a dominant force on both ends of the court.
Hayes spent most of his career with the Washington Bullets, where he led them to an NBA championship in 1978. He was known for his incredible scoring ability but also had a great knack for rebounding. In fact, during his career, he amassed over 16,000 rebounds putting him third on our list!
What made Hayes such a great rebounder was not only his size (6'9″) but also his relentless work ethic. He never took a possession off and always fought hard for every loose ball which helped him to grab many offensive boards.
Hayes will always be remembered as one of the all-time greats; A player who could take over games with both scoring and rebounding abilities. His legacy remains strong today as young basketball players still study game tape to learn from The Big E's style of play!
Kareem Abdul-Jabbar
Kareem Abdul-Jabbar is undoubtedly one of the most iconic basketball players in NBA history. Standing at an impressive 7 feet and 2 inches tall, he dominated the court with his impeccable skills as a center player. His stunning career spanned over two decades, during which he amassed several accolades and records.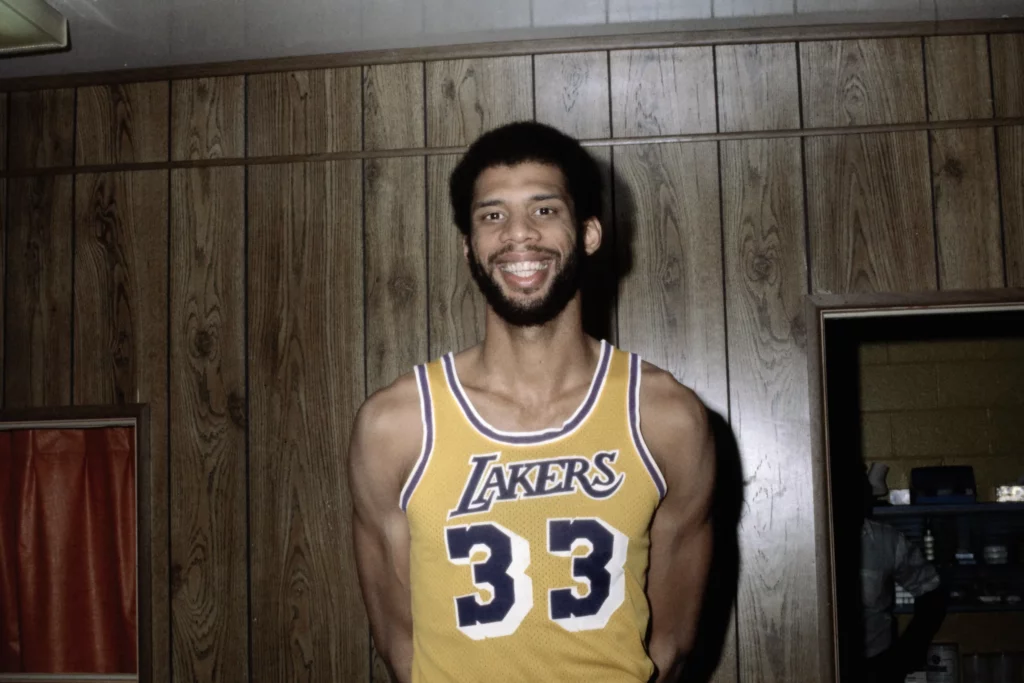 One of Kareem's most outstanding achievements was his total rebounds throughout his career. He ranks fourth on the all-time rebound list with an astounding total of 17,440 rebounds to his name. This feat was made possible by Kareem's unrelenting work ethic and dedication to perfecting his craft.
In addition to his remarkable performance on the court, Kareem Abdul-Jabbar is also known for being a vocal social activist who championed civil rights causes during the height of racial tensions in America. His advocacy for change extended beyond basketball courts and inspired many people across different spheres.
Kareem Abdul-Jabbar remains a legendary figure in sports history whose contributions have shaped not only professional basketball but also society as a whole.
Moses Malone
Moses Malone is one of the most dominant rebounders in NBA history. He played for 21 seasons in the league and was a force to be reckoned with on the court.
Malone's career began when he was drafted out of high school by the Utah Stars in the ABA, where he won Rookie of the Year honors. After two seasons, he joined the NBA and played for several teams such as Houston Rockets, Philadelphia 76ers, Milwaukee Bucks, Atlanta Hawks and San Antonio Spurs.
He led his team to victory with his relentless pursuit of rebounds every game. In fact, Malone ranks fifth all-time in points scored and first all-time in offensive rebounds. His tenacity under both baskets allowed him to create opportunities for himself or his teammates on second-chance shots.
In addition to being a great rebounder, Malone was also an excellent scorer who averaged over 20 points per game throughout his career. He led his team to win their first-ever championship title during his stint with Philadelphia 76ers.
Moses Malone is considered one of the greatest players that ever graced basketball courts worldwide because of how well-rounded he was as a player: scoring points from inside or outside while grabbing lots of rebounds at both ends!
Hakeem Olajuwon
Hakeem Olajuwon is considered one of the greatest centers to ever play in the NBA. He was known for his incredible post moves, footwork, and shot-blocking ability. But what really sets him apart from other big men was his rebounding prowess.
Olajuwon finished his career with a total of 13,748 rebounds, which ranks him sixth on the all-time list. He averaged 11.1 rebounds per game over the course of his 18-year career. What makes this even more impressive is that he wasn't just a stat-padding rebounder; he made meaningful contributions to winning teams throughout his entire career.

Part of what made Olajuwon such an effective rebounder was his quickness and agility for a player of his size. He also had great instincts for anticipating where missed shots would go and positioning himself accordingly.
But perhaps most importantly, Olajuwon had an unrelenting work ethic and determination to succeed on both ends of the court. His relentless pursuit of every loose ball exemplified how much winning meant to him as a player.
Hakeem Olajuwon's impact on basketball goes far beyond just being one of the top rebounders in NBA history. However, it cannot be denied that part this greatness stems from being able to dominate on both sides of the court – scoring points while simultaneously taking care not only defensive but offensive boards too!
Shaquille O'Neal
Shaquille O'Neal, also known as "Shaq", is one of the most dominant centers in NBA history. He played for six different teams throughout his career and won four championships with the Los Angeles Lakers.
Standing at 7 feet 1 inch tall and weighing over 300 pounds, Shaq was a force to be reckoned with on the court. His size allowed him to grab rebounds effortlessly, making him one of the best rebounders in NBA history.

During his career, Shaq recorded a total of 13,099 rebounds, putting him in seventh place on the all-time list. His rebounding ability helped him average double-digit rebound numbers for ten seasons throughout his career.
Although he was known primarily for his scoring ability and dominant presence in the paint, Shaq's rebounding prowess cannot be overlooked. He often used his strength and athleticism to outmuscle opponents for boards or simply out-jump them with ease.
Shaquille O'Neal will always be remembered not only as a legendary scorer but also as an elite rebounder who controlled both ends of the court with sheer dominance.
While Shaq was a professional basketball player, he was also an active Bond investor during the early 1990s. He has invested in a number of reputed companies such as apple and Pepsico. He has said that investing in Companies gives him a personal touch and it feels like he is a part of the company.
He was also an active real estate entrepreneur. In Orlando state he expanded his real estate business where he used to help out the home owners in Orlando who were facing foreclosure. He used to buy the house from them and sell it back to the owners at a lower price to help them overcome the foreclosure problem and he used to make a small profit in return.
He is also on the advisory board of the Tout Industries who is a small startup company which is video based. He received the position in return to give out his NBA retirement news to the service.
In the year 2013 he also became a minority owner at the Sacramento Kings but in January 2022 he Sold His take of the kings. He is also a major investor in the sports team NRG E-Sports. He has also been seen working in the advertisement for the Counter Strike Global offensive League named the Eleague.
In the year 2018 he created his own type of fun event which included music, Circus and carnival and was named Shaq's fun house. The event is held annually where a lot of big names come in as a chief guest and performer at the event.
Dwight Howard
Dwight Howard is a dominant force on the basketball court and has been for over a decade. His 14-year NBA career has seen him play for several teams, but his rebounding skills have remained consistent throughout.
Howard was drafted first overall by the Orlando Magic in 2004 and quickly established himself as one of the best big men in the league. He led the NBA in rebounds five times during his time with the Magic and continued to be a force after being traded to other teams.
Throughout his career, Howard's athleticism and strength allowed him to outmuscle opponents for rebounds consistently. In addition to his rebounding prowess, he also became known for his shot-blocking ability, earning three Defensive Player of the Year awards.
Despite some ups and downs in recent years, Howard remains an impactful player who continues to contribute on both ends of the floor. As he continues to climb up the all-time rebounding list, there's no denying that Dwight Howard will go down as one of the greatest rebounders in NBA history.
Ben Wallace
Ben Wallace is a retired NBA player who played for various teams throughout his career. He was known for his exceptional defensive skills, especially in rebounding. Wallace has accumulated a total of 10,482 rebounds, which puts him at the ninth spot on the list of top 10 most rebounds in NBA history.
Wallace began his career with the Washington Bullets as an undrafted free agent but didn't get much playing time until he joined the Detroit Pistons. During his time with the Pistons, they won their first championship title in over a decade.

What made Wallace stand out from other players was his ability to grab offensive and defensive rebounds consistently. His quick reflexes and agility allowed him to snatch up missed shots before anyone else could.
In addition to being an excellent rebounder, Wallace was also a four-time Defensive Player of the Year awardee – only one of three players to achieve this feat alongside Dikembe Mutombo and Rudy Gobert.
Despite standing at just six feet nine inches tall (relatively short compared to other star centers), Ben Wallace's impact on defense and rebounding cannot be underestimated or undervalued – making him one of the greatest players in NBA history.
Dennis Rodman
So there you have it, the top 10 most rebounds in NBA history. From Wilt Chamberlain dominating the league in the early days to Dennis Rodman's relentless pursuit of every loose ball, these players have left an indelible mark on the sport.

Their rebounding prowess has not only earned them individual accolades but also helped their teams achieve success. Whether it was Bill Russell winning 11 championships with Boston or Hakeem Olajuwon leading Houston to back-to-back titles, each player played a crucial role in their team's success.
As we continue to watch current players make their own mark on the league, it is important to recognize those who paved the way and set records that still stand today. The art of rebounding may seem simple at first glance, but as these players have shown us, it takes skill, determination and a whole lot of heart to become one of the greatest rebounders in NBA history.
Also check out Shortest NBA player.