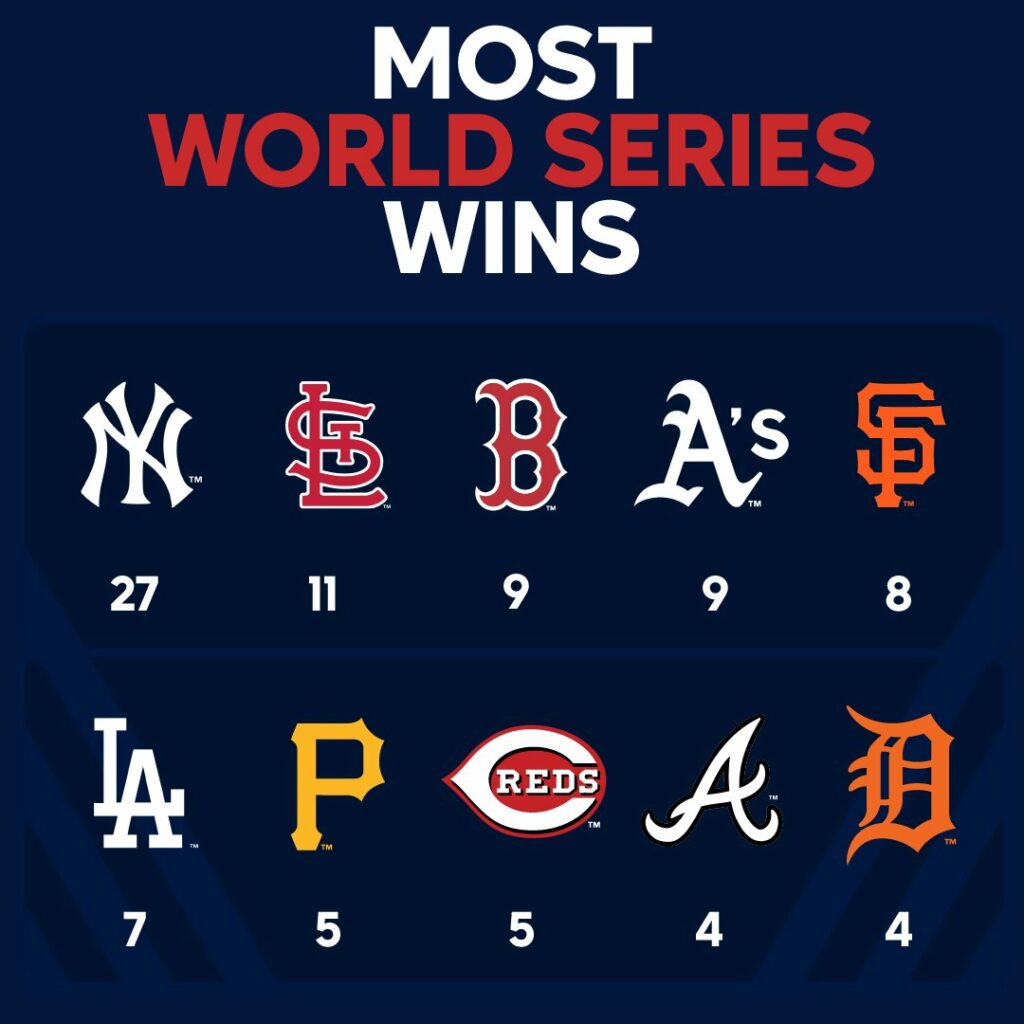 When it comes to professional baseball, nothing is more coveted than winning the World Series. It's the ultimate goal for every team, and only a select few have managed to achieve this feat multiple times.
In this blog post, we'll be exploring which teams have had the Most World Series Wins and how they managed to secure their place at the top of the leaderboard. Get ready to discover some of baseball's greatest dynasties as we count down the top 10 most World Series wins!
The World Series is the annual Championship of the teams of major league baseball ( MLB ) of the countries of The United States of America and Canada. This was first started in the year 1903 which was contested between the champions of American League as well as the National League winners. The winning team is decided by the best of seven playoffs and the winner is given the Commissioner trophy.
Before the American League and the national League was played up in the season 1969, the ratio of win or loss for the regular season had got the chance of winning the League's Pennant and moving on to the World Series, barring the rare tie necessitating a pennant playoff. Since then both the leagues have conducted the league championship series to determine the teams which would advance to the World Series.
The League Championship series has been preceded by the Division series since the year 1995 and the Wild Card games in both the leagues since 2012. Until the year 2002, Home Ground Advantage was alternated every year between the American League as well as the National League. Between 2003 to 2016, the Home Ground Advantage was given only to the winner of the year's All Star's game champion.
Starting in 2017, home-field advantage was awarded to the league champion team with the better regular-season win–loss record. The World Series has been contested 118 times as of 2022, with the AL winning 67 and the NL winning 51.
New York Yankees- 27
The New York Yankees are synonymous with success. They have won a staggering 27 World Series titles, which is more than any other team in the league. The Yankees' dominance on the field has been nothing short of impressive over the years, as they have consistently set high standards for themselves and their competitors.
One of the keys to their success has been their unwavering commitment to excellence. From Babe Ruth to Derek Jeter, the Yankees have always had some of baseball's greatest players on their roster. Their deep pockets and willingness to invest in top talent have enabled them to attract superstar athletes from around the world.
But it's not just about having talented players – it's also about working together as a team. The Yankees' legendary managers like Joe Torre and Casey Stengel were great at building camaraderie among players and motivating them to perform at their best.
All of these factors combined have made New York Yankees one of baseball's most successful franchises ever. Even though they've faced tough competition over the years, they continue to be a force to be reckoned with on the field today.
St. Louis Cardinals- 11
The St. Louis Cardinals are one of the most successful Major League Baseball (MLB) teams with a total of 11 World Series wins to their name. The team was founded in 1882 and has been an integral part of MLB ever since.
One key reason for the Cardinals' success is their strong pitching staff, which has produced some legendary players such as Bob Gibson, Dizzy Dean, and Adam Wainwright. These talented pitchers have helped lead the team to numerous victories over the years.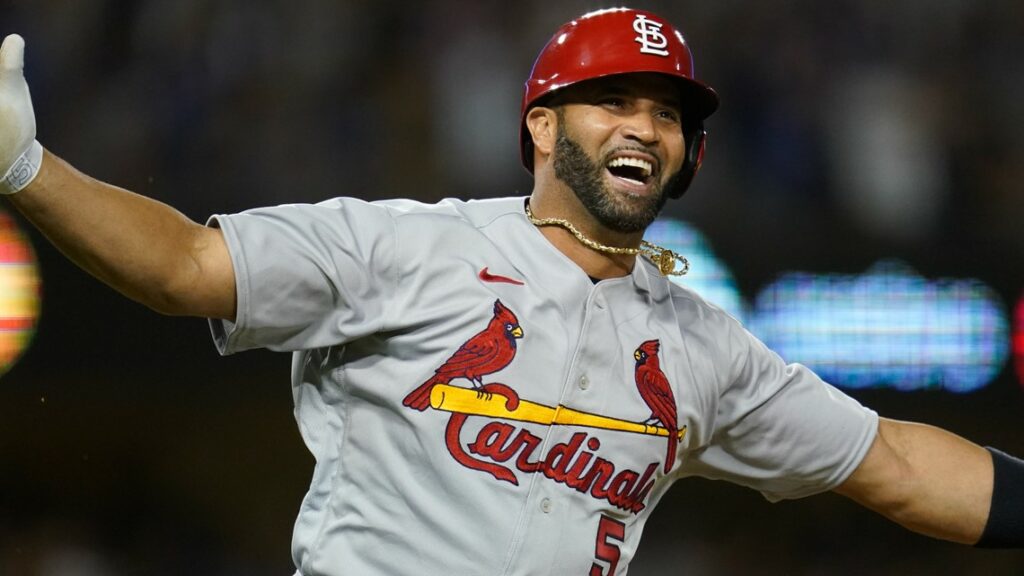 In addition to their great pitching, the Cardinals also have a rich history of outstanding position players. Some notable examples include Lou Brock, Stan Musial, and Albert Pujols.
Another factor that sets the Cardinals apart from other teams is their loyal fan base. Known as "Cardinals Nation," this group of passionate fans can be found cheering on their team at Busch Stadium or following them on television from around the world.
It's clear that the St. Louis Cardinals have established themselves as one of baseball's greatest franchises thanks to their impressive record of 11 World Series championships. It will be exciting to see what future successes lie ahead for this iconic team!
Boston Red Sox- 9
The Boston Red Sox are one of the most historic teams in baseball history. They have won a total of nine World Series championships, making them one of the top contenders on this list.
The team's first championship came in 1903 when they defeated the Pittsburgh Pirates. They then went on to win four more championships during the early 20th century before experiencing an 86-year drought without a title.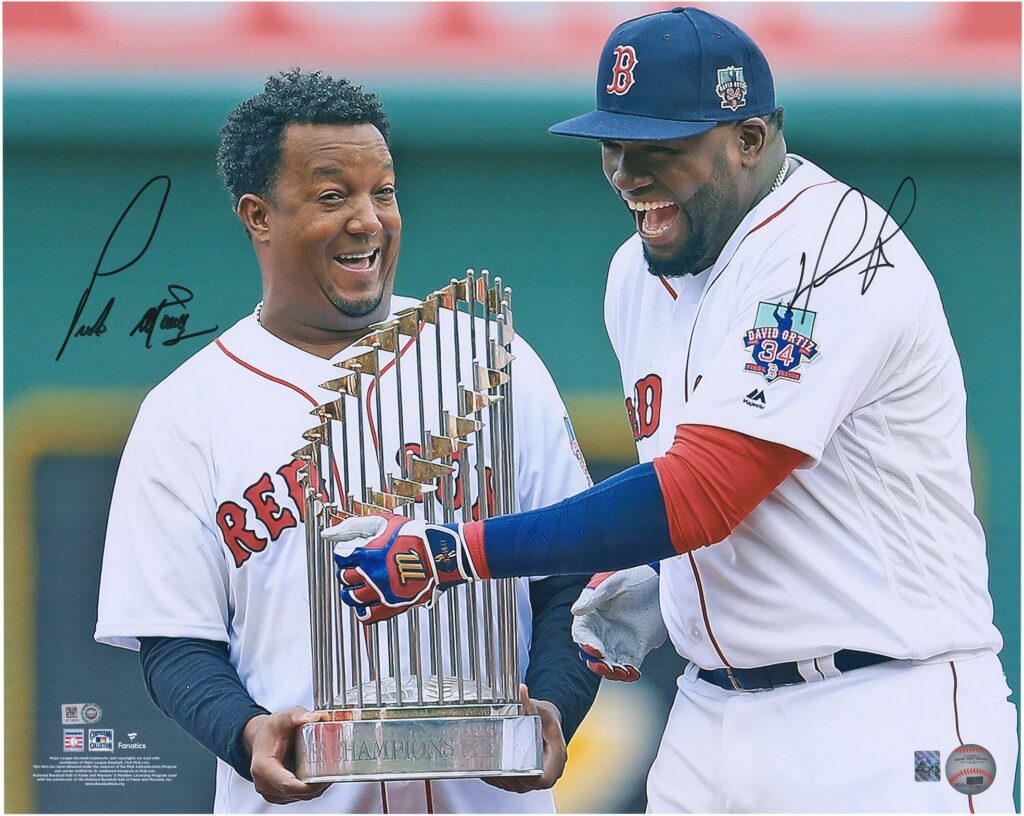 However, that all changed in 2004 when they famously broke "the curse of the Bambino" by winning their first championship since 1918. Led by players such as David Ortiz and Curt Schilling, the Red Sox swept the St. Louis Cardinals in dominant fashion.
They would go on to win two more championships over the next decade, cementing themselves as a modern-day dynasty. Their most recent victory came in 2018 when they defeated their arch-rival New York Yankees en route to another title.
Throughout their storied history, many legendary players have donned a Red Sox uniform including Ted Williams and Carl Yastrzemski. With nine World Series titles under their belt, it's safe to say that Boston is truly a powerhouse franchise with an impressive legacy.
Los Angeles Dodgers- 7
The Los Angeles Dodgers have won the World Series a total of seven times in their franchise history. The team has been a consistent powerhouse in Major League Baseball for several decades, boasting some of the best players in the league.
One of the most notable winning seasons for the Dodgers was in 1988 when they defeated the Oakland Athletics. Kirk Gibson's homerun during Game 1 is still one of the most iconic moments in baseball history.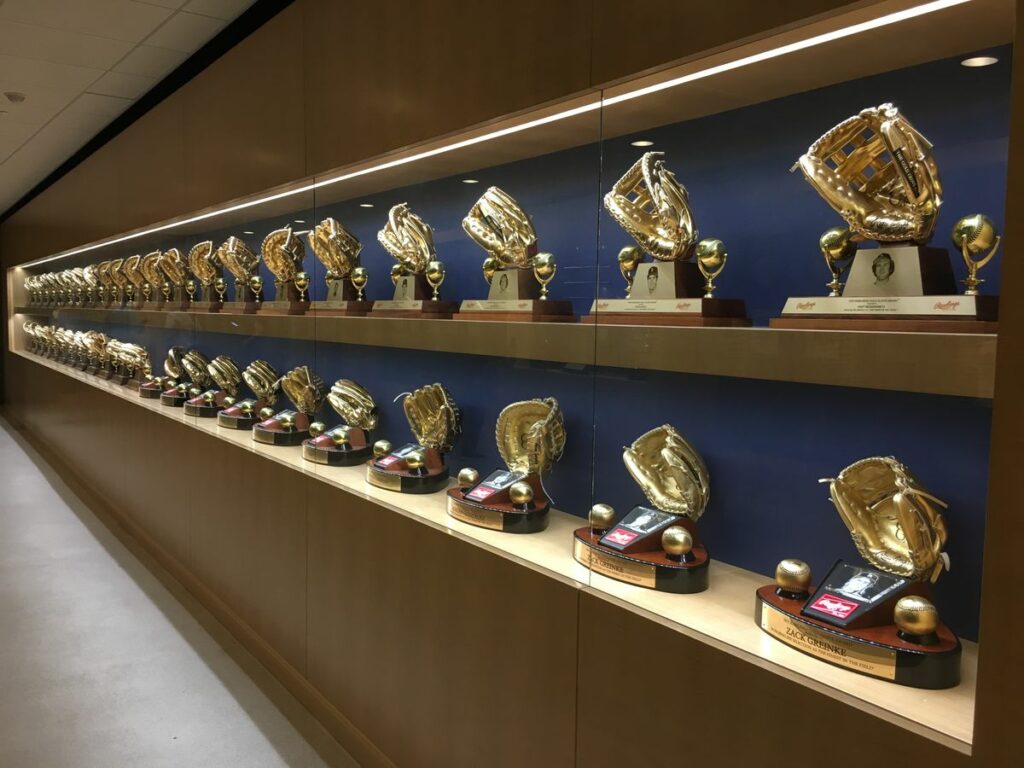 In recent years, with star players like Clayton Kershaw and Cody Bellinger leading the way, the Dodgers have continued to dominate and remain as one of MLB's top teams. Their most recent championship win came in 2020, after a shortened season due to COVID-19.
Despite falling short some years, there is no doubt that LA Dodgers will continue to be a force to be reckoned with on any given season. With an impressive track record and talented roster, it wouldn't be surprising if they add more World Series titles to their collection soon enough.
San Francisco Giants- 7
The San Francisco Giants have won 7 World Series titles throughout their franchise history. Their most recent championship win came in 2014, where they defeated the Kansas City Royals in a dramatic seven-game series.
One of the key factors that helped propel the Giants to victory was their exceptional pitching staff. Led by Madison Bumgarner, who was named MVP of the series, the team's pitchers were dominant throughout the postseason, allowing only 28 runs across all four playoff rounds.
In addition to their strong pitching performances, the Giants also had some clutch hitting from players like Pablo Sandoval and Hunter Pence. Sandoval famously hit three home runs in Game 1 of the 2012 World Series against Detroit Tigers.
However, it wasn't just individual performances that led to success for this team. The Giants played with a sense of unity and teamwork that was evident both on and off the field. They truly embodied what it means to be a championship-caliber team.
San Francisco has established itself as one of baseball's premier franchises with its seven World Series victories. It will be exciting to see if they can add more championships to their impressive total in future seasons!
Oakland Athletics- 9
The Oakland Athletics have nine World Series titles to their name, making them one of the most successful franchises in Major League Baseball history. The A's first won the championship in 1910 and then went on to win it again four more times during a dominant run from 1972-1974, which included three straight championships.
Their success continued into the late '80s and early '90s when they won two more titles in 1989 and 1990. During this time, they had an impressive roster including Hall of Famers Rickey Henderson and Dennis Eckersley.
However, despite their success over the years, the A's have struggled to maintain consistency in recent seasons. They last appeared in the World Series back in 1990, a drought that has frustrated fans for decades.
Despite this lack of recent success though, there is no denying that Oakland's nine championships are an incredible accomplishment for any franchise. And while they may not be dominating currently like some other teams on this list, their place among baseball's all-time greats is secure thanks to their rich history of winning.
Cincinnati Reds- 5
Cincinnati Reds have won the World Series five times, with their first win in 1919 and their most recent victory in 1990. The team has a long history of being successful on the field, with many talented players throughout the years.
One of the most iconic moments in Cincinnati Reds' World Series victories came in 1975 when they faced off against the Boston Red Sox. Game 6 is often referred to as one of the greatest games ever played, ending with a walk-off home run by Carlton Fisk for Boston. However, before that moment, there was another incredible play: Joe Morgan's game-winning bloop single that scored Ken Griffey Sr.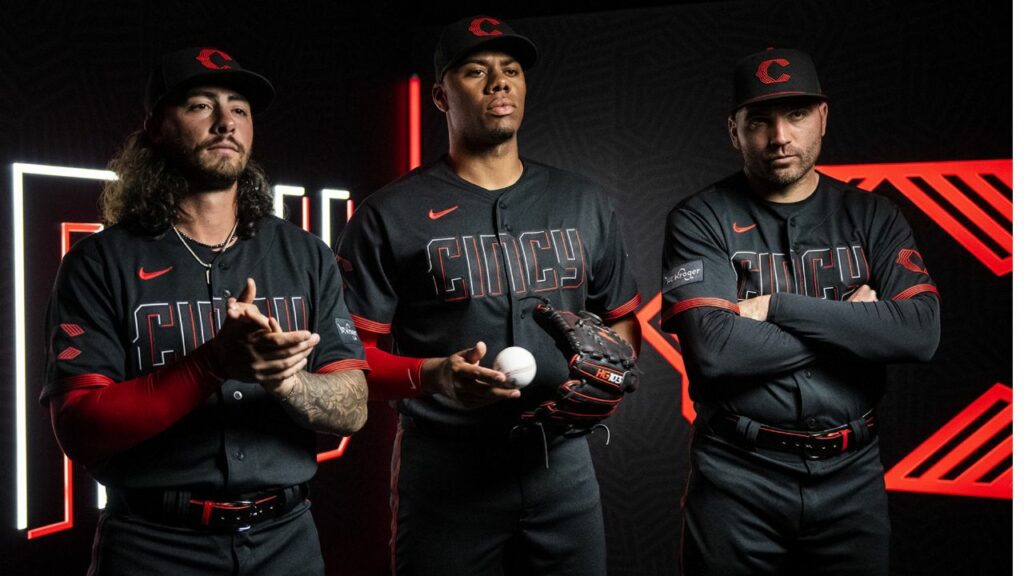 Another notable player from Cincinnati's World Series wins is Johnny Bench. Considered one of baseball's all-time great catchers, he played an important role in both the 1975 and 1976 championships for the Reds.
While they may not have as many wins as some other teams on this list, Cincinnati Reds' five World Series titles are still an impressive accomplishment that should be recognized and celebrated by fans of baseball everywhere.
Detroit Tigers- 4
The Detroit Tigers are considered one of the most successful Major League Baseball teams in history, having won four World Series championships. The team has a long and storied history dating back to its founding in 1894.
One of the key factors behind the Tigers' four World Series wins is their ability to consistently field talented players throughout their history. From Ty Cobb to Hank Greenberg, Al Kaline, and Miguel Cabrera, the Tigers have always had a strong lineup.
Another factor that contributed to the Tigers' success was their pitching staff. Throughout their championship years, they were able to rely on star pitchers such as Hal Newhouser and Jack Morris.
In addition to these factors, luck also played a role in some of the Tigers' victories. In 1968, for example, they faced off against a heavily favored St. Louis Cardinals team but managed to win thanks in part to an outstanding performance from pitcher Mickey Lolich.
Despite experiencing some ups and downs over the years, the Detroit Tigers remain one of baseball's most beloved franchises today – with four World Series championships under their belt and no shortage of fans rooting them on every step of the way.
Pittsburgh Pirates- 3
The Pittsburgh Pirates have won the World Series three times in their history, with their last victory coming in 1979. The franchise has a long and storied history, dating back to the late 1800s when they were established as part of the National League.
Their first championship came in 1909, when they defeated Ty Cobb's Detroit Tigers in seven games. They followed up this victory with another win in 1925 against the Washington Senators.
However, it was their third and most recent championship win that is perhaps best remembered by baseball fans. In 1979, they faced off against the Baltimore Orioles and won the series in seven games thanks to a standout performance from Willie Stargell who hit .400 with three home runs and seven RBI.
Despite not winning a World Series title since then, the Pirates have remained competitive over recent years thanks to players such as Andrew McCutchen and Starling Marte. With an exciting young core now taking shape under manager Derek Shelton, there is renewed hope that Pittsburgh could once again compete for a championship in the near future.
Chicago White Sox- 3
And there you have it, the top 10 teams with the most World Series wins in baseball history. Each team has had its own unique journey to achieve their victories, but one thing is clear: they all share a deep love and passion for America's favorite pastime.
As we look towards future seasons and new champions being crowned, it's important to remember the legacies of these incredible teams who have left an indelible mark on baseball history. Whether you're a die-hard fan or just enjoy catching a game every now and then, knowing about these legendary World Series wins can only enhance your appreciation for this beloved sport.
So here's to many more exciting seasons filled with thrilling games, unforgettable moments, and maybe even some new additions to this list of the most World Series wins!