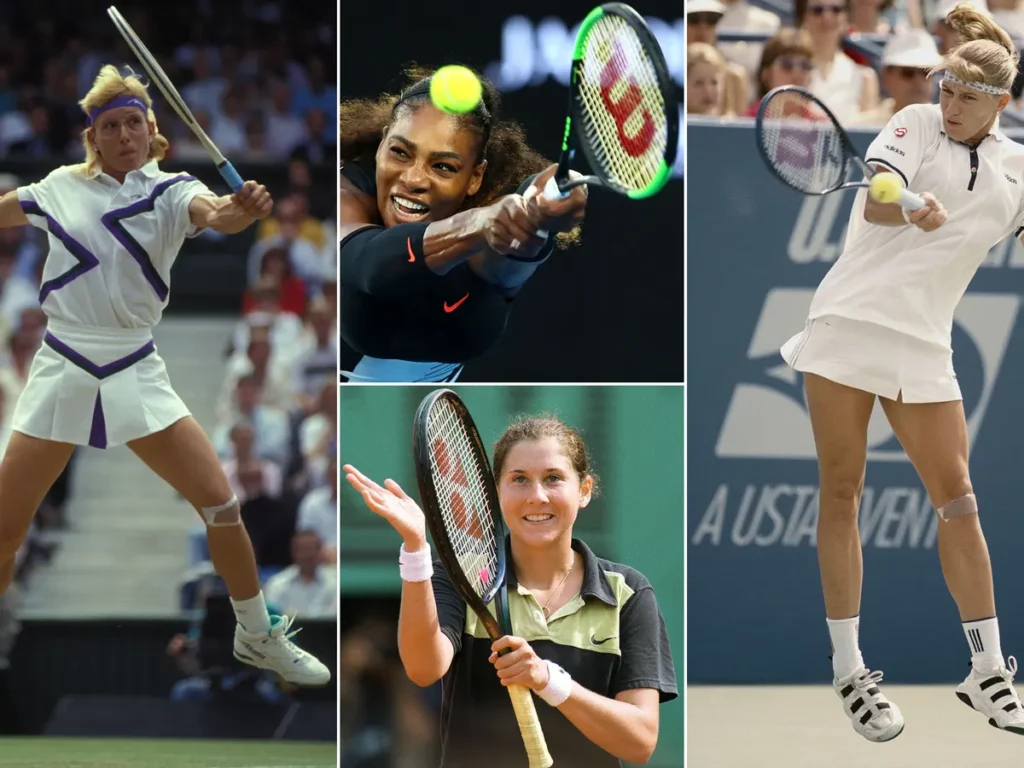 Women are the epitome of strength, talent, passion, and dedication. They have excelled in everything, including athletics, despite social expectations and restrictions. Tennis is one of the numerous sports that has a lengthy history of female triumphs and achievements.
Women's tennis has seen a number of professional tennis player who have been famous and have been one of the greatest female tennis players of all time.
Here is the list of top 10 female tennis players of all time who have been the most famous.
10. Sania Mirza
Sania Mirza is a professional tennis player and is Indian. She has won six major championships as a former No. 1 in doubles, including three in women's doubles and three in mixed doubles.
She had the No. 1 singles ranking in India according to the Women's Tennis Association from 2003 till her retirement from singles in 2013.
She is one of the greatest female tennis players of all time for India.
In her singles career, Mirza defeated former world No. 1s Martina Hingis, Dinara Safina, and Victoria Azarenka in addition to Svetlana Kuznetsova, Vera Zvonareva, and Marion Bartoli.
She achieved her highest ever ranking of No. 27 in the world in the middle of 2007. However, she was forced to switch to doubles due to a serious wrist injury.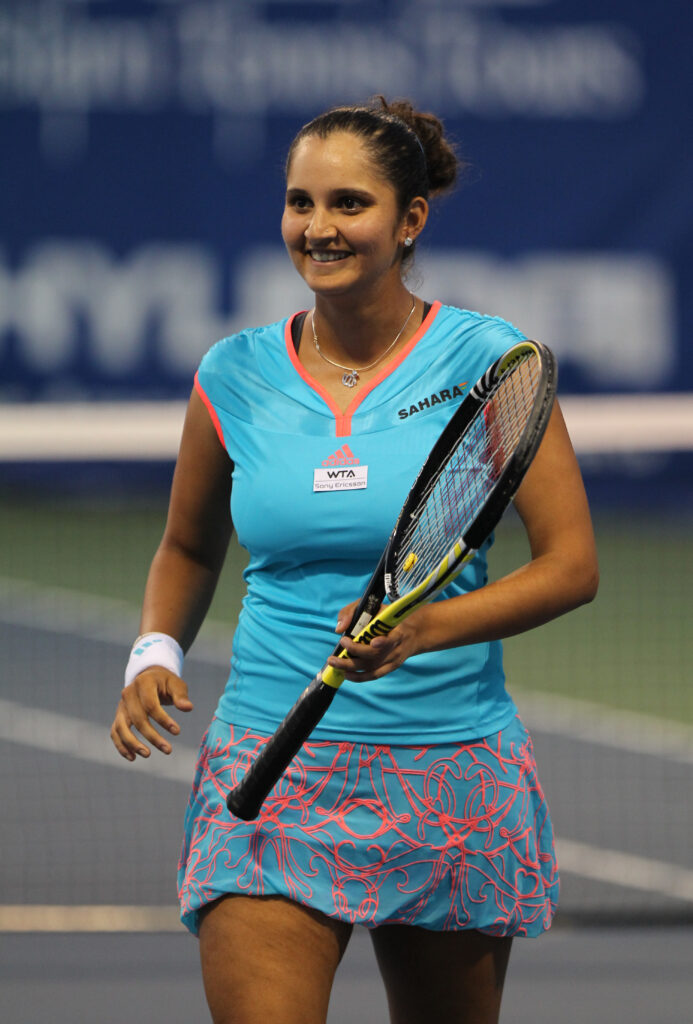 Mirza has set a number of records for women's tennis in India, including breaking the $1 million USD earnings barrier in her career (she currently earns over $7 million), winning a major singles championship, qualifying for (and ultimately winning) the WTA Finals in doubles in 2014 with Cara Black, and successfully defending her title the following year with Martina Hingis.
Only two Indian women have competed on the WTA Tour, and Mirza is the only one to have reached the top 100 in singles rankings.
She is the first Indian woman to make it through the second round of a major tournament and the third Indian woman overall (after Nirupama Mankad and Nirupama Sanjeev, and the second in singles).
Mirza is the active player with the most WTA doubles championships won (43 trophies).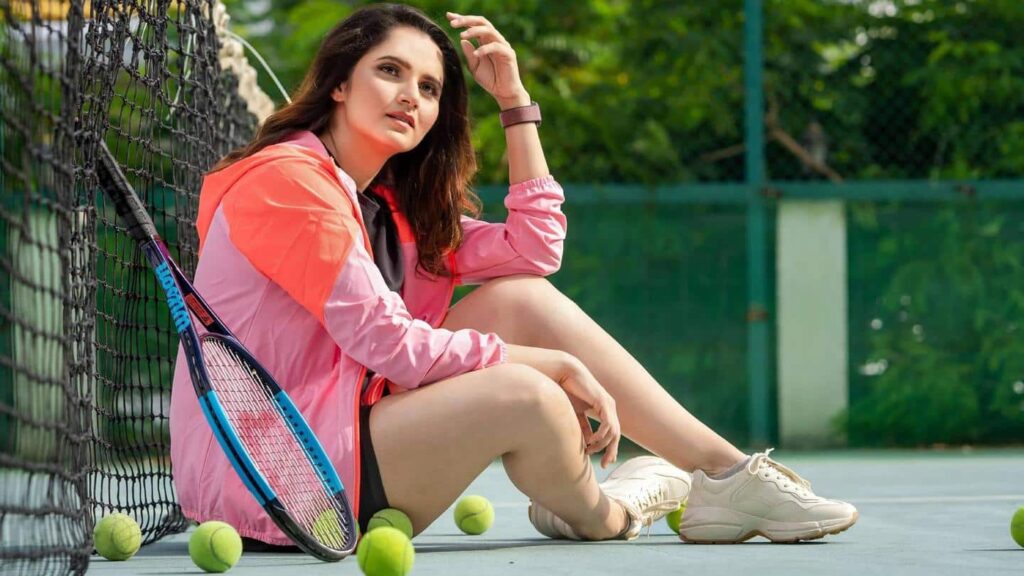 Additionally, she held the title of No. 1 in doubles for 91 weeks. Mirza won the WTA Newcomer of the Year award in 2005, and she and Martina Hingis won the doubles team award in 2015, going on to compile one of the longest victory streaks in history of 44 matches.
A total of 14 medals, including six golds, have also been won by Mirza at three significant multi-sport competitions, namely the Asian Games, the Commonwealth Games, and the Afro-Asian Games.
Sania Mirza being one of the greatest women's tennis players of all time has gained a lot of fame and is a very famous women's tennis player around.
9. Justine Henin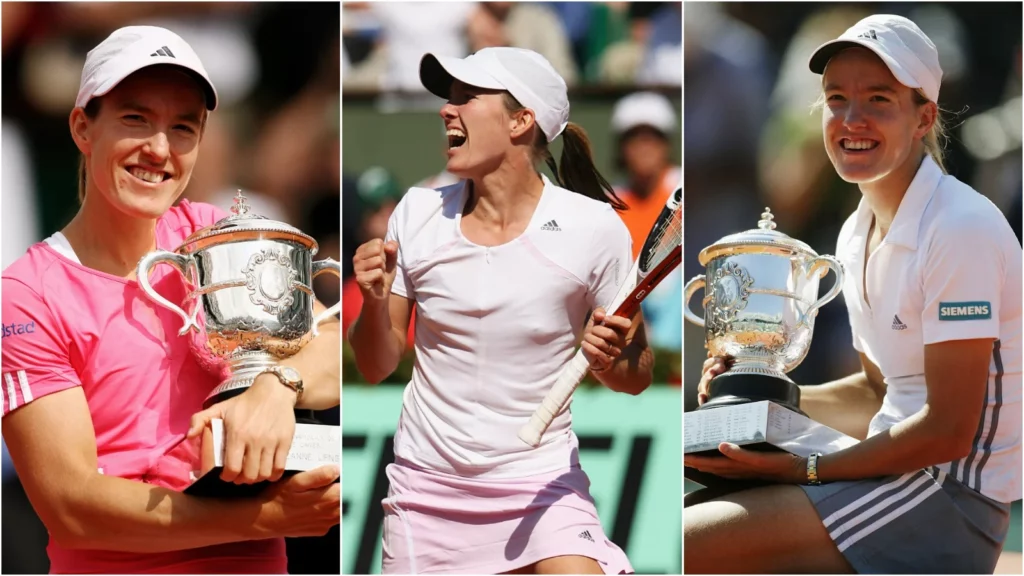 A former professional tennis player from Belgium is named Justine Henin. She held the top spot for 117 weeks in total and finished the year at the top spot in 2003, 2006, and 2007.
Henin, who hails from a nation with little tennis success, worked with Kim Clijsters to make Belgium a dominant force in women's tennis and guided the nation to its first Fed Cup victory in 2001.
One of the few female players who employ a single-handed backhand, she was renowned for her all-court style of play.
What are the Achievements of Henin?
Henin won seven Grand Slam victories, taking home victories in the US Open in 2003 and 2007, the Australian Open in 2004, the French Open in 2003, 2005, 2006, and 2007.
She finished second at Wimbledon in both 2001 and 2006. Additionally, she won the women's singles gold medal at the 2004 Olympic Games and the WTA Tour Championships in 2006 and 2007. She amassed a total of 43 WTA singles victories.
Her seven grand slam titles or the grand slam singles titles were treat for the eyes of the fans.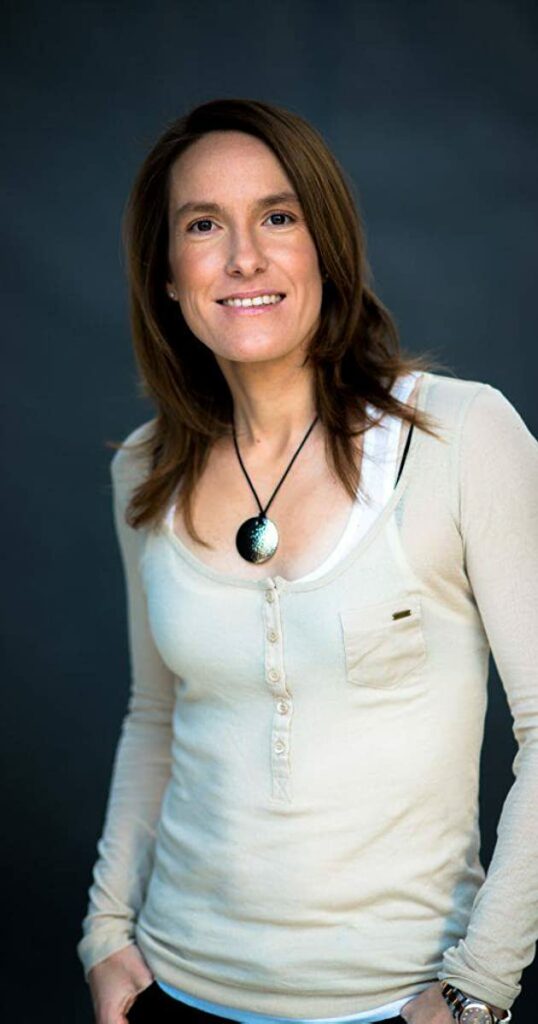 Tennis analysts attribute her success primarily to her mental toughness, completeness and variety of her game, footspeed and footwork, and one-handed backhand, which John McEnroe called "the best single-handed backhand in both the women's and men's game."
On January 26, 2011, she announced her retirement from competitive tennis due to a persistent elbow problem.
She was included in Time magazine's list of the "30 Legends of Women's Tennis: Past, Present, and Future" in June 2011.
She is regarded as one of the best tennis players of all time, among women. She was the first tennis player from Belgium to be admitted into the International Tennis Hall of Fame in 2016.
What was the specialty of Henin which helped her with seven grand slam titles?
Henin had one of the best one-handed backhands to ever play the game of tennis, even in an era where two-handed backhands have gained popularity due to their higher power and control, albeit at the sacrifice of reach and shot diversity.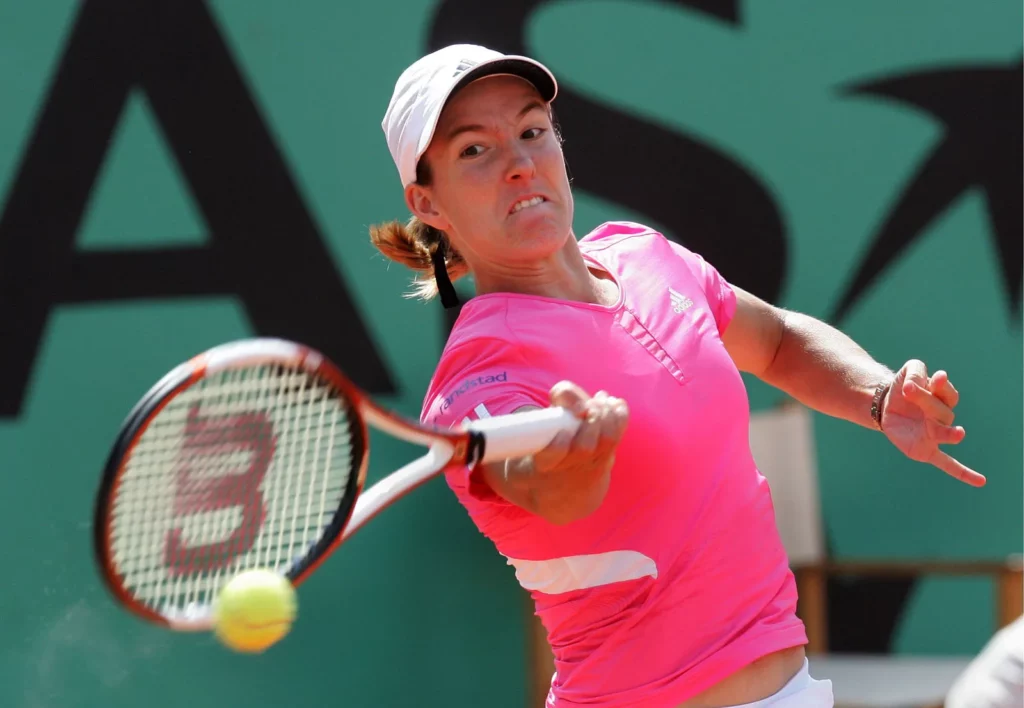 Her one-handed topspin backhand was notably praised since it had unequalled power and accuracy, two qualities that many juniors would find difficult to develop early on and have led many of players, particularly girls, to opt playing two-handed backhands.
Henin's one-handed backhand also gave her the flexibility to play with more reach and a wider variety of shots depending on the situation. Henin's backhand has been dubbed "the best in mens and women's tennis" by John McEnroe.
Winning seven grand slam titles or the grand slam singles titles in female tennis by dominating the grand slam final everytime with ease was something only she could do.
She could have won a lot more grand slam titles if injuries did not force her to miss out some grand slams. Her grand slam wins are appreciated till date.
8. Maria Sharapova
Russian tennis player Maria Yuryevna Sharapova once held the No. 1 ranking in the world. She participated in WTA Tour competition from 2001 to 2020 and had the No. 1 singles ranking in the world for 21 weeks.
She is the only Russian and one of eleven women to complete the career Grand Slam. Having won silver in women's singles at the 2012 Summer Olympics in London, she is also an Olympic medallist. She missed her olympic gold medal by a slight margin.
When did Maria come into fame?
At the age of 18, Sharapova became the first Russian woman to hold the top spot in the singles rankings.
She last held the position for a fifth time for four weeks between 11 June and 8 July 2012. She won five major championships: two at Wimbledon, one each at the Australian Open, US Open, and French Open.
In total, she won 36 trophies, including the year-end championships in her 2004 debut. She also achieved three doubles victories.
She competed in the WTA under the flag of Russia, but she has lived in and is a permanent resident of the United States since 1994.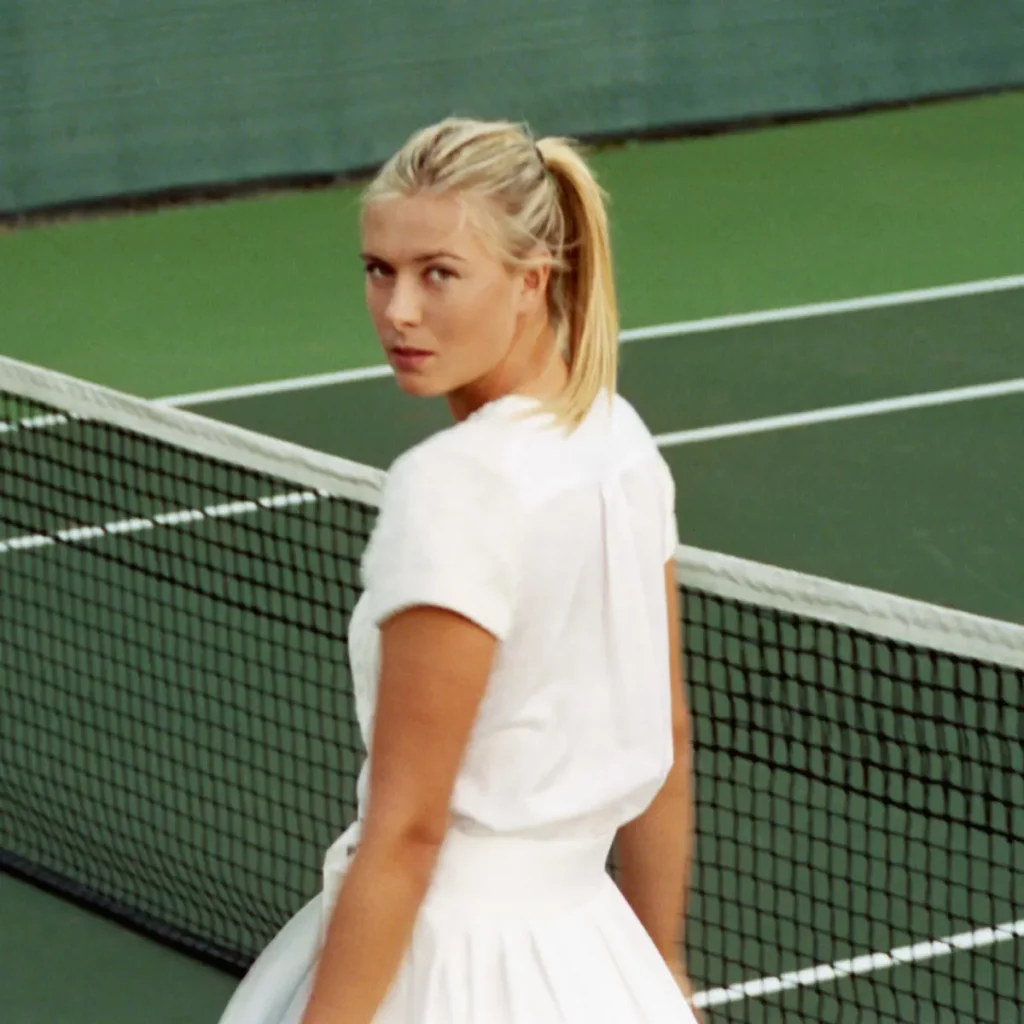 Was Maria a part of any controversy?
At the 2016 Australian Open, Sharapova failed a drug test after testing positive for meldonium, which the World Anti-Doping Agency had outlawed (as of January 1, 2016). (WADA).
The International Tennis Federation barred her from tennis for two years on June 8, 2016. (ITF). Since the Court of Arbitration for Sport determined that she had "no significant fault" and had taken the substance "based on a doctor's recommendation… with good faith belief that it was appropriate and compliant with the relevant rules," the suspension was reduced to 15 months on October 4, 2016.
On April 26, 2017, she made her WTA Tour comeback at the Porsche Tennis Grand Prix.
7. Venus williams
American tennis player Venus Ebony Starr Williams competes professionally. Williams, a former No. 1 in both singles and doubles, has won seven Grand Slam singles titles, including two at the US Open and five at Wimbledon.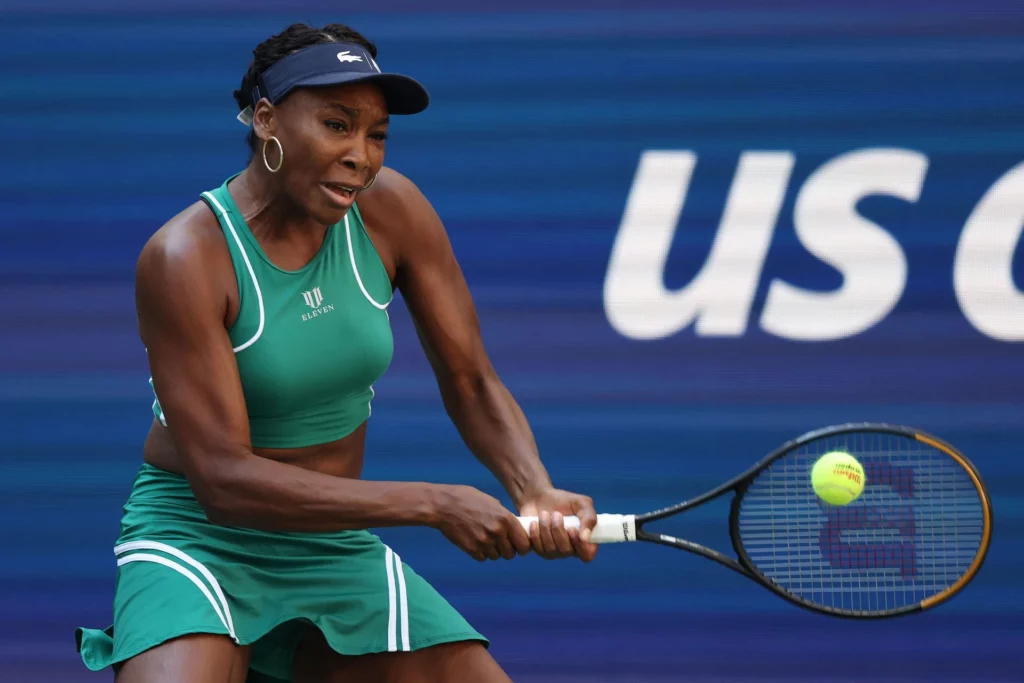 She is largely recognised as one of the greatest female tennis player to ever play the game.
Venus Williams' parents, Oracene Price and Richard Williams, also taught her younger sister, Serena Williams.
She became a professional in 1994, and at the 1997 US Open, she made it to her first major final.
Williams won the Wimbledon and US Open championships in 2000 and 2001, and she also won the Olympic singles gold medal at the 2000 Sydney Games.
On February 25, 2002, she became the second woman ever and the first African American woman to hold the No. 1 singles position, after only Althea Gibson.
Between 2002 and 2003, she made it to four straight major finals but fell to Serena each time. After that, she experienced injuries and only achieved one major victory between 2003 and 2006.
When Venus Williams won Wimbledon in 2007, she started to regain her form (a feat she repeated the following year).
She regained the No. 2 singles ranking in the world in 2010, but injuries struck once more. She steadily regained form beginning in 2014, which culminated in two major final appearances at the 2017 Australian Open and Wimbledon.
Her domination at the grand slam singles finals was unmatchable. In the grand slam doubles, the williams sisters kept their utter dominant force on. The williams sisters had Serena williams and Venus williams.
Venus williams and Serena williams were the biggest rivals be it at the grand slam titles or the french open era but the only grand slam titles where the two became dangerous was at the Grand slam doubles titles
Venus williams was one of the greatest female tennis players of all time.
6. Aryna Sabalenka
Aryna Siarhiejena Sabalenka, a professional tennis player from Belarus, was born on May 5, 1998. The Women's Tennis Association has placed her as high as No. 2 in the world in singles and No. 1 in the world in doubles (WTA).
Together with Elise Mertens, Sabalenka has won two Grand Slam doubles championships in the 2019 US Open and the 2021 Australian Open.
Eleven of her 17 career victories have been in singles play, while six have been in doubles.
When did Aryna rise to Fame?

Sabalenka had a modest level of fame up until 2017, when she and Aliaksandra Sasnovich, who were both below the top 75 at the time, helped the Belarus Fed Cup team to a runner-up result.
She started to see greater success on the WTA Tour after the 2017 Fed Cup, making it to four finals and earning eight top 10 triumphs in 2018.
Defending her Wuhan Open title at the Premier 5 level and winning the WTA Elite Trophy at the end of the year were two of Sabalenka's three victories in China in 2019. Sabalenka continued to dominate the singles game in 2019.
She concluded the singles season at No. 11 in the world in both 2018 and 2019. In 2019, Sabalenka also started consistently playing doubles.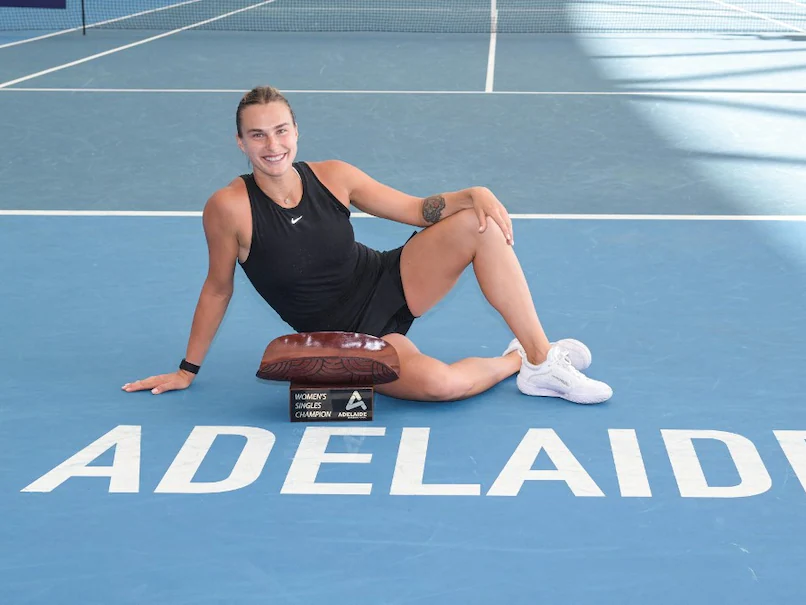 She won the Miami Open and Indian Wells Open Premier Mandatory competitions in March, completing the Sunshine Double with Mertens as her partner.
She initially qualified for the WTA Finals after winning the doubles competition at the US Open later in the year.
The Wimbledon Championships and the 2021 US Open saw Sabalenka achieve her greatest singles finishes in Grand Slam competitions, as both events saw her go to the semifinals.
What is the social media following of Aryna?
Aryna being one of the very famous Tennis players, has about 398k followers on instagram and 54k followers on Twitter.
5. Simona Halep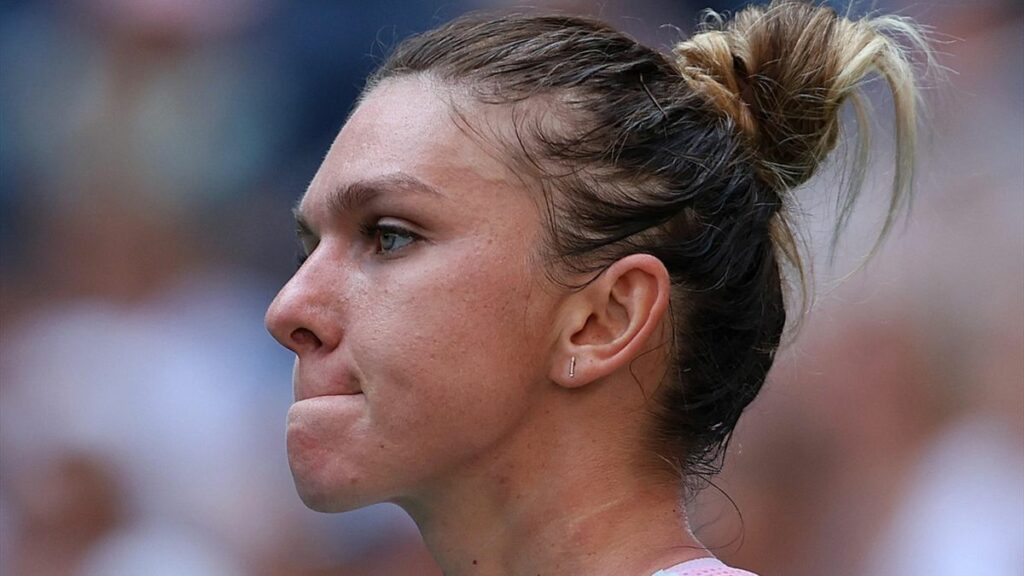 Female Tennis players Simona Halep is from Romania and is a professional. Between 2017 and 2019, she held the top singles ranking twice for a total of 64 weeks, which is the eleventh-longest streak in the Women's Tennis Association (WTA) rankings' history.
The year-end No. 1 in 2017 and 2018 was Halep. She has triumphed in the 2018 French Open and the 2019 Wimbledon Championships, both Grand Slam singles competitions.
Halep has the eighth-longest streak in WTA history, spending 373 straight weeks in the top 10, from 27 January 2014 to 8 August 2021.
She finished each year over this seven-year period with a ranking no lower than No. 4. She has placed second 18 times on the WTA Tour and won 24 singles championships.
Halep, a former junior world No. 1 and victor of the French Open, debuted in the top 50 of the world's rankings at the end of 2011, the top 20 in August 2013, and the top 10 in January 2014.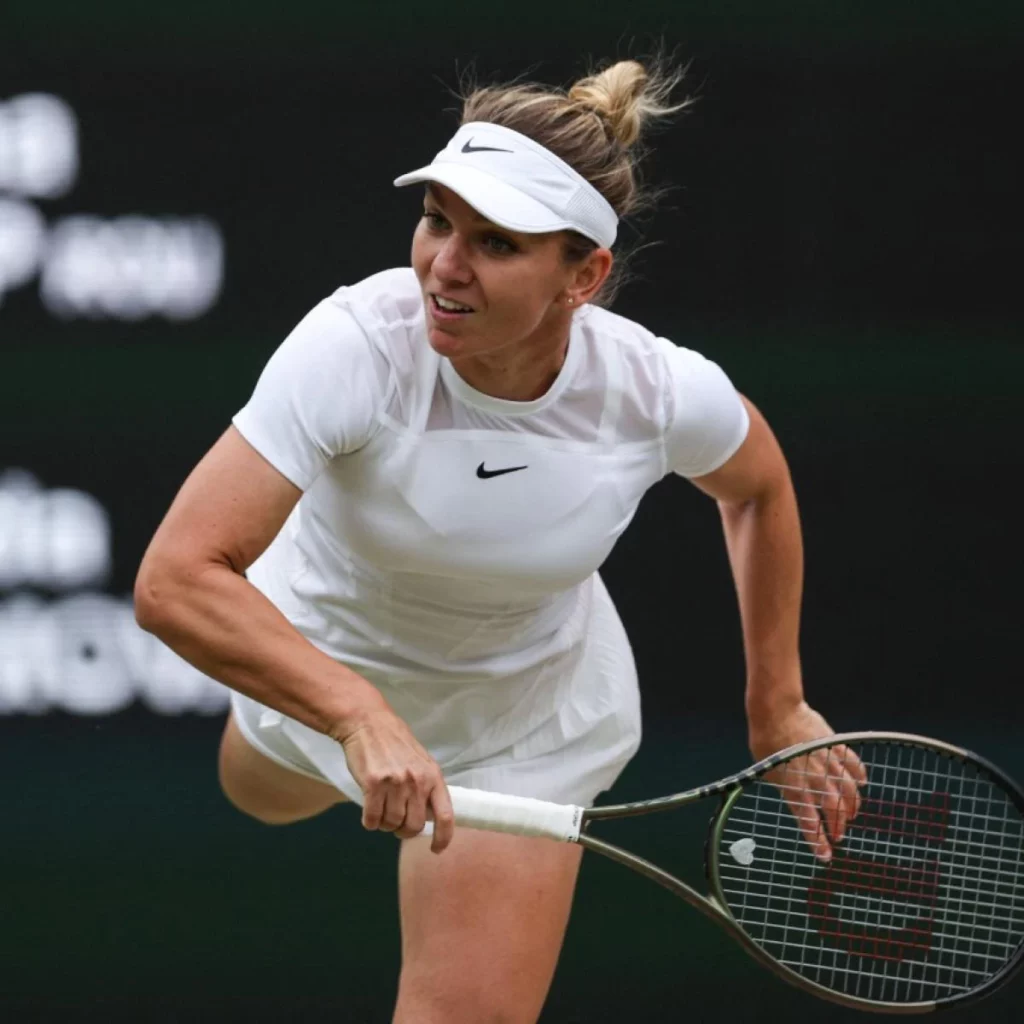 The is the only woman tennis player to do so and the youngest french open champion.
She became the first player since Steffi Graf in 1986 to win her first six WTA titles in the same year. She was awarded the WTA Most Improved Player of the Year as a result.
Before triumphing over Sloane Stephens in the 2018 French Open final, Halep advanced to three major finals at the 2014, 2017, and 2018 tournaments.
Despite trouncing Serena Williams in the round-robin portion of the 2014 WTA Finals, Halep lost to Williams for the title. The 2019 Wimbledon Championships final was the last match she won over Williams.
Is Simona Halep the fan favourite female tennis players of all time?
In addition to winning the WTA Fan Favorite Singles Player of the Year awards in 2017, 2018, and 2019, Halep was also voted the WTA Most Popular Player of the Year in 2014 and 2015.
She was awarded the Order of the Star of Romania and the Patriarchal Cross of Romania, and she was made an honorary citizen of Bucharest.
She is the second Romanian woman to win a major singles title after Virginia Ruzici, and the third Romanian to crack the top 10 of the WTA rankings.
She is also the first Romanian to hold the No. 1 position in the global rankings and to have won the Wimbledon singles championship.
In addition to being one of the top returners on the WTA Tour, Halep bases her strategy on being aggressive and having the ability to make winners from a defensive position.
4. Steffi Graf
Stefanie Maria Graf is a former tennis pro who was born in Germany. She is regarded as one of the greatest professional tennis players of all time.
She held the world No. 1 ranking for a record 377 weeks and amassed 22 major singles titles, which ranks third all-time (behind Margaret Court's 24 and Serena Williams' 23) and is the second-most since the Open Era began in 1968.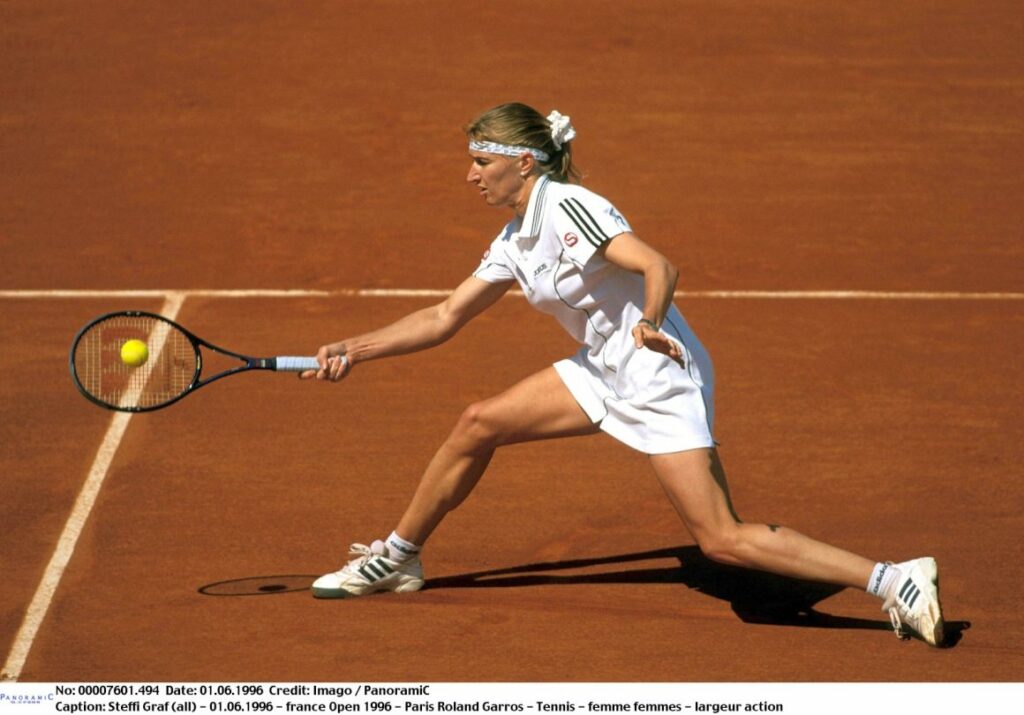 Graf achieved the Golden Slam in tennis for the first time in 1988 when he won the Olympic gold medal, all four major singles titles, and all four major tournaments.
She is also the only tennis player, male or female, to have claimed victory in every major competition at least four times.
The longest period for which any player, male or female, has held a singles number-one ranking since the WTA and the Association of Tennis Professionals, respectively, began issuing rankings, was held by Graf, who was ranked No. 1 in the world by the Women's Tennis Association (WTA) for a total of 377 weeks.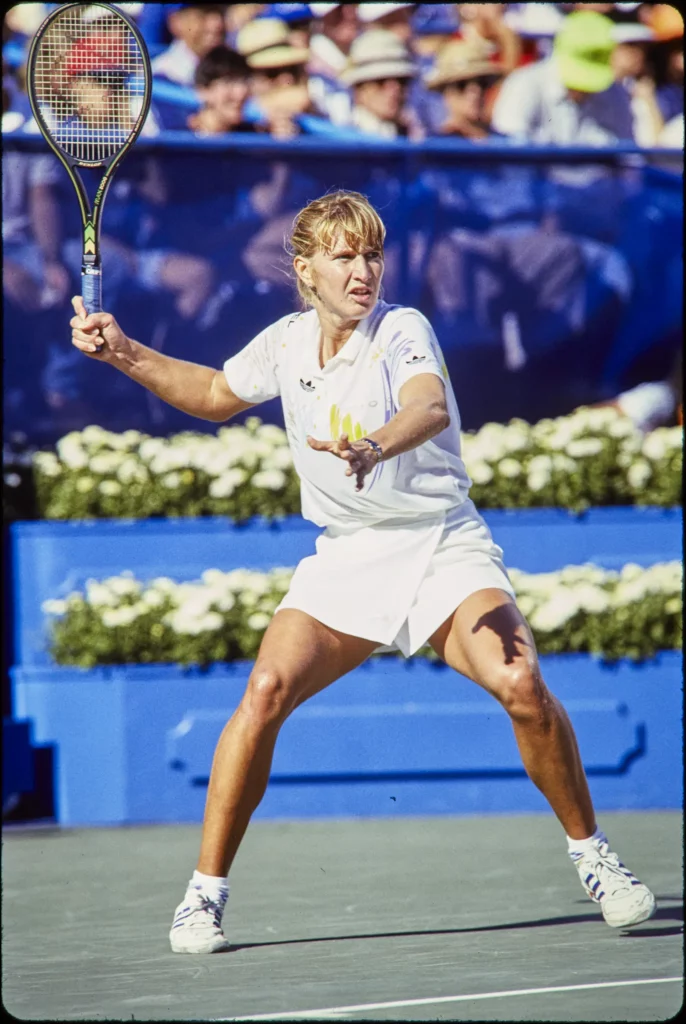 She accumulated 107 singles titles, placing her third on the WTA's all-time list behind Chris Evert and Martina Navratilova (167 titles) (157 titles).
She and Margaret Court are the only athletes, male or female, to win three major championships five times in a single calendar year (1988, 1989, 1993, 1995 and 1996).
What were the Notable features about Graf?
Graf's adaptability on all surfaces, footwork, and strong forehand drive were notable aspects of her game.
The contemporary style of play that has come to rule today's game is linked to Graf's athletic prowess and aggressive game played from the baseline.
She finished second behind Evert in singles victories with six at the French Open, seven at Wimbledon, four at the Australian Open, and five at the US Open.
She is the first male or female tennis player to have won a Grand Slam titles on all three surfaces (grass, clay, and hard courts). She is the only woman tennis player to have done that.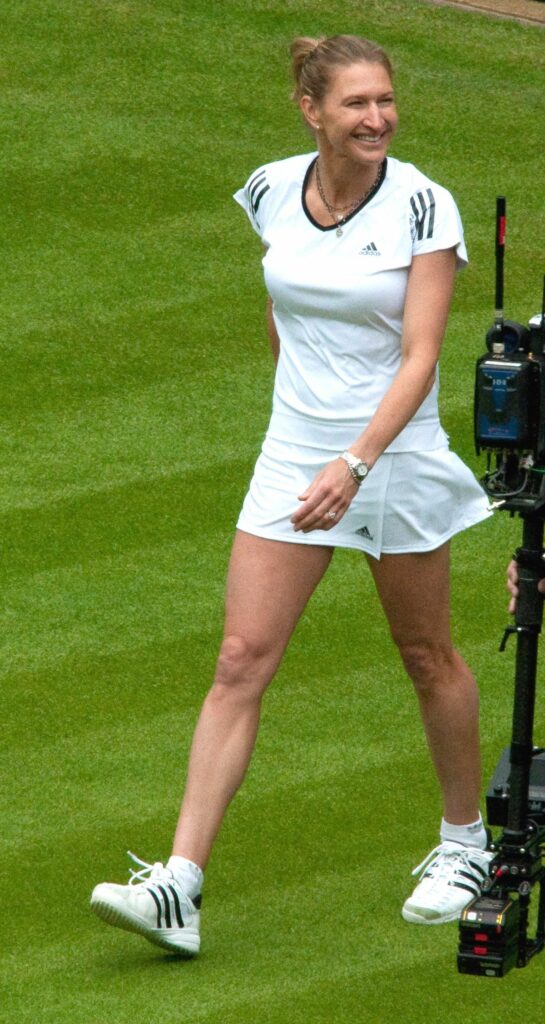 She won all three in the same year along with the olympic gold medal in a calendar year. Golden slam title was given to her for this achievment.
From the 1987 French Open to the 1990 French Open, Graf competed in 13 consecutive singles major finals, winning nine of them.
From the 1988 Australian Open to the 1989 Australian Open, she won five straight singles majors and seven of eight total (1988 Australian Open to 1989 US Open, except 1989 French Open). She made it to 31 singles major finals in all.
Undoubtedly she was the greatest female tennis player of her era and one of the greatest female tennis players of all time to have dominated every grand slam final.
3. Sloane Stephens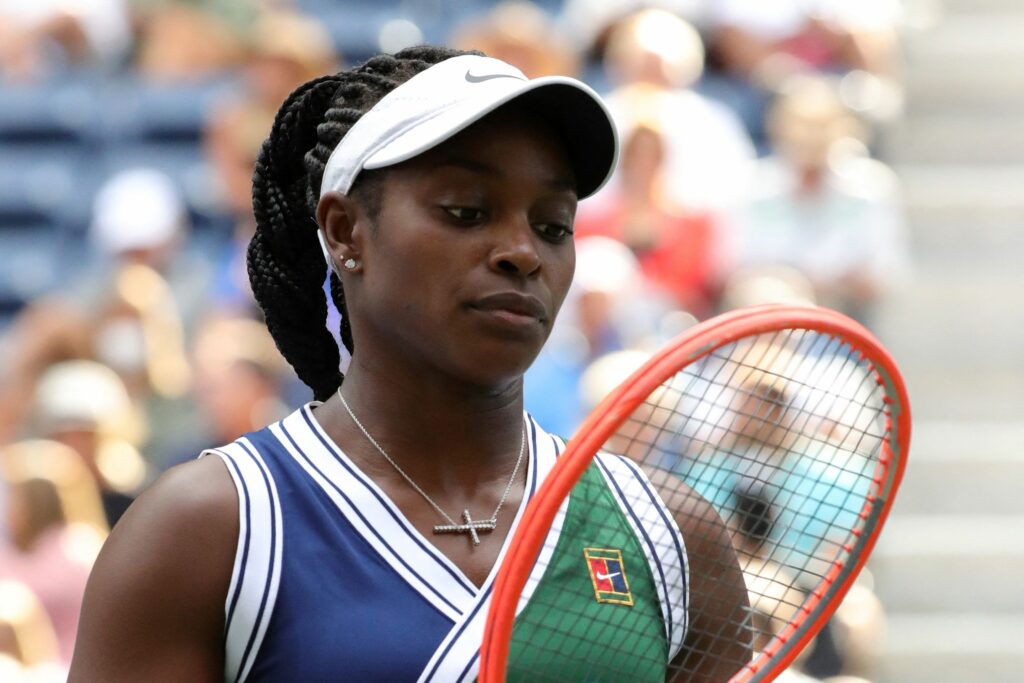 American tennis player Sloane Stephens, born on March 20, 1993, is a professional. After Wimbledon in 2018, she attained a world No. 3 ranking, which was a career high.
Stephens won the US Open in 2017 and a total of seven WTA Tour singles championships.
Is Sloane's husband the reason for her fame?
Since January 1, 2022, Stephens has been wed to Jozy Altidore, a member of the US national soccer team and a childhood friend of hers from Florida.
Did Sloane have a dream start to her career?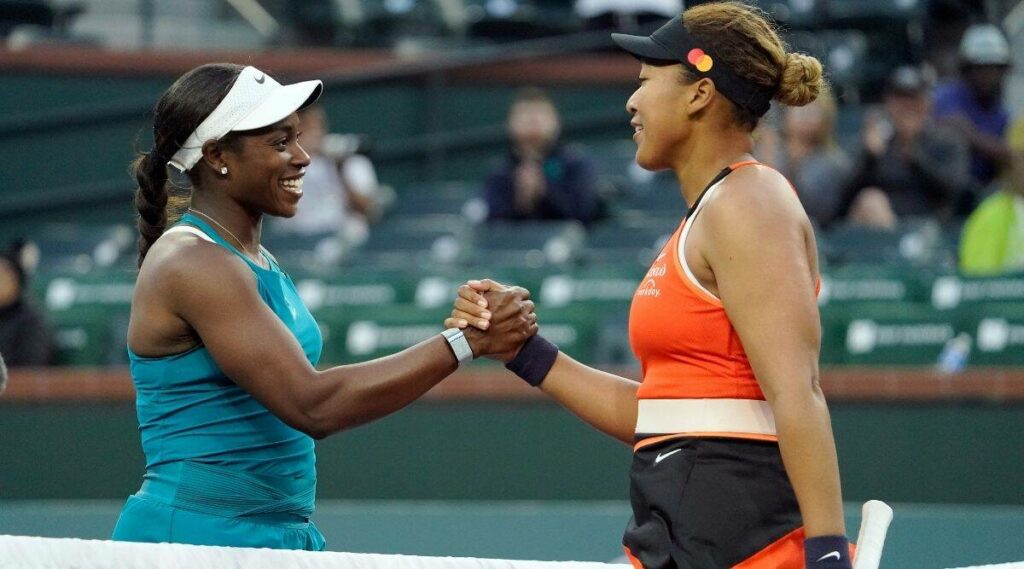 Stephens, at 19 years old, gained notoriety in the 2013 Australian Open when she defeated Serena Williams in the semifinals.
Then rose to No. 11 at the end of 2013, but she fell back and remained outside the top 25 until the end of 2015.
She changed coaches and began working with Kamau Murray, who helped her reach the top level again and win three WTA championships in the first half of 2016. A foot ailment that kept her out for months ended her productive year.
What is the social media following of Sloane?
Sloane Stephens is one of the very famous female tennis players and has about 250.5k followers on twitter and 573k followers on instagram.
2. Margaret court
Margaret Court, usually referred to as Margaret Smith Court, is a former No. 1 tennis player from Australia who is now a Christian minister.
Her 64 major titles, which also include 19 Grand Slam women's doubles trophies and 21 Grand Slam mixed doubles titles, are the most in tennis history. She is regarded as one of the greatest female tennis players of all time.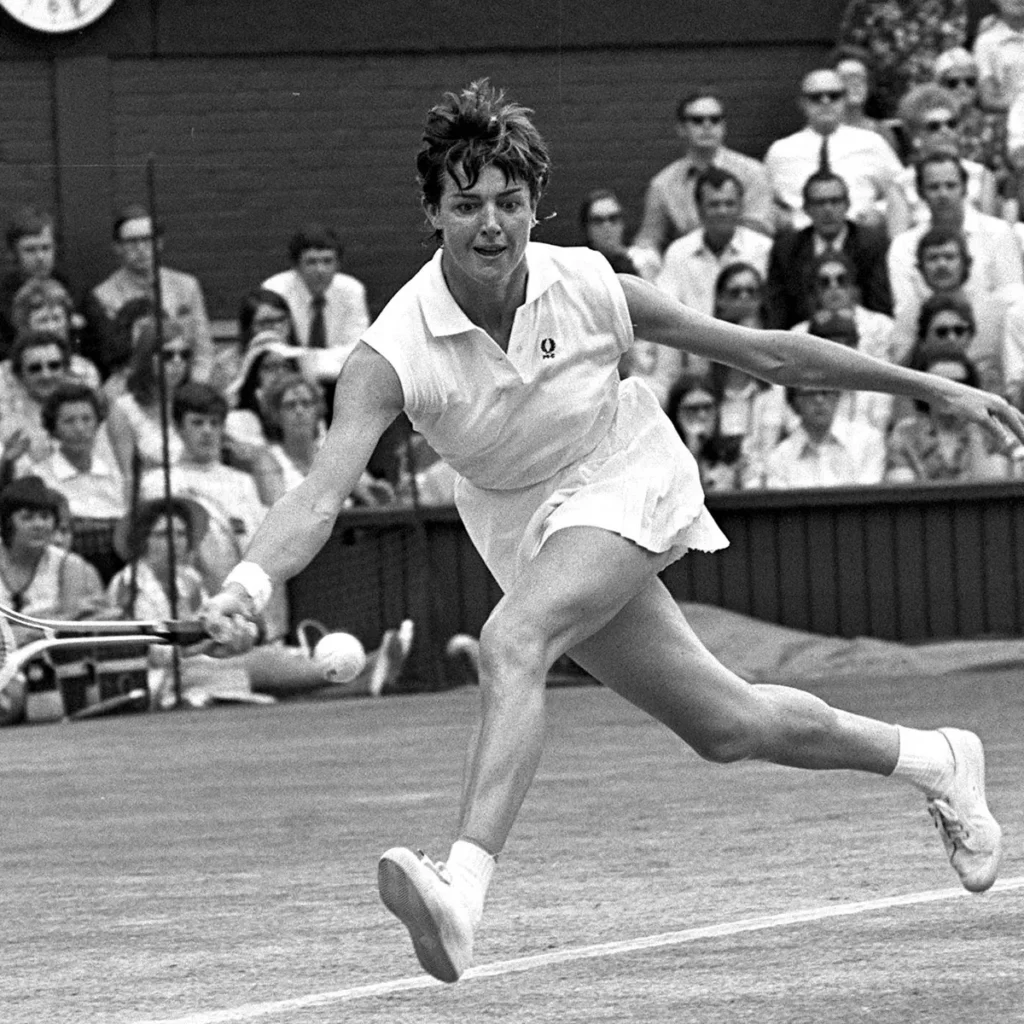 In Albury, New South Wales, Court was born. Margaret court won the first of seven straight Australian Open singles titles in 1960 when she was just 17 years old.
Her triumph at Wimbledon in 1963, at the age of 21, allowed her to complete a Career Grand Slam. After a brief break in 1966 and 1967, Court resumed playing until the Open Era began in 1968.
In 1970, Margaret court won all four major singles tournaments, capping off a run of six straight major singles triumphs that saw her complete the Grand Slam.
Margaret court gave birth to her first child in 1972, although she later made a comeback to tennis. In 1973, she won three Grand Slam singles championships. After the birth of her second and third kids, she retired and took similar breaks.
What was the win percentage of Margaret court?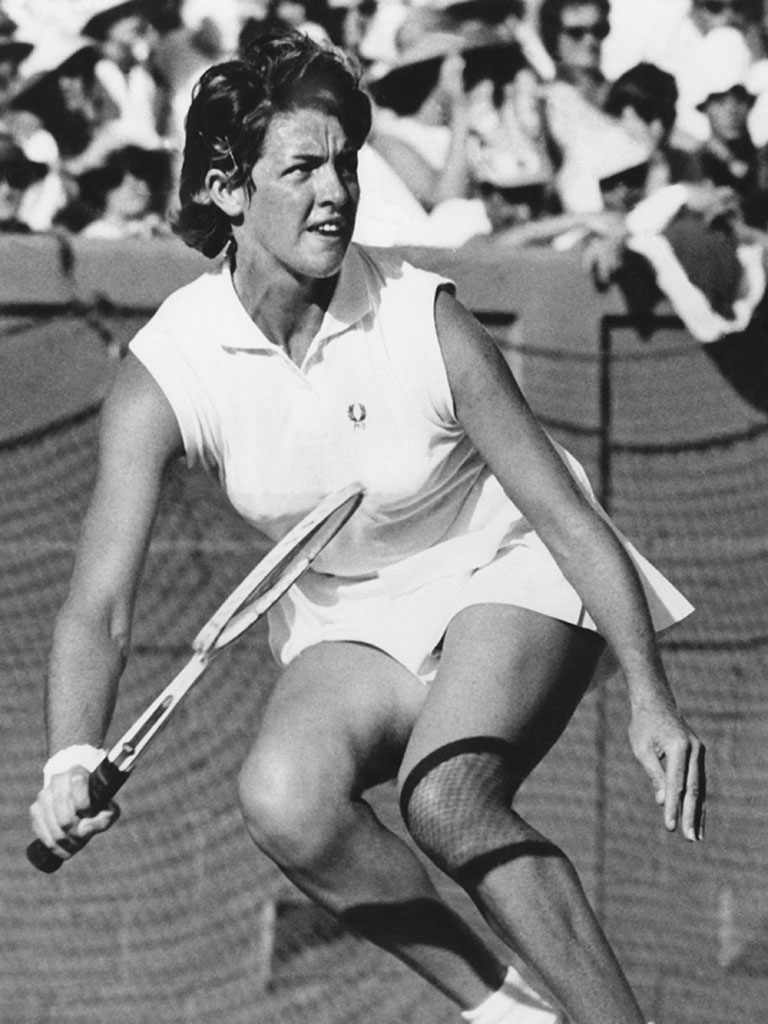 The Sporteology website lists Court's singles lifetime winning % of 91.74 as the best ever on all surfaces (hard, clay, grass, and carpet).
Her Open period career winning percentage in singles is 91.02% (608-60), while her Open era winning percentage in Grand Slam titles final is 91.67% (11-1). She had a 90.00% win-loss record in all Grand Slam singles competitions (207–23).
Her results at the Australian Open were 95.24% (60-3), the French Open was 89.80% (44-5), Wimbledon was 85.00% (51-9) and the US Open was 89.66% (52-6).
She also has a three-way tie with Kim Clijsters for the most Grand Slam singles victories by a mother during the Open era.
With 11 victories in the Australian Open in 1973, Court established the record for the most singles titles at a single Grand Slam competition.
Rafael Nadal beat this record in 2019 when he captured his 12th French Open title, however it still stands as a women's record.
What are the other achievements of Margaret court?
Court is one of only three athletes in history (all female) to have captured the "Grand Slam Boxed Set," which includes every Grand Slams championship (the singles, doubles and mixed doubles).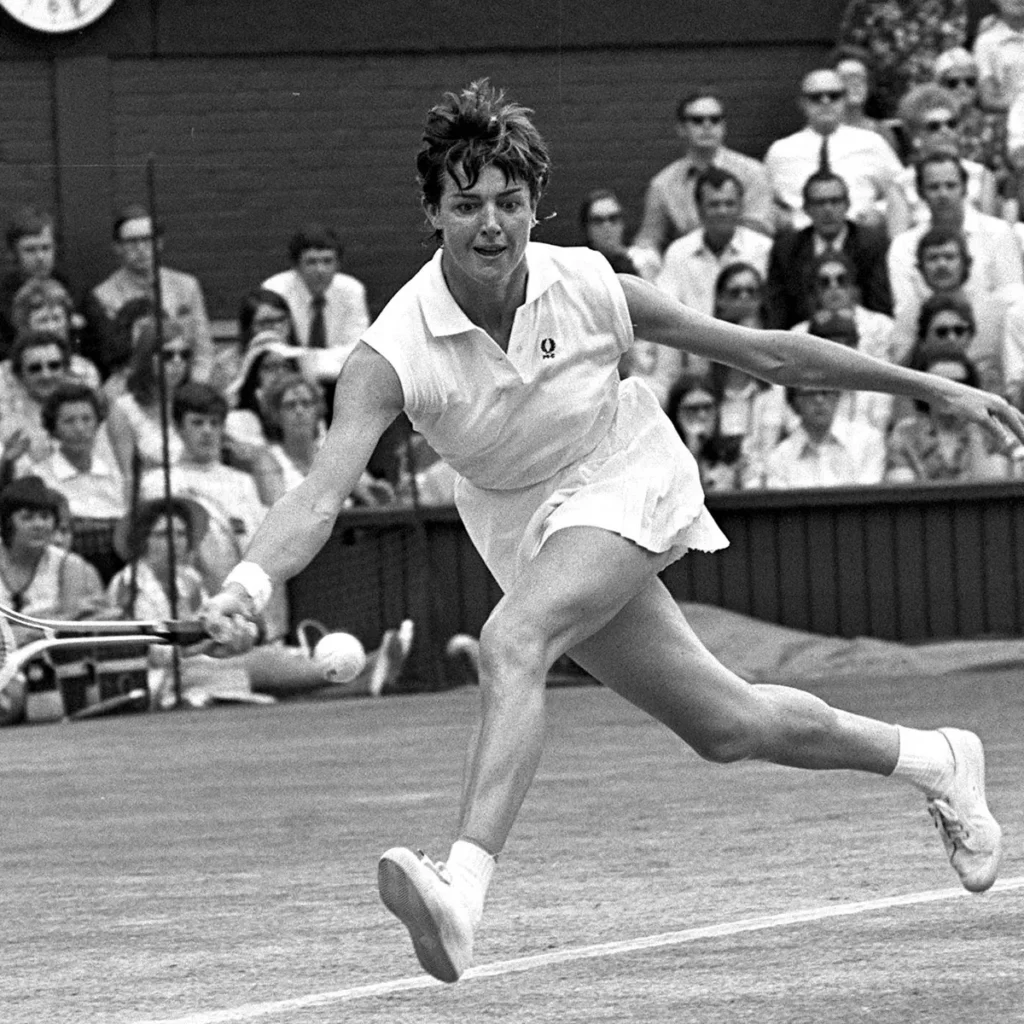 Margaret Court is the only tennis player in history to win two times in all three categories of a Multiple Grand Slam set. She accomplished the rare feat of winning all 12 as an amateur, followed by a professional comeback to win all 12 once more.
Margaret Court joins Roy Emerson, Martina Navratilova, Frank Sedgman, Doris Hart, and Serena Williams as the only six tennis players to have won a Multiple Grand Slam set in two different disciplines. Additionally, she helped Australia win the Fed Cup four times.
The International Tennis Hall of Fame states "For sheer strength of performance and accomplishment there has never been a tennis player to match (her)." In 2010, the Herald Sun called her the greatest female tennis player of all time, a view supported by Evonne Goolagong Cawley.
1. Serena williams
American Serena Jameka Williams plays tennis professionally. She held the top singles ranking in the world for 319 weeks, including a joint-record 186 straight weeks, and five times she was crowned year-end No. 1 by the Women's Tennis Association (WTA).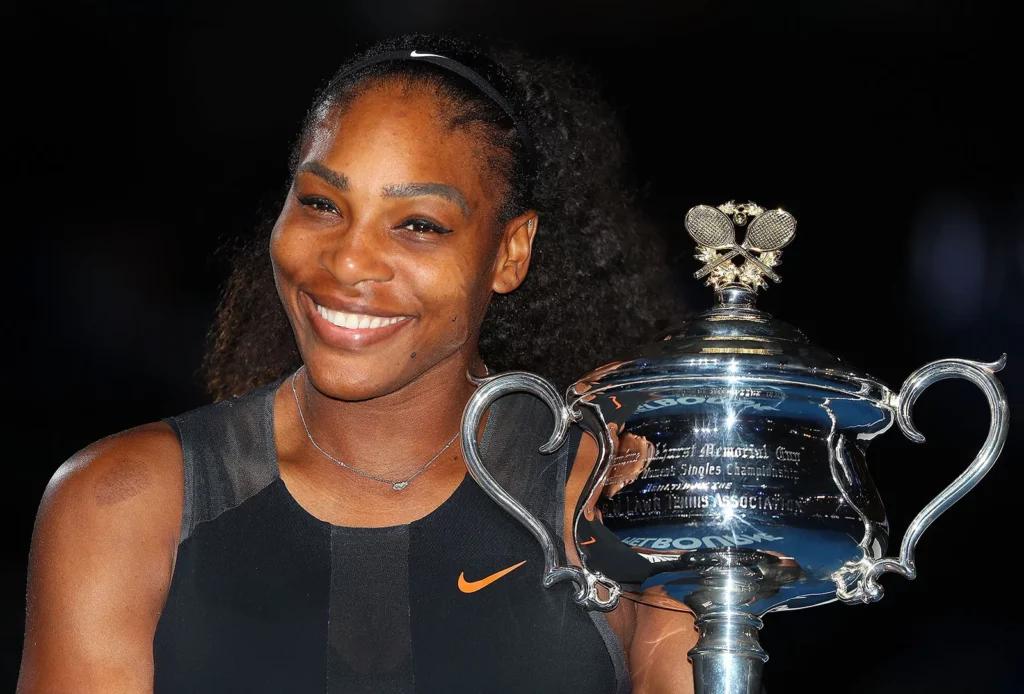 Serena Williams finished with 23 Grand Slam singles victories, second most in history and the most of any player during the Open Era.
Serena Williams became a professional in 1995, and the US Open in 1999 saw her claim her first major singles victory.
She was unbeatable from the 2002 French Open to the 2003 Australian Open, winning all four major singles titles (each time defeating Venus Williams in the final) and completing the career Grand Slam, also known as the "Serena Slam."
She won two more singles majors during the following several years, although she also experienced injury and a drop in performance.
But starting in 2007, she steadily got back into shape despite ongoing ailments, reclaiming the top spot in the world singles rankings.
Serena Williams regained her composure starting at the 2012 Wimbledon Championships, winning the Olympic gold and becoming the first tennis player to complete a career Golden Slam in both singles and doubles.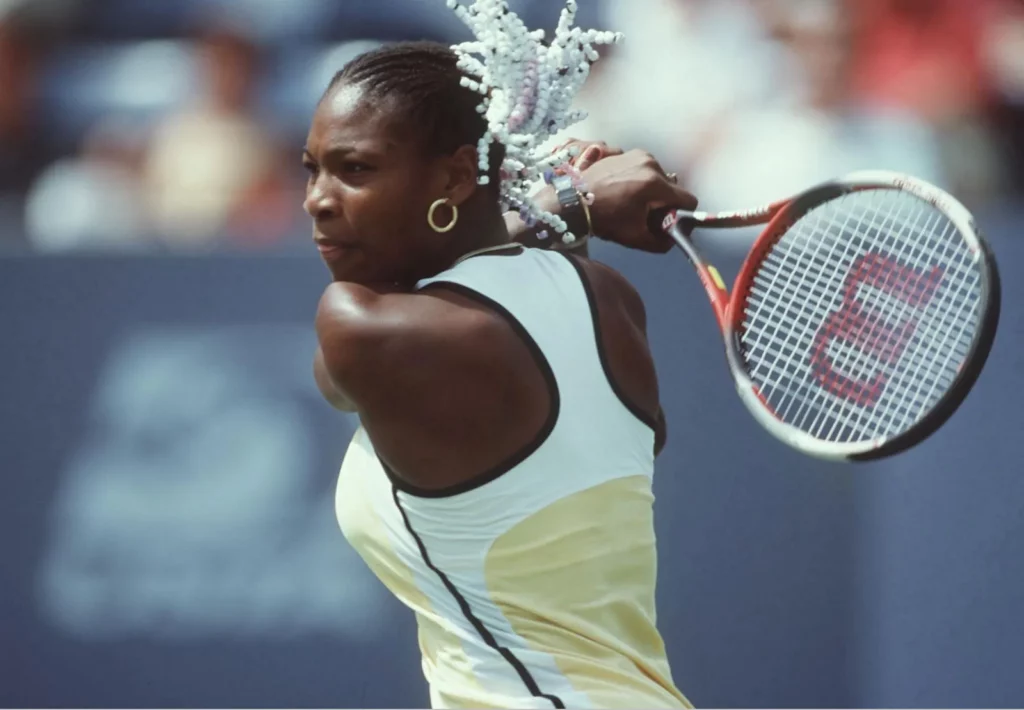 She completed a second "Serena Slam" by winning eight of the thirteen singles majors, including all four in a row from 2014 to 2015.
She surpassed Steffi Graf's Open Era record by winning her 23rd major singles championship in the 2017 Australian Open.
Following her pregnancy, she took a sabbatical from playing professional tennis, but since starting back up, she has advanced to four major finals.
Serena Williams revealed in August 2022 that she would be leaving the tennis world and played what was supposed to be her last match at the US Open that year.
What are the other Achievements of Serena williams in female tennis players?
Together with her sister Venus, Serena Williams won 14 major women's doubles championships, going undefeated in Grand Slam doubles finals.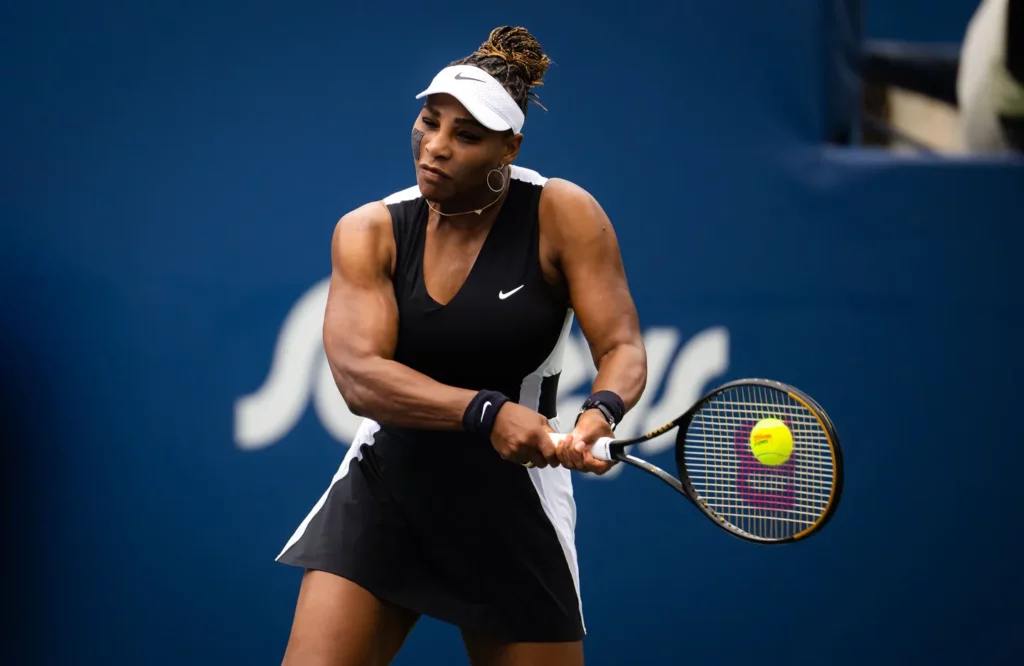 This includes a Grand Slam that took place outside of a calendar year between the 2009 Wimbledon Championships and the 2010 French Open, which gave the sisters the No. 1 doubles ranking in the world.
She and her sister hold the record for the most Olympic gold medals ever with four, three of which came in women's doubles. She also won two significant mixed doubles championships, both in 1998.
Williams earned about $29 million in 2016, making her the highest-paid female athlete in the world.
With $27 million in prize money and endorsements, she replicated this record in 2017 when she was the only female on Forbes' list of the 100 highest-paid athletes.
In addition to being selected Sportsperson of the Year by Sports Illustrated magazine in December 2015, she has received the Laureus Sportswoman of the Year award four times (in 2003, 2010, 2016, and 2018).
She came in at number 28 on Forbes' list of the highest-paid athletes in the world in 2021. She is the all-time highest-paid female athlete.
Check out the top 10 best Female tennis players of all time.