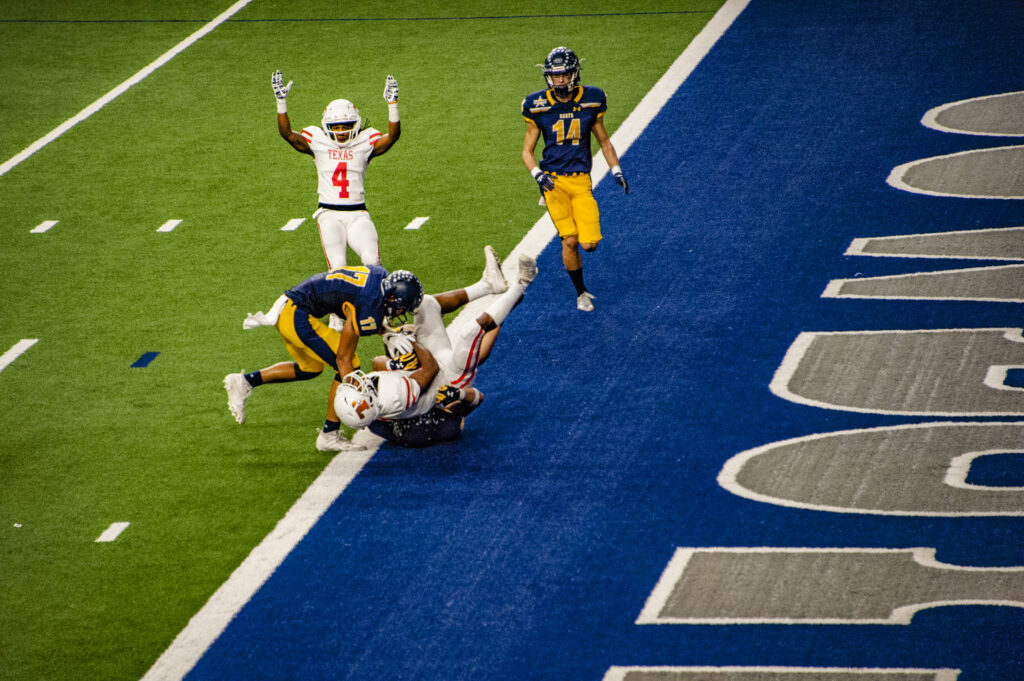 The National Football League (NFL) has produced some of the most exciting moments in sports history. From last-second game-winning touchdowns to record-breaking scoring performances, these moments have captured the hearts and minds of fans worldwide.
In this blog post, we'll be taking a look at the top 10 players with the most touchdowns in NFL history. These legendary figures have left their mark on the league and cemented their place as some of the best to ever play the game. So, sit back and relax as we take a trip down memory lane and explore some truly remarkable accomplishments!
Emmitt Smith
Emmitt Smith is a name that's synonymous with success in the NFL. During his illustrious career, he accumulated an impressive 175 touchdowns, making him one of the top scorers in league history.
Smith grew up in Pensacola which is in Florida and was the second highest rusher during his High School football days when he represented the Escambia High School. He later played college football for three years and set numerous records which stand till date as he represented the Florida Gators. After he was named the Unanimous All American in 1989, he decided to check his eligibility and go professional.
After he decided to turn professional he was selected by the Dallas Cowboys during the 1990 NFL draft and in career West for 18,355 yards while he broke the record of the former NFL Legend Walter Payton. He also held the record for the most touchdowns while career rushing which is 175. Smith is the only running back to ever win a Super Bowl championship, the NFL Most Valuable Player award, the NFL rushing crown, and the Super Bowl Most Valuable Player award all in the same season (1993).
He was the first one who had the record of most career rushing in the same season while winning the Super Bowl as well for three or more seasons. He is also one of the two players who were non kickers but still had more than 1000 points to their names. Because of his long and illustrious career, he was inducted in the Pro Football Hall of Fame in the year 2010 and in the College Football Hall of fame in 2006.
Smith spent most of his career playing for the Dallas Cowboys and was known for his exceptional running ability. He amassed over 18,000 rushing yards during his time in the league and was a three-time Super Bowl champion.
What made Smith stand out from other players was not just his talent on the field but also his leadership off it. He served as a captain for many years and was always willing to put in extra work to help himself and his teammates improve.
Despite retiring over 15 years ago, Emmitt Smith's legacy still lives on today. His remarkable accomplishments will continue to inspire future generations of football players for years to come.
Jerry Rice
Jerry Rice is widely regarded as one of the greatest American football players of all time. He holds numerous records, including the most career touchdowns in NFL history with 208.
Rice played for 20 seasons in the NFL, primarily for the San Francisco 49ers. His physical prowess and dedication to training made him a dominant force on the field.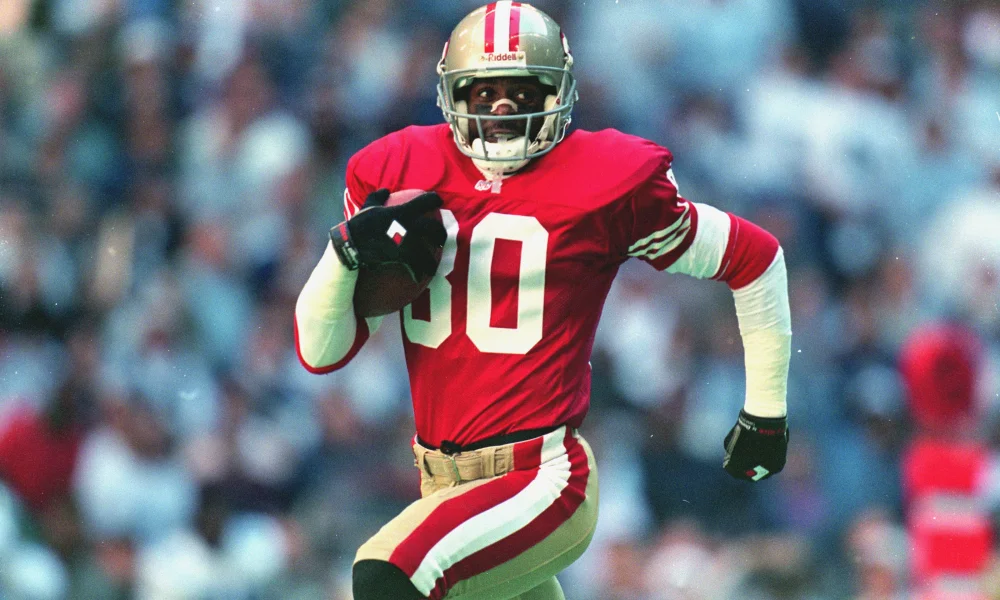 Throughout his career, Rice demonstrated incredible consistency and durability. He amassed over 22,000 receiving yards and earned three Super Bowl rings.
But what truly sets Rice apart from other players is his work ethic. Even after achieving so much success, he continued to push himself every day to be better than before.
Off the field, Rice has also been an inspiration to many through his philanthropic work and advocacy for various causes. Jerry Rice's legacy as a player and a person continues to inspire generations of football fans around the world.
LaDainian Tomlinson
LaDainian Tomlinson, also known as "LT", is a retired American football running back who played for the San Diego Chargers and New York Jets. He is widely regarded as one of the greatest running backs in NFL history.
Tomlinson was selected by the Chargers fifth overall in the 2001 NFL Draft and quickly made an impact on the field. In his nine seasons with the team, he rushed for over 12,000 yards and scored 138 touchdowns, which ranks third all-time in NFL history.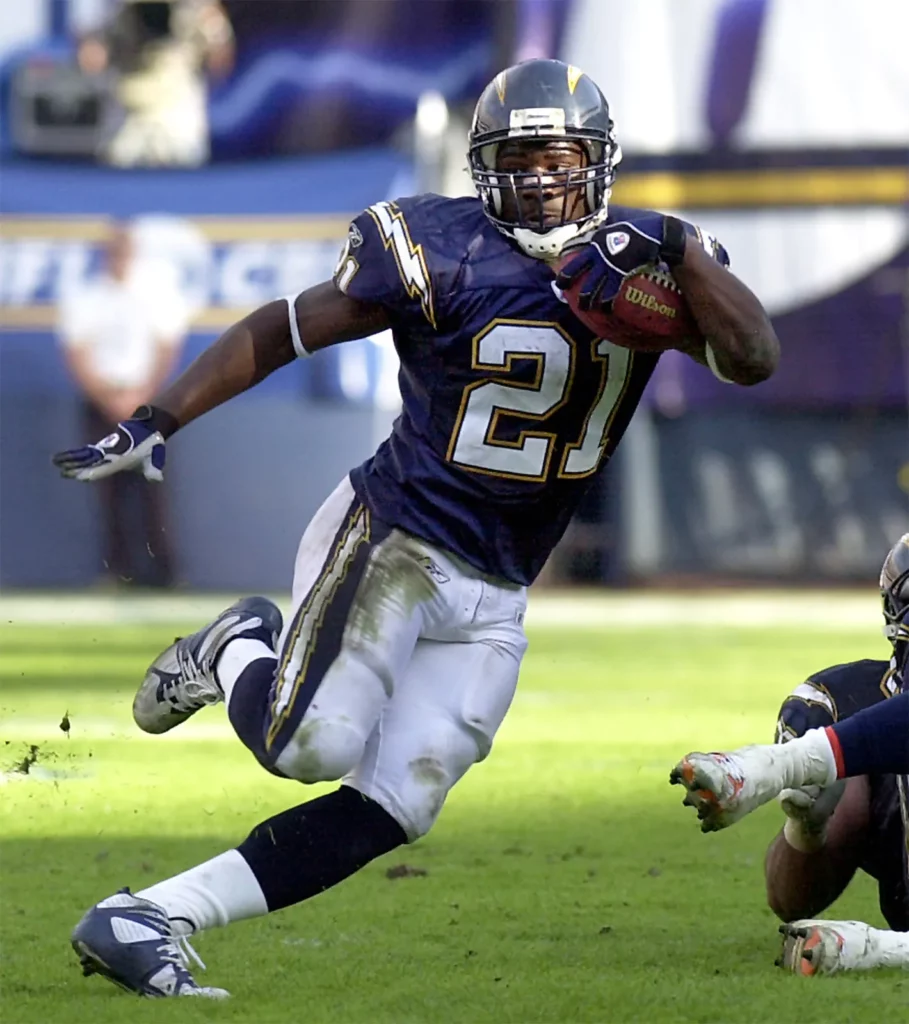 Not only was Tomlinson a prolific rusher, but he was also an excellent receiver out of the backfield. He tallied over 4,700 receiving yards and caught an additional 17 touchdown passes during his career.
In addition to his impressive statistics on the field, Tomlinson was also known for his leadership qualities off it. He won numerous awards throughout his career that recognized him not just for his talent but also for being a positive influence on those around him.
While Tomlinson's playing days may be over, he continues to make an impact in other ways. He has been involved in various charitable organizations and even started his own foundation aimed at helping children achieve their dreams.
LaDainian Tomlinson's contributions to football both on and off the field have solidified him as one of the sport's all-time greats.
Randy Moss
Randy Moss is a name that any NFL fan would recognize. Known for his incredible athleticism and impressive vertical jump, he was one of the most dominant receivers in the league during his prime.
Throughout his career, Randy Moss managed to score an amazing 156 touchdowns. He accomplished this feat through a combination of speed, agility and raw talent. His ability to run past defenders with ease made him a constant threat on the field.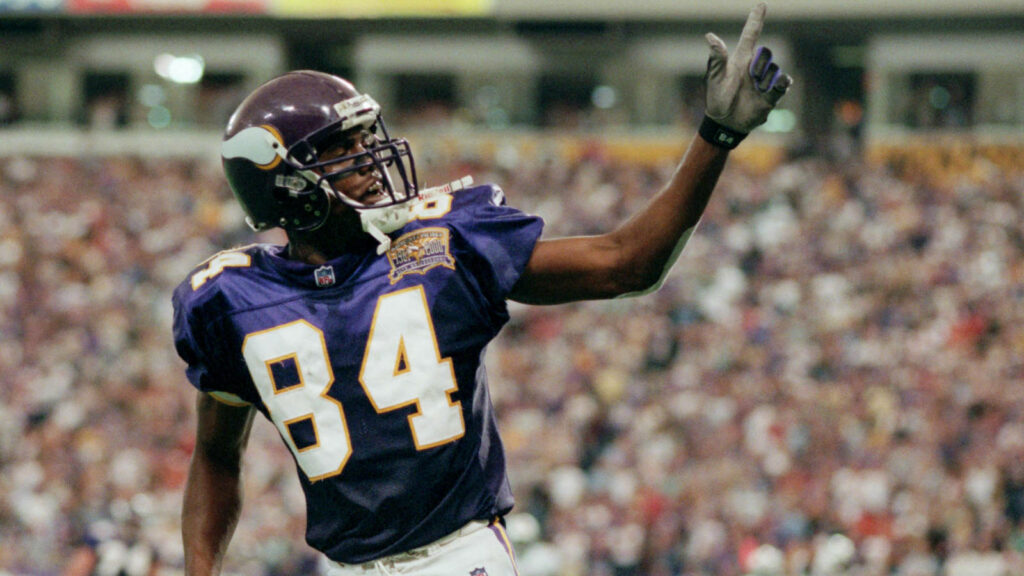 Moss played for several teams throughout his career, but it was during his time with the Minnesota Vikings that he truly shined. In 1998 alone, he scored an astounding 17 touchdowns – a record that still stands today.
Although he retired in 2012 after playing for three different teams over four seasons, Randy Moss will always be remembered as one of the greatest wide receivers in NFL history. With five Pro Bowl selections and multiple All-Pro nods under his belt, there's no denying just how much of an impact he had on the sport.
Terrell Owens
Terrell Owens, also known as T.O., is a former NFL wide receiver who played for multiple teams throughout his career. He was known for his incredible athleticism and ability to make tough catches in crucial moments.
During his time in the league, Owens scored 156 touchdowns, making him one of the top scorers in NFL history. His physicality and determination on the field made it difficult for defenders to stop him from reaching the end zone.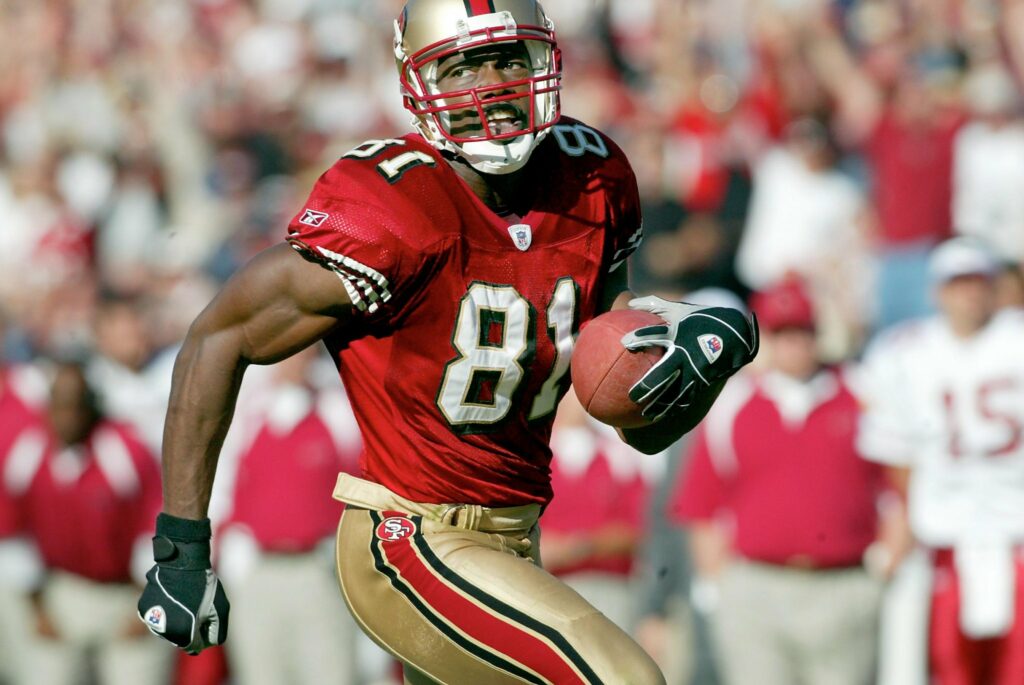 Off the field, Owens was often criticized for his attitude and behavior, but there's no denying that he was an exceptional player. He holds numerous records including being tied with Randy Moss for most seasons with at least 10 touchdown receptions.
One of Owens' most memorable moments came during a game against the Dallas Cowboys when he celebrated a touchdown by standing on their star logo at midfield. It caused controversy at the time but has since become an iconic moment in NFL history.
Terrell Owens will always be remembered as one of the greatest receivers to ever play in the league despite some off-field controversies.
Marvin Harrison
Marvin Harrison is one of the best wide receivers to ever play in the NFL. He spent his entire career with the Indianapolis Colts and was a key part of their success during the Peyton Manning era.
Harrison's ability to get open and make tough catches was unmatched. He had incredible speed and agility, making him a nightmare for opposing defenses. His chemistry with Manning was undeniable, as they connected for 112 touchdowns over their careers together.
One of Harrison's most impressive achievements was his streak of eight straight seasons with at least 1,000 receiving yards. That consistency helped him become one of the most reliable targets in NFL history.
Off the field, Harrison kept a low profile but still managed to make an impact in his community through various charitable efforts. His on-field accomplishments speak for themselves though, as he finished his career with 128 touchdowns – good enough for seventh all-time.
Reggie Wayne
Reggie Wayne is a former American football wide receiver who played for the Indianapolis Colts from 2001 to 2014. He is considered one of the best receivers in NFL history, with an impressive career that includes over 14,000 receiving yards and 82 touchdowns.
Wayne was known for his precise route running, strong hands, and ability to make clutch catches in important moments. He played a crucial role in helping the Colts win Super Bowl XLI, where he caught a game-winning touchdown pass from quarterback Peyton Manning.
Throughout his career, Wayne earned six Pro Bowl selections and was named first-team All-Pro once. He also holds several records for the Colts franchise, including most career receptions (1,070) and most consecutive games with a reception (82).
Off the field, Wayne has remained involved in charitable work through his Reggie Wayne Foundation. The foundation supports underprivileged youth by providing educational resources and opportunities for personal development.
Reggie Wayne's impact on the NFL extends beyond his impressive statistics. His dedication to excellence on and off the field serves as an inspiration to many aspiring athletes and community leaders alike.
Steve Largent
Steve Largent is a former American football wide receiver who played for the Seattle Seahawks from 1976 to 1989. Despite not being the fastest or biggest player on the field, he managed to score an impressive total of 100 touchdowns throughout his career.
Largent was known for his precise route running and exceptional hands. He also possessed a remarkable ability to make tough catches in traffic, which allowed him to consistently find the end zone.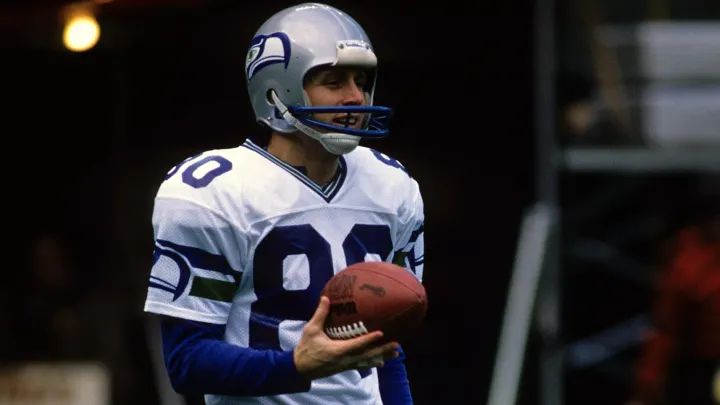 In addition, Largent was a seven-time Pro Bowler and a member of the NFL Hall of Fame. He retired as one of the most accomplished receivers in league history, with over 13,000 receiving yards and numerous franchise records that still stand today.
Off the field, Largent became involved in politics after retiring from football. He served as a U.S. Representative from Oklahoma's first congressional district for eight years before ultimately resigning to focus on other pursuits.
Steve Largent left an indelible mark on both football and politics during his illustrious career. His tenacity and determination are traits that continue to inspire athletes and leaders alike today.
Don Hutson
Don Hutson was a wide receiver who played for the Green Bay Packers from 1935 to 1945. He is widely considered one of the greatest football players of all time and holds several records, including most touchdowns in a single season (17) and most seasons leading the league in receiving touchdowns (8).
Hutson's success on the field can be attributed to his exceptional speed, agility, and route-running abilities. He was also known for his ability to catch passes with one hand, a skill that was virtually unheard of at the time.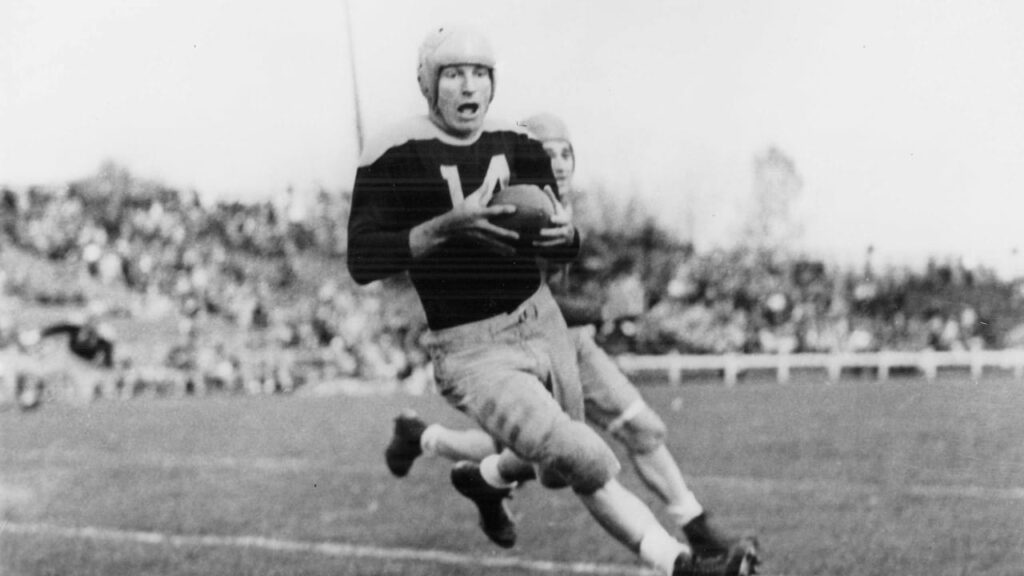 In addition to his outstanding contributions as a player, Hutson also revolutionized the way that receivers trained during his era. He developed new techniques for catching passes and worked tirelessly to improve his skills through practice.
Despite playing more than half a century ago, Don Hutson's name still resonates with football fans today thanks to his remarkable achievements on the field. His legacy serves as an inspiration not only for aspiring athletes but for anyone looking to achieve greatness through hard work and dedication.
Tony Gonzalez
Tony Gonzalez is a name that comes up often in discussions about the greatest tight ends of all time, and for good reason. He played an incredible 17-year career with both the Kansas City Chiefs and Atlanta Falcons, finishing his career with a total of 111 touchdown receptions.
Gonzalez was known for his impressive size and athleticism, as well as his ability to make difficult catches in traffic. He was also incredibly durable, missing only two games over the course of his entire career.
In addition to being one of the most prolific touchdown scorers in NFL history, Gonzalez also holds records for most receptions by a tight end (1,325) and most receiving yards by a tight end (15,127).
These ten players represent some of the best talents to ever grace an NFL field. Their names will go down in history alongside some of football's greats as they continue to inspire future generations of athletes.
Also check out Top 10 Most Rushing Yards of All Times.